As part of the Exploring Oman Series, and after telling you all about Why You Don't Need To Be An Adventure Freak for Wadi Arbaeen, let me tell you about my latest family-friendly adventure in Bandar Khayran with Husaak Adventures!
My friend Lili and I planned two activities with Husaak Adventures: Kayaking & Stand Up Paddle (SUP). We got to experience a Kayaking session at moonrise and an SUP session at sunrise.
First and foremost, it must be highlighted how clean and hygienically safe it is to go on an adventure with Husaak! Nowadays following hygienic protocols is of utmost importance to protect your loved ones, yourself and also everyone else who would come after you for an activity. As we arrived on-site, Husaak's reception corner had a box with sanitizers, wipes and tissues to clean your hands and the belongings you wish to take with you on the Kayak. Husaak's team will only hand over your life jacket and your gear after spraying them with sanitizers, inside out and top to bottom. The Kayak and the SUP Boards are also cleaned before and after usage. We felt very comforted by their  strict adherence to protocol… we were all set for a few hours of bliss!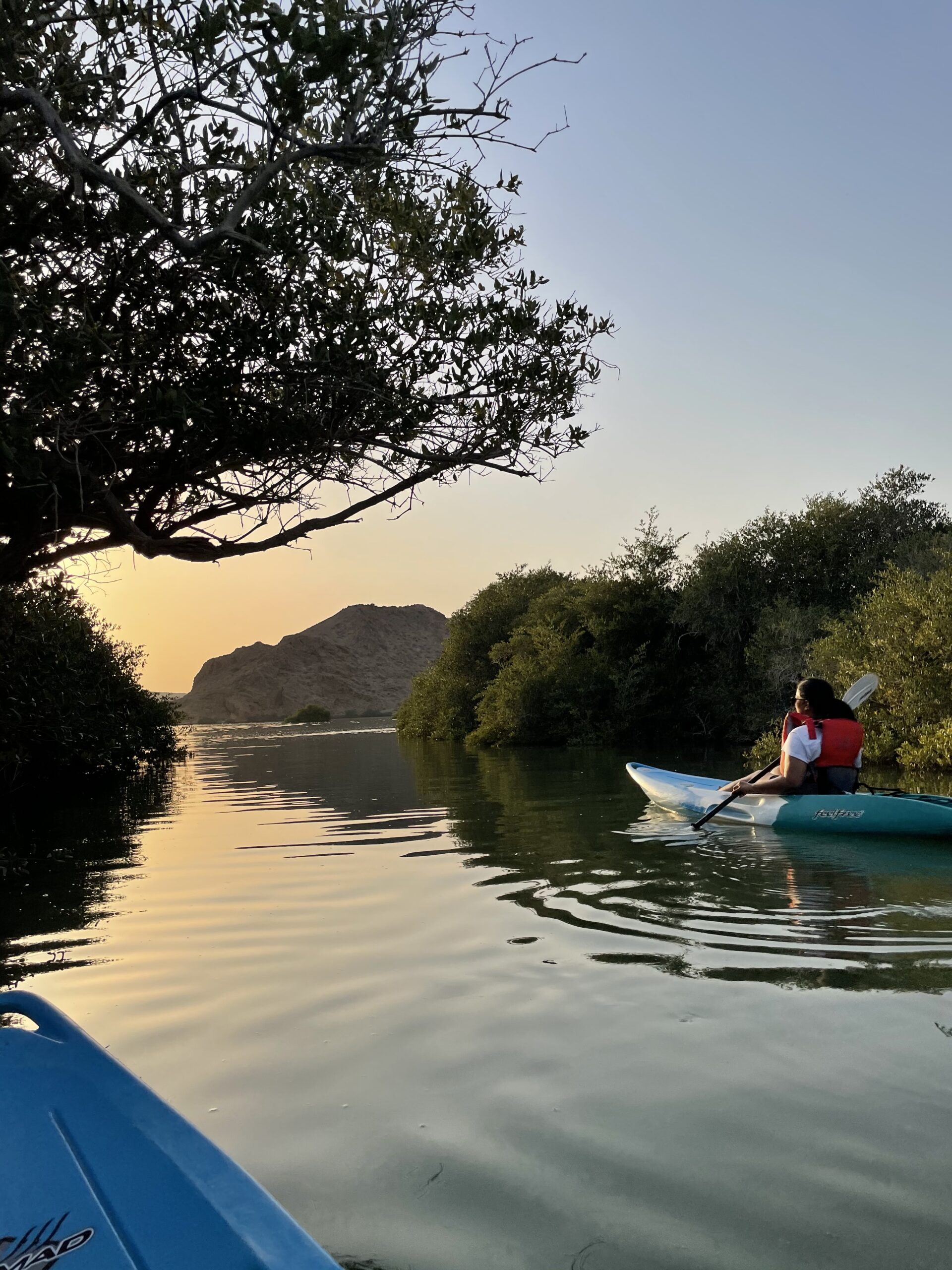 The first Friday we went kayaking at sunset. We arrived at Bandar Khayran around 5:30pm and it took us around 10 minutes to get ready and go stand next to our Kayaks. Needless to say, being the excited and impatient kids we are, we were really appreciated the fast check-in & thorough sanitary protocol. We could arguably say that it took us the exact same amount of time to try and climb into the Kayak! Thankfully Shamim, Husaak's member on-site, was most helpful. After a brief safety demonstration and an explanation on how to hold the paddle, Shamim gave us the bay circuit map and off we went into the tranquil waters of the bay.
Kayaking proved itself to be much easier than I remembered. One is steadily seated in the Kayak and the water is calm. It does require some arm strength to kayak for more than 1H, but Husaak's booking process is very flexible: you can book for 1H and if you spend more time kayaking you would simply pay the difference at the end. It would be a pity not to take the leap and sign up for a Kayak session by fear of your low arm strength… it is a family-friendly activity and there's no need to be an adventure freak to enjoy it!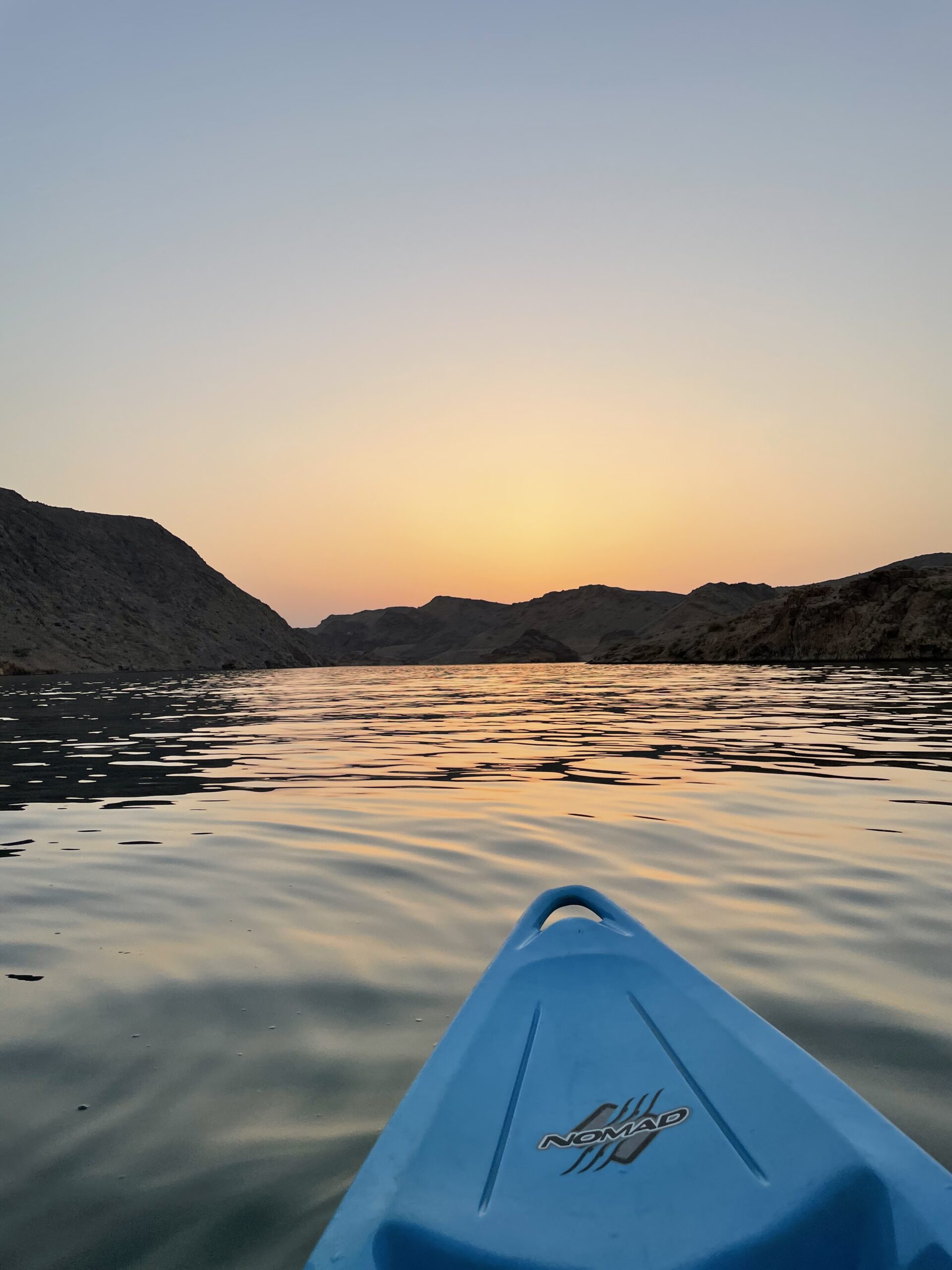 What truly amazed me was the peacefulness of the Fjords. After only a few minutes you truly feel one with Nature and embrace its quietness and beauty. I hadn't been out of town in a few weeks and spending two quality hours kayaking regenerated me as if I had spent an entire day with Nature! On that day, we were lucky enough to cross only one other group. They kayaked passed us, we greeted one another, and it was silent again: only us, the local fishers' boats and the singing birds were remaining in the Fjords. As you follow the circuit map, you can head directly for the hidden beach from which you can admire the sunset or you can take your own time and enjoy the mangrove near the port. We followed the second option – we were too attracted by the smell of the mangrove's flowers to ignore them. We had fun crossing through the green bushes, admiring the birds flying around and listening to the crickets celebrating the approaching moonrise! We then slowly & mindfully kayaked towards the beach, ever so quietly as to match our speed to the slow waves created by the fishers' boats coming back to the port. Night had fallen when we reached the beach and started making our way back to the port, kayaking and… moonbathing. We ended up kayaking for about two hours but the feeling of disconnection was real & my friend and I went back home this evening very relaxed and inspired by such beauty. I would truly love for you to fathom the peacefulness of the activity and the meditative state one is in throughout the adventure… If you're reading this article in the morning, call up Husaak right now and plan a quick outing for this evening!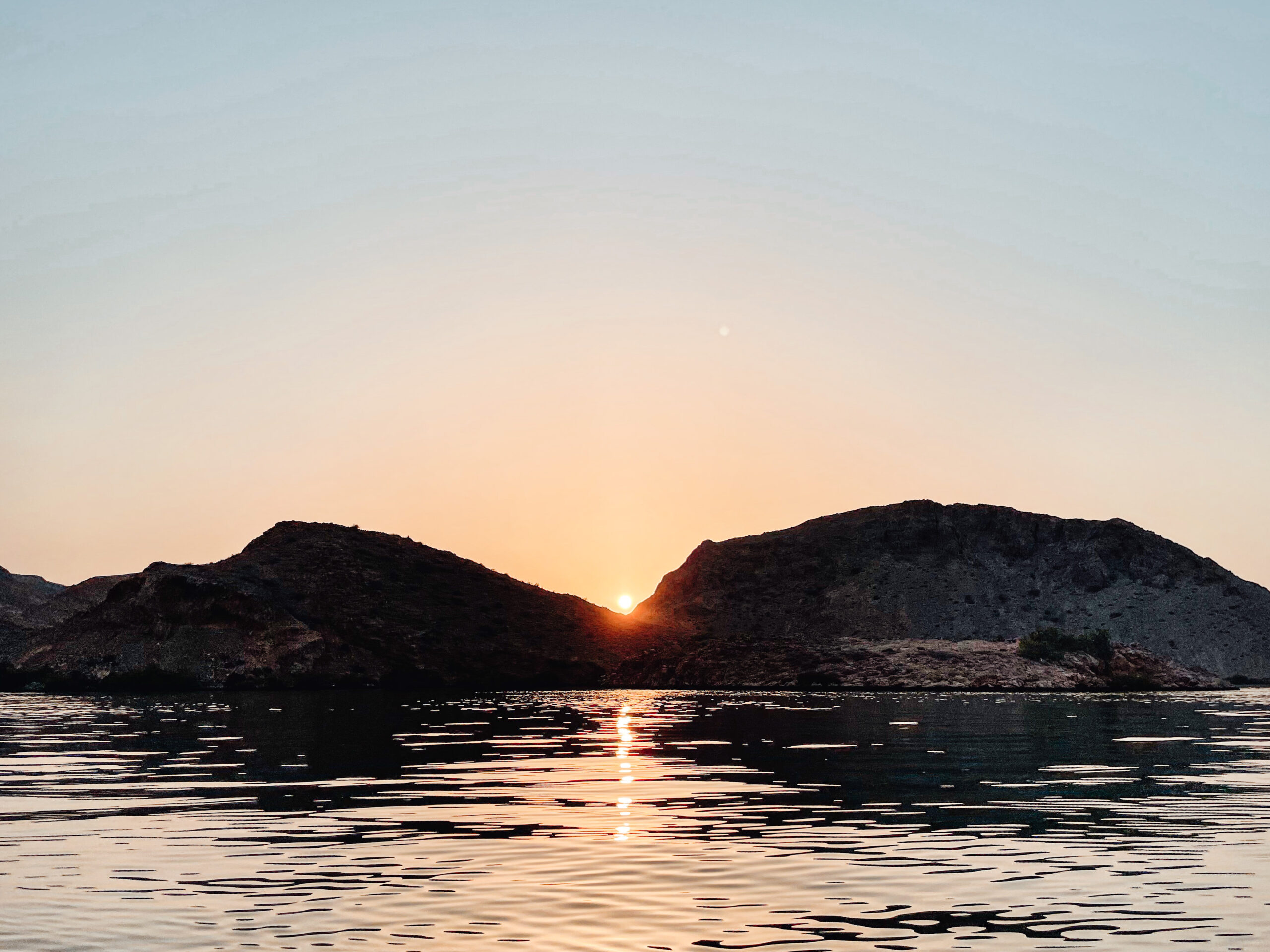 The second Friday we went to do Stand Up Paddle (SUP) at sunrise. Nikki, one of Husaak's team member and our booking focal point, advised us to practice SUP early in the morning as the water tends to be quieter and easier to handle for beginners. Thus, we arrived early in the morning around 6:30am. We brought other friends along: two of us were practicing SUP and the other four were kayaking. I loved that we were 6 people and that despite our different levels and whether or not some of us had ever kayaked/paddled before, it ended up being a great time together! Whatever activity you decide to do, the circuit remains the same and you can always be with your friends, speed up if you're sportive or slow down if you'd rather enjoy the mangrove or a slow-paced excursion. Four of us actually made our way straight to the beach this time and we enjoyed a swim before the sun was too hot. We also witnessed an army of crabs building small sand castles on the beach & on our way back we slid along the coves and observed beautiful fishes through the transparent water: stripped fishes, blue and yellow ones… Going in the morning was a different experience all together. It was less about a mindful moment away from town and more about the exploration of the bay in broad daylight.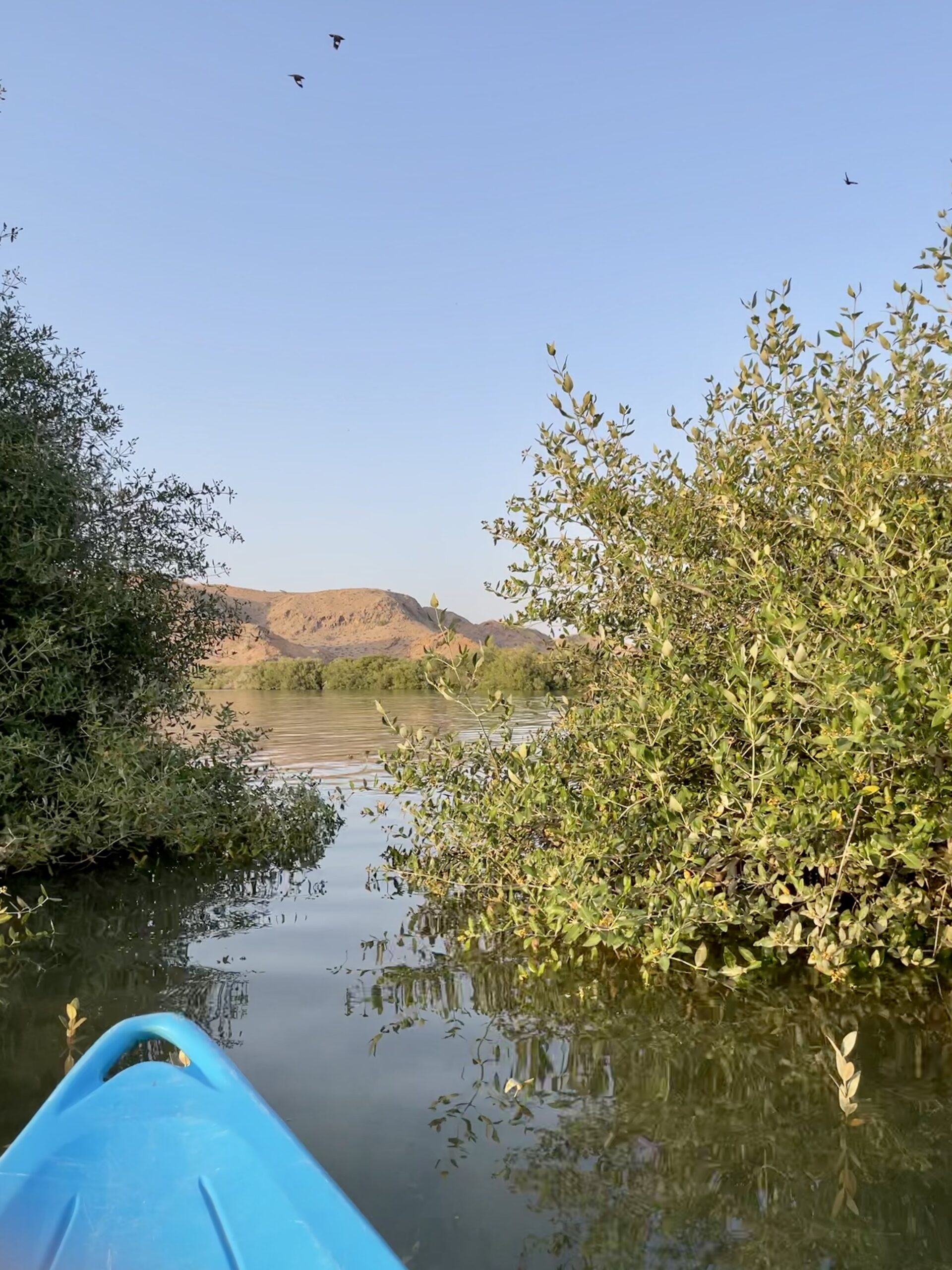 I practised SUP for the very first time that day & was concerned about the difficulty… well, it's a myth! It is not as hard as it seems, it's just a case of finding the right balance as you pass from the sitting position to the standing position and then you can just start paddling away! The water is indeed very calm so there won't be any disturbance to throw you off the paddle.
Lili and I enjoyed the flexibility the SUP offers compared to the Kayak: you get to stand up, to sit down, to lay down, to paddle on your knees, or even jump for a swim! We were both practising SUP for the first time and yet enjoyed the diverse positions one can adopt.
The prices above are available until October 2021. For more information on their timings & prices, visit their website here.
I would like to highlight that you shouldn't be afraid either by the fact that your friends or family members are more sportive than you are or that they've already kayaked/paddled before: they can go ahead while you enjoy the activity at your own pace. The circuit goes in a circle so you would eventually meet midway. If you are a beginner, Husaak offers Guided Tours at OMR 15 for a single kayak & OMR 25 for a double kayak.