The Semeli luxury hotel Mykonos, more than just a fancy place to sleep or play, is one of these much-talked hot hotspots. A Cycladic chic hideout, where the welcome is genuine and the atmosphere laid back, this best 5* Hotel in Mykonos town is no wonder the stomping ground of globe trotters, foodies, party animals, and art lovers: The place to be, to see and be seen and to mingle with the like-minded.
Designed with the discerning traveler in mind, in sync with its iconic, whitewashed surroundings, the Semeli luxury hotel Mykonos is perched on a slope in a quiet but central corner of Chora. Close to the action but safely removed from the buzz and hubbub, with commanding Aegean Sea Views, this 5* Hotel in Mykonos town blends an ideal location with a holiday's worth of delights: Think designer furniture and pillows fluffier than a baby duckling, Philip Starck bathrooms and all the trappings of modern luxury. The Semeli Hotel Mykonos goes for the maximum indulgence of the five senses.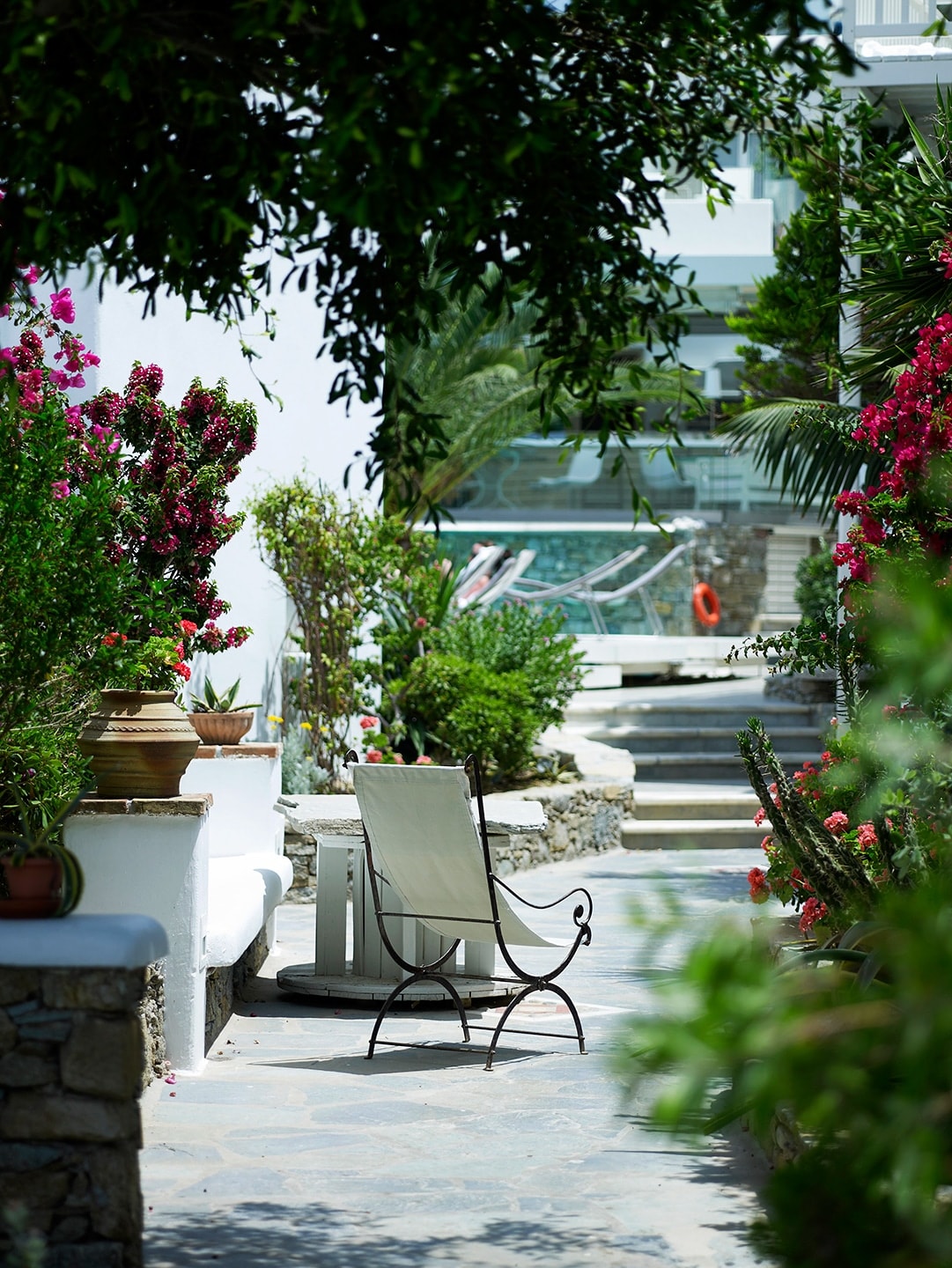 With plenty of character and style, Semeli Mykonos takes after its namesake: Zeus paramour and mother of Dionysus, Semeli was among the most saluted deities of the ancient world, celebrated for her charm and grace. These are the traits they sought to reproduce when creating the hotel. Offering a vast choice of the best luxury accommodation in Mykonos to suit different needs and whims, a host of bespoke luxury hotel services and facilities, including a state-of-the-art conference center in Mykonos, a pampering Hotel Spa Mykonos, perhaps the most famous hotel breakfast in Mykonos and the best restaurants in Mykonos, the Semeli luxury hotel Mykonos, has just what it takes for carefree, happy days and nights in the Mediterranean's party central.
Since the times of Dionysus, Mykonos has always loved a good party. Paying tribute to the island's one-of-a-kind, free spirit, Semeli has lovingly created the Semeli lounge lobby bar, Semeli the Bar, Bao's, Sanctus , and Toy Room: Uber fashionable temples of entertainment on an island that never sleeps and invariably places fun right at the epicenter!
Effortless elegance coupled with cool vibes set the tone at the Semeli luxury accommodation in Mykonos. Recently renovated to keep up with current aesthetic and functionality standards, Semeli's best rooms and suites in Mykonos, feature flat-screen TVs, free and fast wifi, and the latest creature comforts. They also come with a balcony or terrace, double glazing (welcomed in chilly early spring or autumn!), and exposed original features like beam ceilings and arches. Bathrooms are Philippe Starck-designed, with butler sinks and rain showers, and naturally lit via translucent panels; while some of these rooms & suites in Mykonos town also boast outdoor mini-spa-tubs. Impeccable taste meets state-of-the-art conveniences at the Semeli luxury accommodation in Mykonos, to create a home away from home effect. You are welcome to join us!
SEMELI HOSPITALITY GROUP
Established with creativity and boundary-pushing, SEMELI Group aims to nurture a culture of culinary innovation, authentic hospitality, and Prosper Art.
Semeli Group is grateful to have enjoyed 20 Years as the hospitality industry leader in Mykonos Island.
The group runs various brands: Semeli Hotel, Krama Restaurant, Thioni Restaurant, Oniro Restaurant, Iguazu Greece, and Mosaic Mykonos.
For reservation
@semelihotelmykonos
Panachrantou 1, Mikonos 846 00, Greece