BY LAUREN SUDDABY
If you've not experienced Business class travel before, then know that few airline providers can compete with the ultra-luxurious service from one of the UAE's leading airlines, Etihad. We hopped, skipped, and jumped on board a 7-hour flight from Dubai to London to try it for ourselves. 
As we enter a new era of post pandemic travel, we couldn't appreciate comfort and ease more, and Etihad offers this limitlessly. We flew from Abu Dhabi, only an hour car ride from Dubai, where Etihad can arrange transfers upon request. On arrival, we were greeted by not one but three friendly Etihad staff who whisked away our bags and ushered us to the business and first-class terminal.
We took advantage of the 40kg hold allowance, plus 12kg carry on, but this would be far more useful when packing for a winter getaway! Check in and security took 15 minutes, so we soon arrived at the Etihad business and first-class lounge with over two hours to spare.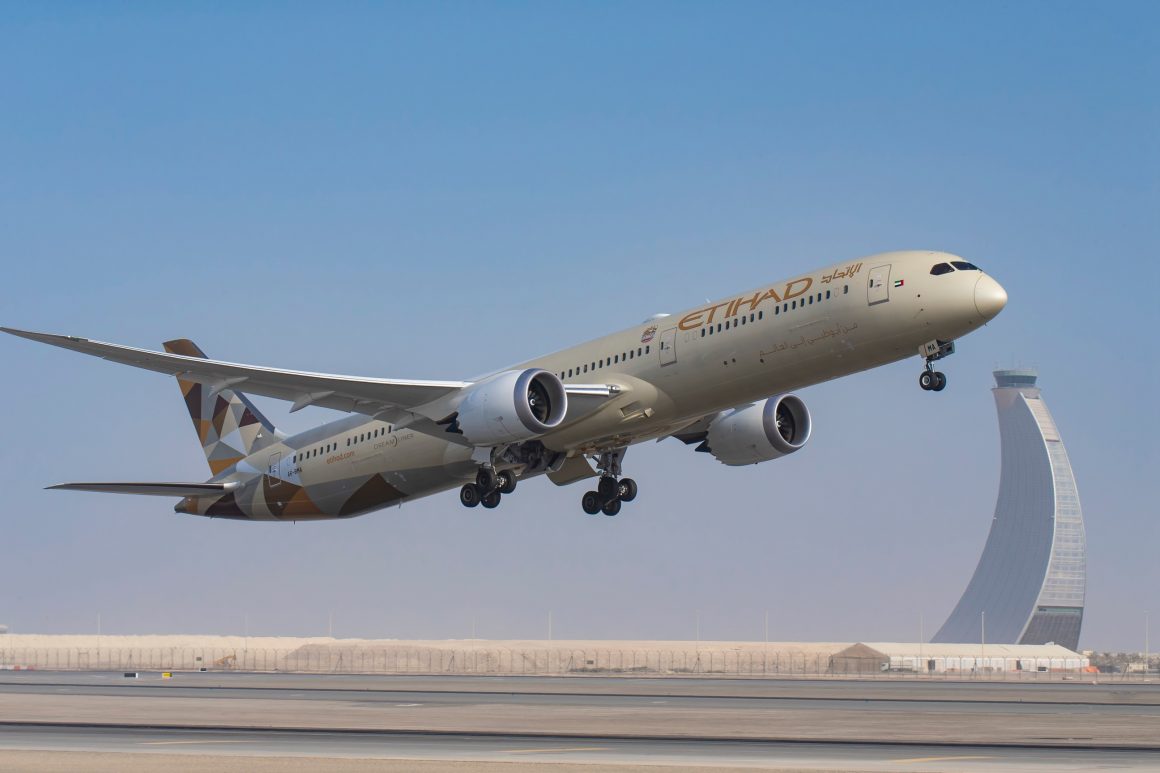 We took a night flight, so the international buffet and unlimited drinks that included premium bubbles were the perfect pre-flight dinner option, and we tucked into a selection of fresh salads and pasta. Also available are a family room and TV pods to keep kids entertained or catch up on the latest sports. Those travelling for work will welcome the business centre and relaxation area if looking for some downtime between calls.
On boarding our plane, a Boeing 787-10 jet, we were surprised at the spacious pods and generous leg room – excellent for even the tallest of travellers. On the plane before anyone else, it was a nice touch to be given a selection of cold refreshments as we sat down. We had no trouble finding sockets to charge multiple devices and noticed that strategically placed lighting prevents readers and snoozers from hindering one another.
Once settled in we're shown how to adjust our seat for maximum comfort and given a super soft blanket and pillow to use should we fully recline to mimic a bed. In partnership with Acqua di Parma, Etihad has filled the toilets with the brand's premium toiletries and provides a travel kit with more for freshening up.
We can't fault the attentive service as we're asked what we'd like for breakfast – a choice of eggs, continental, and Arabic are available, and what time we'd like it served, a small detail that ensures we can maximise on undisturbed sleep. Post take off, we order a cheese plate with quince jam and a flavoursome hot beef stew with mashed potato alongside a glass of grape that's all delicious.
As promised, we're woken an hour before landing with a freshly brewed cappuccino and a full English breakfast, feeling refreshed and ready for the day.
Faster than we checked in, we were through security in London, and our bags were the first on the belt.
Our experience with Etihad business travel was by far the most seamless we've ever experienced, and we won't hesitate to book with them again.