Twenty years ago, the late His Majesty Sultan Qaboos ordered the construction of the Royal Opera House, which was the first in the Gulf and second in the Middle East while the royal orchestra consisting of only Omani musicians was formed in the 80s. The Royal Opera House highlights the importance of music that has been embedded in Omani Culture. Inspired by this rich musical history, Amal Al Raisi brings forth a Spring/Summer 2020 collection that radiates a sense of refined femininity.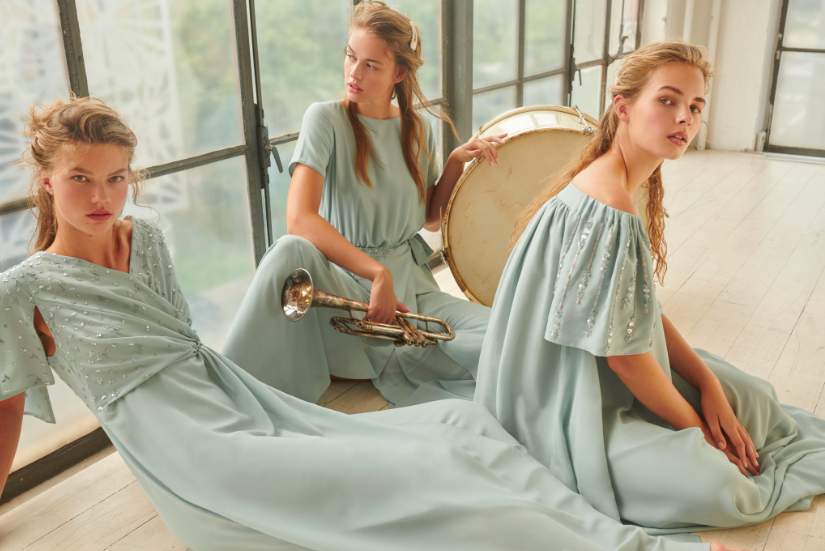 Amal Al Raisi's Spring/Summer 2020 collection boasts the versatility of her designs by depicting how music crosses boundaries and fuses different cultures together. Resonating the melodious essence of music, fluid kaftans, dresses, jumpsuits and separates are the spotlight of the season.
An inspiration stemming from the international language of music has been translated into intricate embroidery in the shape of musical notations. This season, Amal adds a novel touch to her collection, imprinting fabrics with the 'Amal Al Raisi' logo in burlwood and whisper white. To pay tribute to the sound of mellow tones, a soothing color palette featuring hues of whisper white and rose dust are fused with bold hues of misty blue and crushed violet. Abstract metallic prints in gold printed organza and metallic blue print are introduced with rose dust brocade for an avant-garde style of detailing.
Embodying the significance of music to the Omani people, Amal Al Raisi's Spring/Summer 2020 collection exudes elegance, leaving every woman feeling rejuvenated for the season.
Keep up with Amal Al Raisi here: @amalalraisiofficial on Instagram, and Dar Alaseel on Facebook.