The summer is here and finding a cool place to wind down can prove a challenge, but with plenty of temperature-controlled water and splashing fun, Al Waha at Shangri-La Barr Al Jissah Resort & Spa, has you covered.
Overlooking 500-metres of stunning coastline, Shangri-La Barr Al Jissah, Muscat is spread across 2 distinct wings that are connected in their Arabian spirit of hospitality: Al Waha, "The Oasis" and Al Bandar, "The Town."
Al Waha is ideal for families with a wide array of amenities that make for an unforgettable stay, from thrilling watersports to a lazy river and kids club, a secluded spa, and delicious dining options.
For our little family, we found there to be plenty on offer at Al Waha. The rooms are simply designed, with clean lines and practicality in mind. Coming from the beach or pool, the rooms have renewed, immaculate tiled floors, which make for a very convenient, clean, and calm stay (sandy toes and wet towels are easily dealt with and the fabulous housekeeping team is extremely diligent, giving parents a well-deserved break and dose of serenity).
Now, let's dive into the Kid-Friendly perks of Al Waha.
MEET THE FRIENDLY TURTLE MASCOT
On arrival, families are met with a Giant Turtle! Not only is he fun, friendly and dancing his way to greet you, but he spreads the message about Turtle-Hatching season at Shangri-La's beach with a dedicated Turtle Ranger overseeing the resort's turtle nesting sites. The ongoing Turtle theme represents a key message for the preservation of beautiful turtles across the Sultanate of Oman.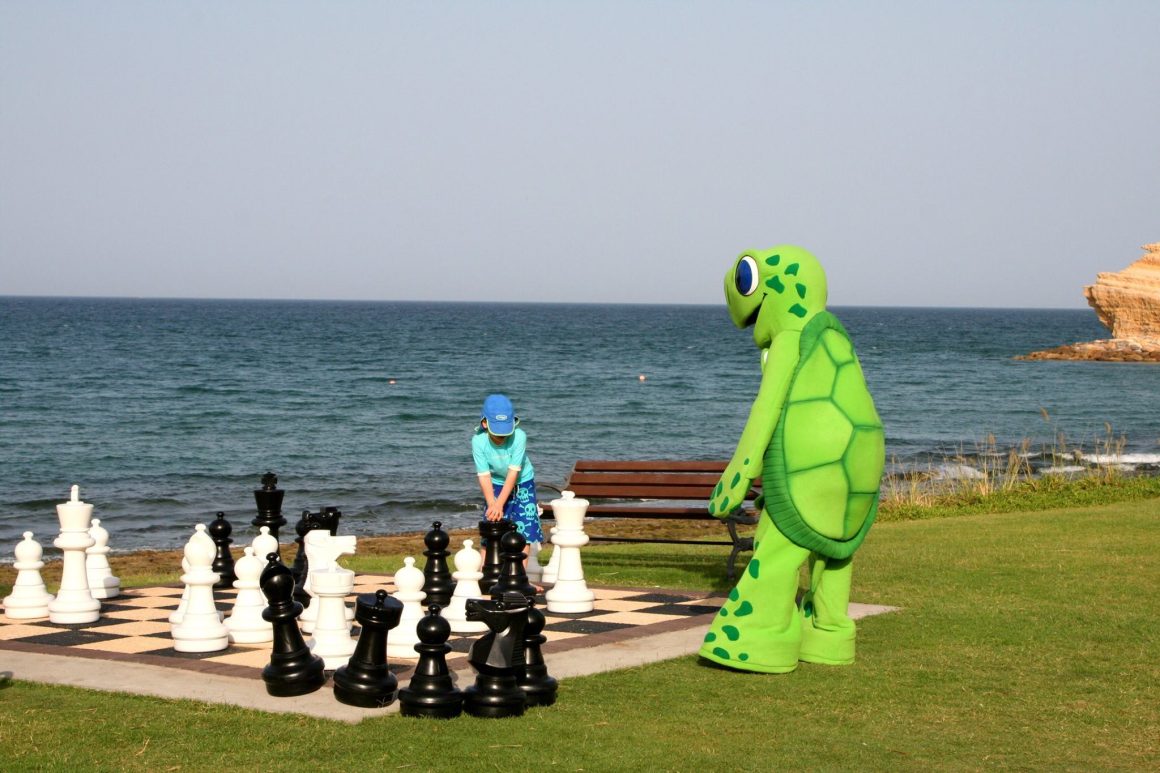 TURTLE Goodies
Whether checking in with a lollipop, having your photo with Turtle and family, or getting your very own turtle toy, the Turtle journey is very much a core memory that you'll remember long after your stay.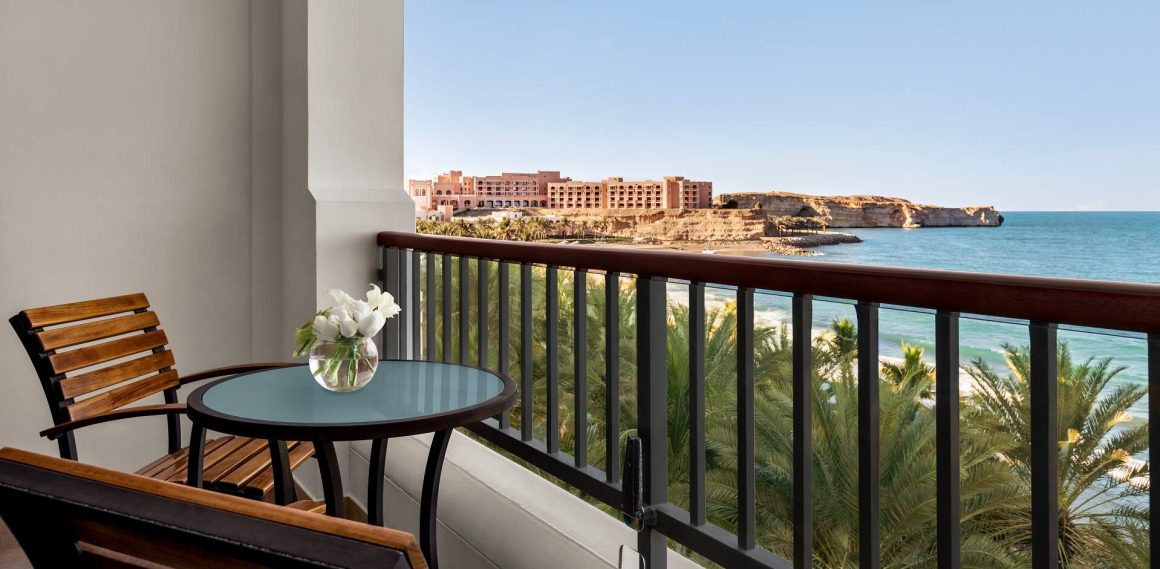 In Room Amenities
The rooms are spacious and you can opt for interconnecting or a Family Suite. The bathrooms offer beautiful soaps and shampoos for the little ones, set up before your arrival. With rooms overlooking the gorgeous bay, our room gazed over the 'lazy river' and sweeping palm trees; just perfect for a no-fuss, carefree holiday.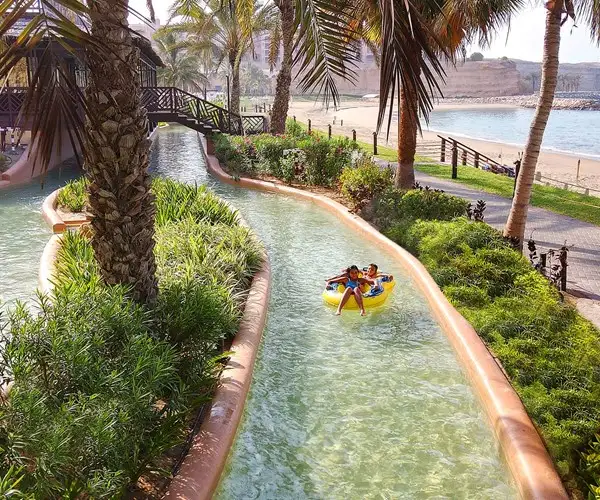 Lazy River
Overlooking 500-metres of pristine coastline, Shangri-La Barr Al Jissah is home to a secluded spa village, four floodlit tennis courts, a private beach, multiple swimming pools, kid's splash pad and Oman's only lazy river experience.
Kids Club
Open from 9am daily, Shangri-la Barr Al Jissah has a dedicated Kids Club, known as Cool Zone Kids Club. The club is located in Al Waha Hotel, next to Samba Restaurant and caters to children of all ages. They open daily from 9am to 6pm with a full range of scheduled activities and fun and engaging games and experiences.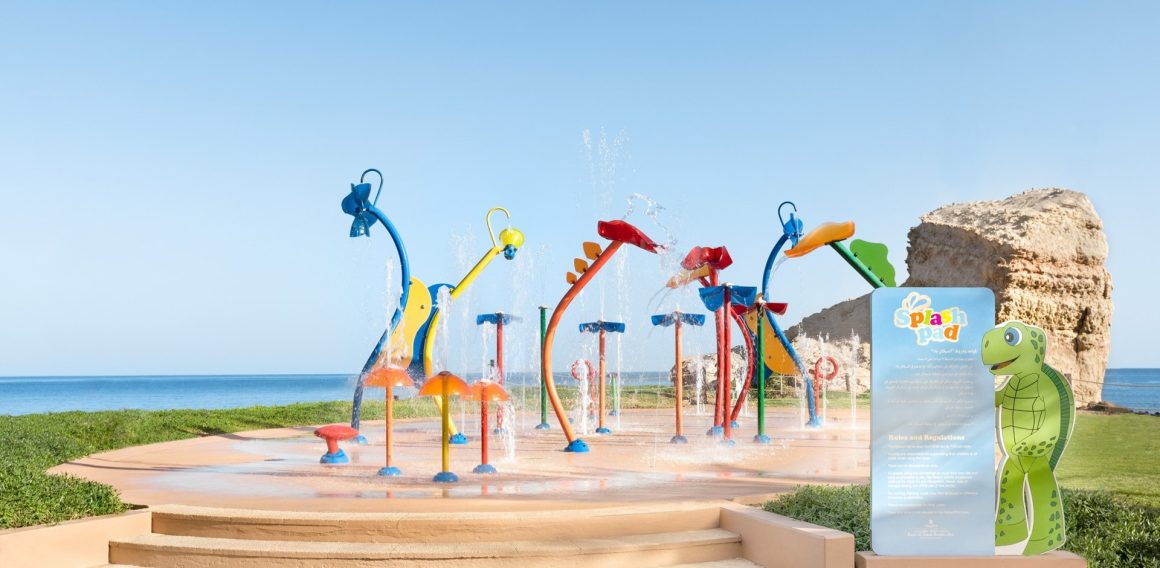 Splash Pad
Located on the headland at the Al Waha hotel, Splashpad is an aquatic play area for the whole family with a combination of water features including light mists, touch sensitive sprays and projection jets. Open from 9am – 6pm daily.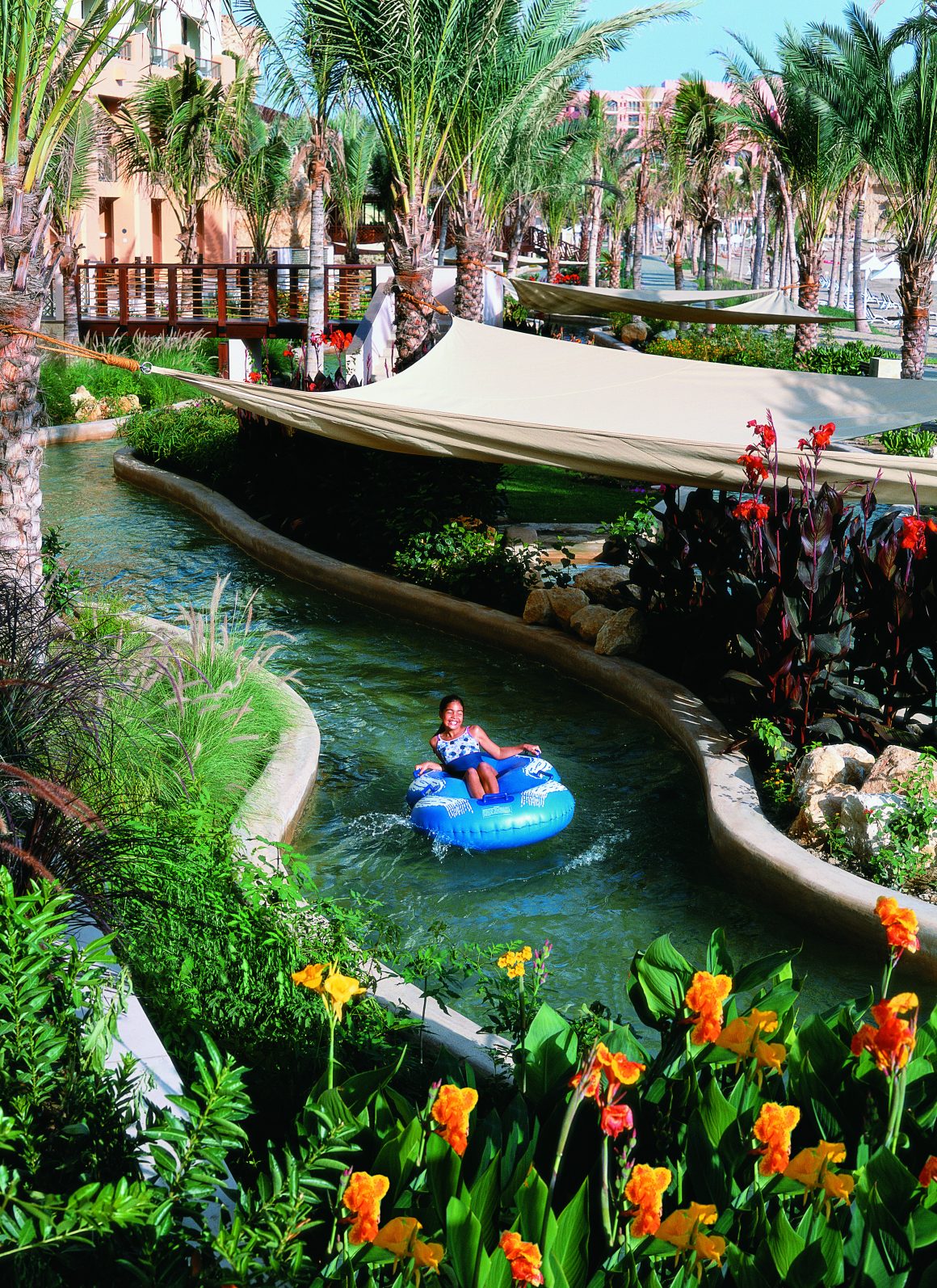 For the parents, the setting is idyllic and spacious. Whilst kids are fully entertained, you can soak up the scenic vistas around you. The grandiose Al Hajjar mountains serve the perfect backdrop to swaying palm trees, a sweeping coastline and a horizon of blue sea. Despite the summer heat, the early mornings and golden hour dips keep you fresh with cooled water and plenty of shaded areas. With a stylish pool bar, the team is on hand with frozen goodies throughout the day!
After the sun goes down, and the little ones rest, we highly recommend a dinner at Bait Al Bahr, where coastal delicacies and freshly caught fish await from the Omani fisherman's daily catch. The team at Al Waha are well accustomed to having little ones around, so you're made to feel welcome and at ease. The perfect family destination, where even the parents may relax.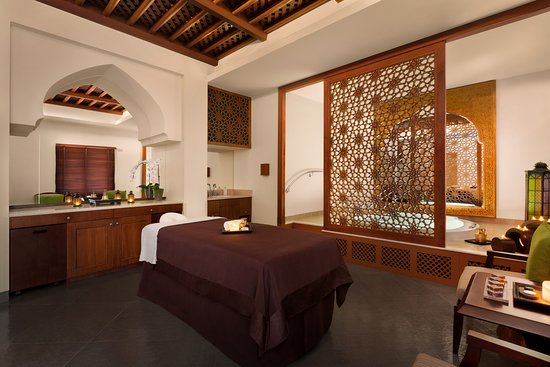 If you feel like a spot of pampering, Chi, The Spa offers a wide range of Ayurvedic and holistic massages to boost your wellbeing. We opted for a Couple's Signature massage and left feeling rejuvenated, refreshed and incredibly light! The wonderful nannies in the Kids Club offered to take care of our little one whilst we escaped for 60 minutes of pure, indulgent, relaxation.
Chi, The Spa draws inspiration from the legendary Shangri-La – a place of personal peace, enchantment and well-being. The secluded spa villas at Shangri-La Barr Al Jissah are some of the largest in Muscat, where guests can enjoy our unique Chi Water Oasis featuring a vitality hydro pool, a steam room, tundra and tropical showers, an ice fountain and a relaxation area.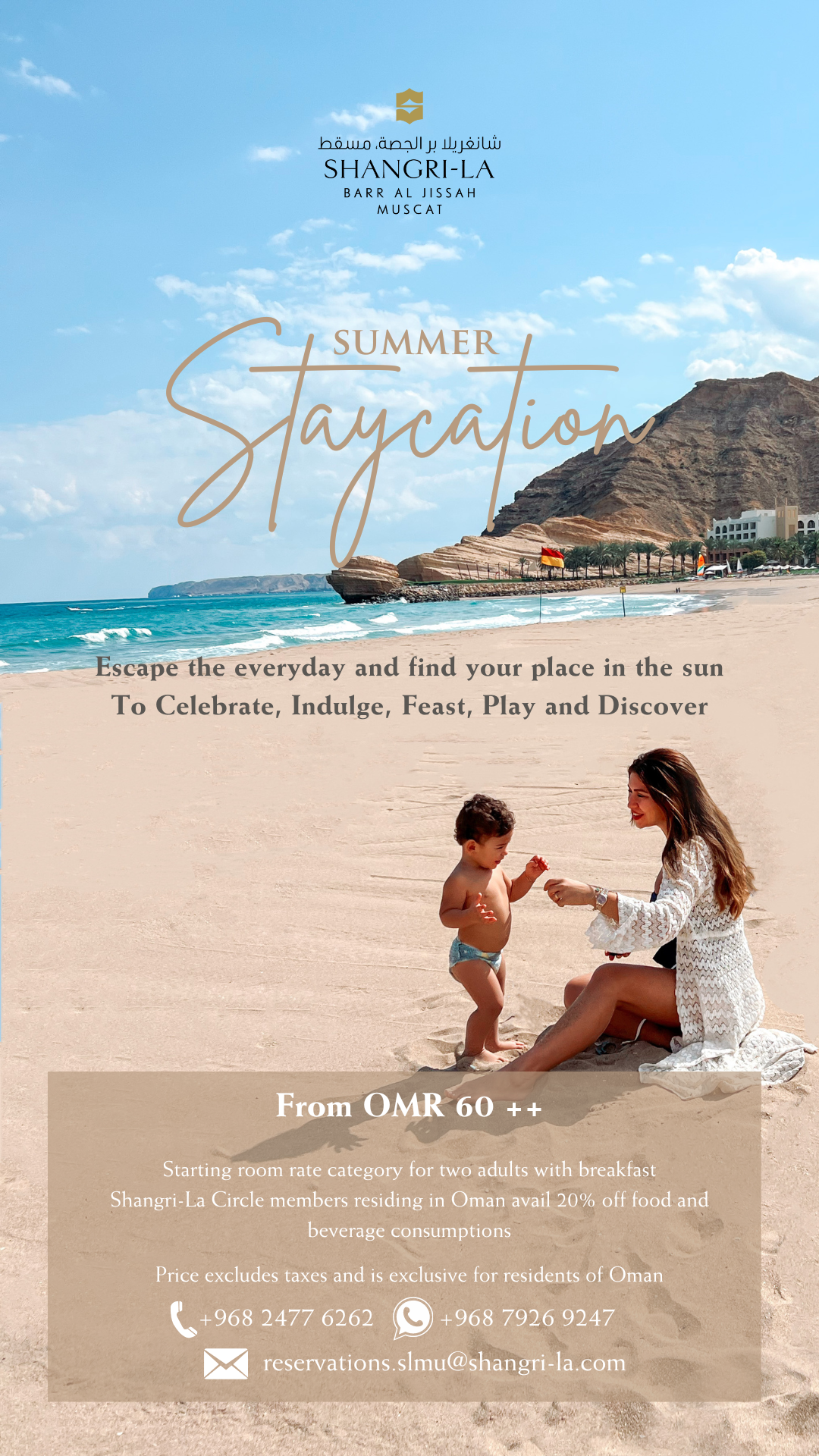 If you're looking for a family-friendly luxury stay, we highly recommend Al Waha with Summer Staycation room rates starting from OMR 60++. For more information, or to book your getaway visit Shangri-la.com