by EVA STANLEY-JONES, SALIM AL AFIFI and ADELA EILEEN
Sampling the local cuisine is one of the fundamental parts of travelling that offers an excellent opportunity to immerse yourself into a new culture and savour the best of flavours. In this issue, we elbowed out the tourism hype and dug deep into the country's dining scene to unearth some of the trendiest boutique restaurants that serve culture on a platter.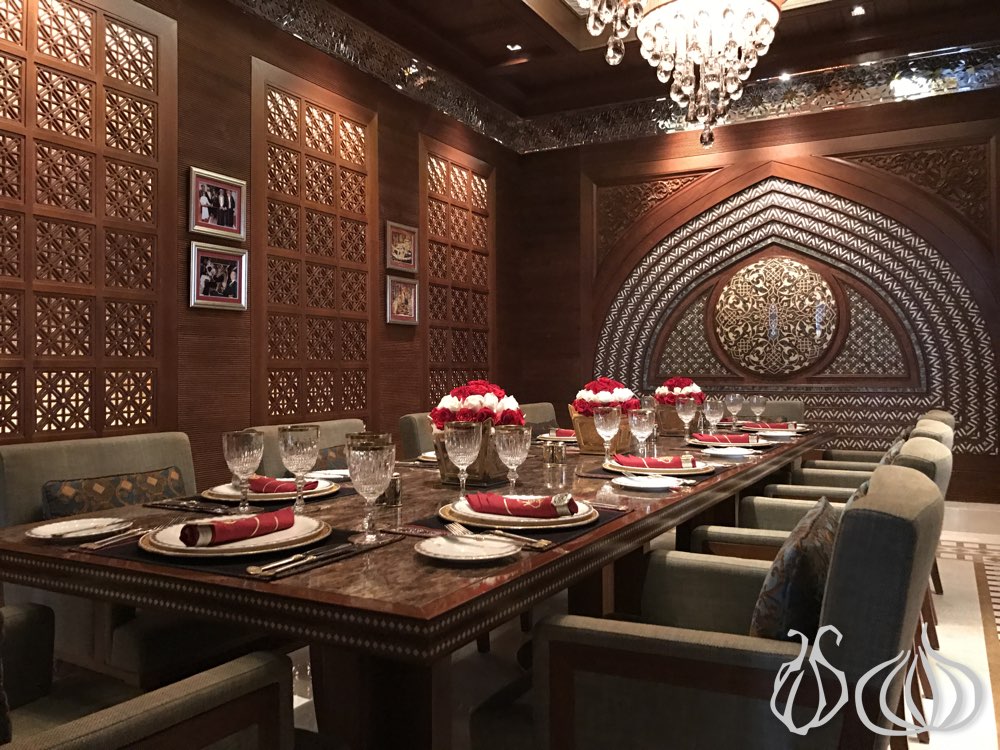 AL ANGHAM
At the top of our list for a truly premium and price-punching Omani experience is Al Angham. Expect to dine like a Sultan with palatial Omani settings, silver cutlery and food-fare galore. All of the classic Omani dishes are on offer and served in the stunning setting of Opera Galleria. It come's with a hefty price tag, but if you're looking to indulge then this is the spot for you.
Location: Opera Galleria, Royal Opera House Muscat
Contact: +968 22 077777
Habboh Cafe
A visit to this lifestyle cafe will paint a lovely picture of how the locals have their breakfast. Founded by Nawaf Al Wahaibi and his family, Habboh (which colloquially means grandma) serves Omani speciality breakfast in Al Amerat.
With his mother in the kitchen, concocting a dinner likely to appeal to your tastebuds, you can't help but sense the warm, familial vibrancy that fills the air. And, it's a perfect stop for an afternoon flatbread-and-tea beyond Aqabat Boushar.
The witty approach to the menu is quite a joy for the Arabic reader; You'd spot the grandma character and feel her tone throughout the menu, ready to take your order.
Local breakfast foods such as red beans cooked in thick tomato stew; siweah, a sweet dish made of vermicelli cooked in sugar syrup; and Al Mardhoof, a traditional flatbread that comes with an assortment of spreads like cream cheese, Nutella, honey, and strawberry jam — are all on display.
You may not be served by Habboh herself, but the hospitable family is undeniably welcoming. Order yourself a cardamom-infused karak tea or a cup of rosewater coffee. With that ambience, we promise you'll feel right at home.
Location: Al Amerat, Muscat
Contact: +968 9616 9191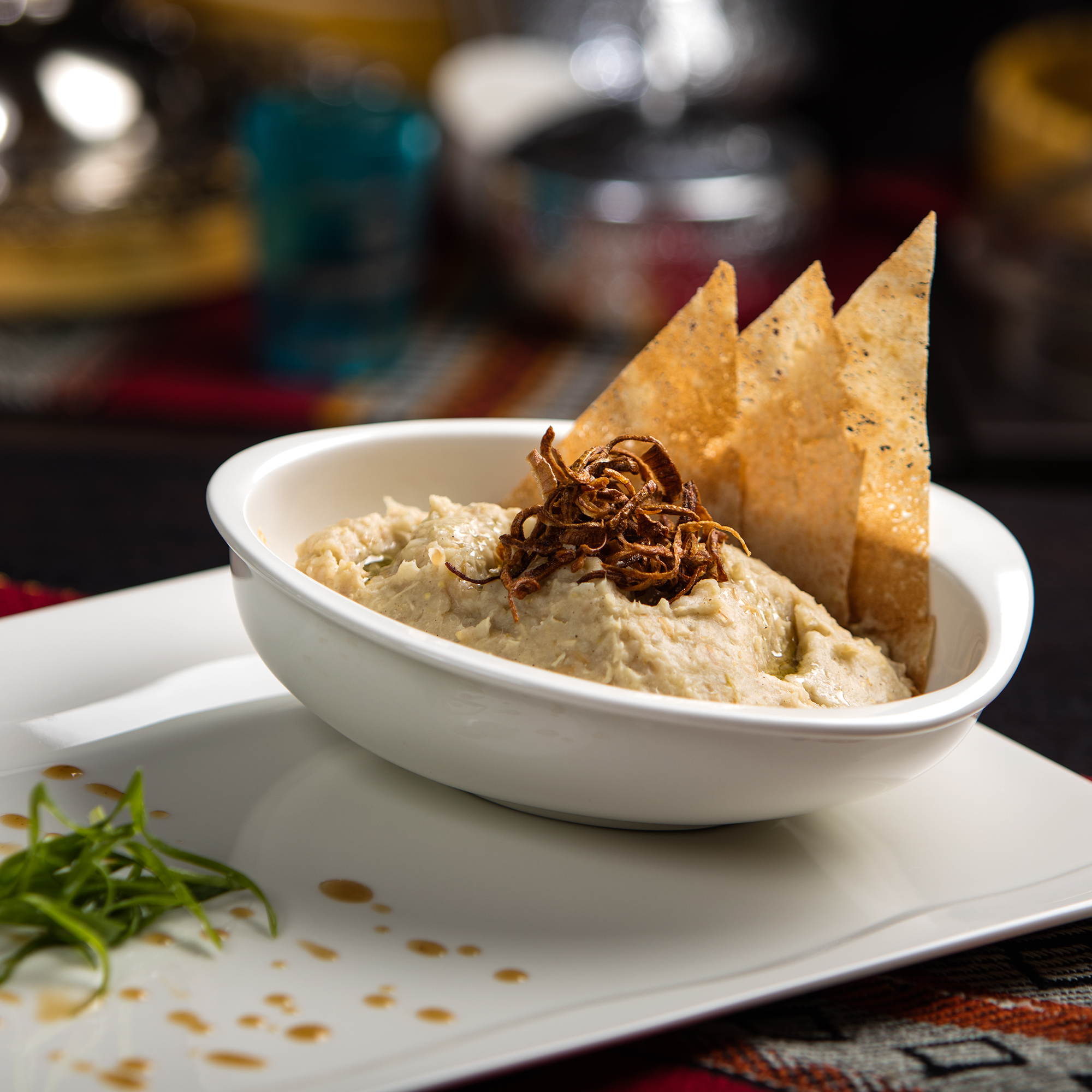 Tarma Restaurant
Situated in the neighbourhood of Al Khoudh in Seeb, Tarma restaurant succeeds in blending the best of both worlds: Traditional delicacies and sophisticated plating. Think shuwa with a contemporary touch.
The menu, which was curated by Oman's beloved celebrity chef, Issa Al Lamki, is filled with modernised local dishes like kingfish served with garlic butter sauce and qabooli rice, pit-roasted shuwa savoured with pieces of rakhal bread (Omani flatbread), and chunks of lamb spiced with local ingredients. The place offers an opportunity to sample familiar local dishes in new ways.
Apart from its fabulous five-star plating, Tarma offers catering services for those wanting to experience an elegant-yet-homemade treat that has Oman written all over it.
Location: Al Khoudh, Seeb
Contact: +968 9527 7125
* This restaurant offers a variety of Meditteranean dishes as well.
Dukanah Cafe
Dukanah is an all-day breakfast cafe and restaurant specialised in Omani traditional food, set in a traditional ambience that pays homage to the olden days of Oman. With muddy palettes overtaking the diner's atmosphere, guests are invited to relive ancient times while having a delightful dining experience. Tucked in South Azaiba, this popular hotspot is the go-to place for those wishing to try a local homemade breakfast. Dishes such as qellyah, pan-fried meat seasoned with local spices and served with rakhal flatbread; harees, a wheat-and-chicken-based dish served with a splash of local ghee, and a variety of curried beans best devoured with flatbreads as well. If you're a sweet toothed person, then dive into their desserts menu and try jaula with honey, a bread mixture bathed in date syrup and honey; luqaimat, crunchy sweet dumplings; khabeesa (not to be mixed with the Lebanese traditional dish), a dessert made of flour and milk, and blended with hints of aromatic rosewater and saffron. Ingredients such as rose petals, dried lime (Omani loomi), ghee and date syrup are infused into the menu to create traditional delicacies. Make sure to try their rosewater lemonade, it's heavenly refreshing.
Location: Azaiba South, Bousher (Behind GMC Showroom)
Contact: +968 2450 2244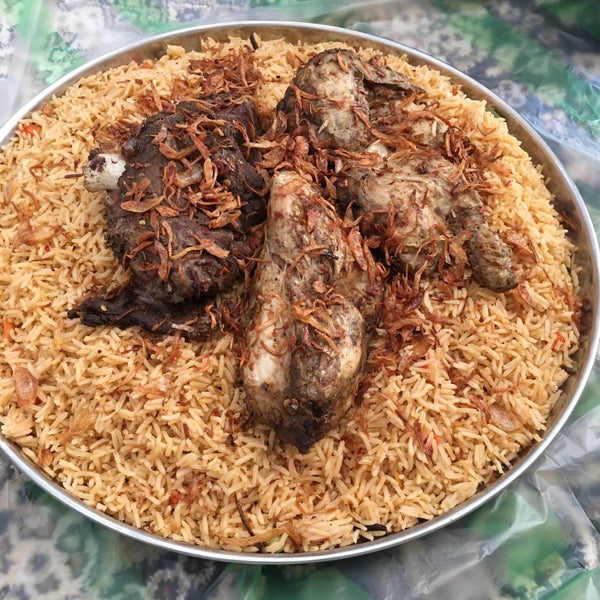 AL SHIWA AL OMANI Café and Restaurant
This hidden gem (perhaps hidden no more as we reveal it's location) is one of the best places to try Shuwa (Omani traditional rice and lamb meat dish, cooked underground for 48 hours). Most of their food is prepared by local Omani women, adding further glory to their food. Try their harees or the arsiya shuwa and you won't be disappointed. Try and experience it with a pinch of salt, it's not a fancy venue and service is slow and relaxed, so sit back and do as the locals do; the food is sure not to disappoint.
Location: Al Khoud
Timings : 9a.m -11:00p.m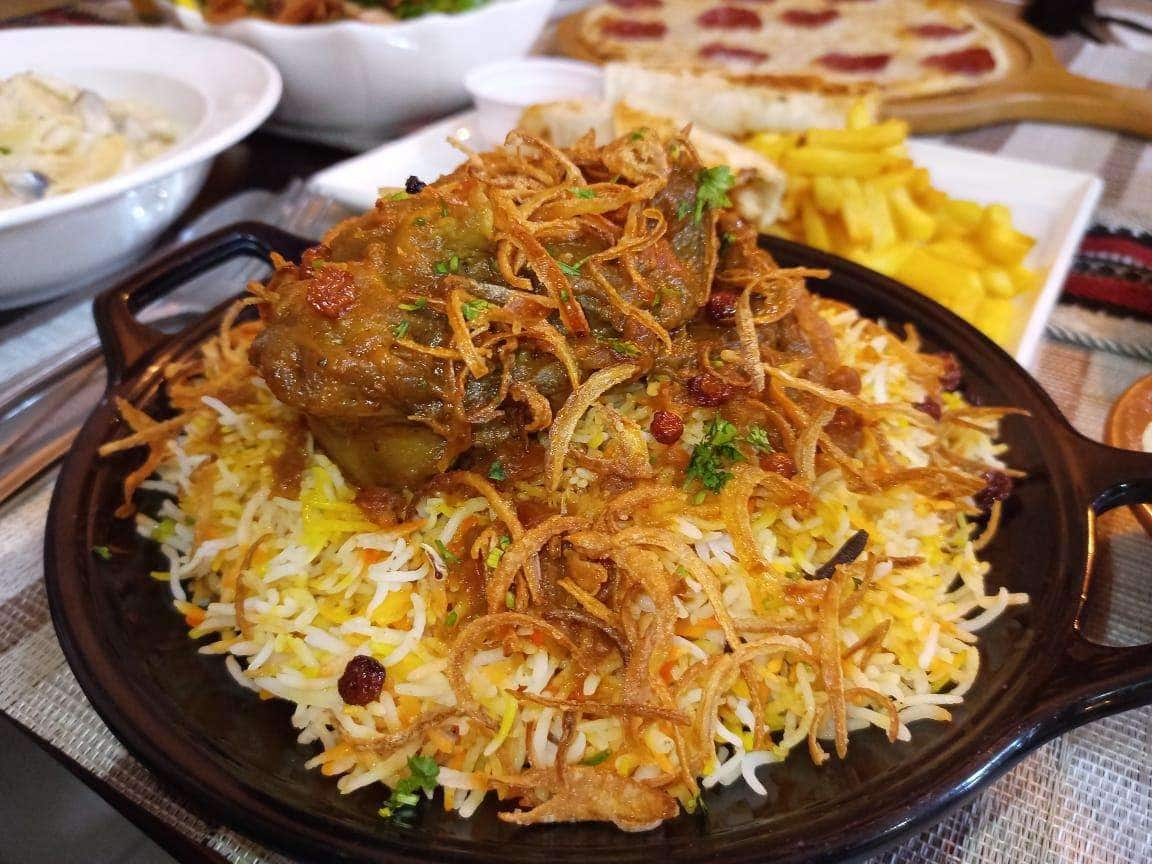 Al Mandoos
Located on a busy street of Almouj and 7 mins away from the airport, Al Mandoos is a great option for an authentic Omani meal. Start with 'pablou' served with rice (dry fish soup) or the qasha mango salad with fish. Followed by a grand offering of with camel meat and shuwa (local favorite of slow-cooked meat underground) madrouba (rice with meat curry) or the arsiya meat with tamarind sauce.
End on a sweet note with kabisa served with an Omani date ice cream. They offer private rooms for larger families or the open majlis for an traditional Omani experience.
Location: Al Mouj street
Timings: 10 a.m -11:30 pm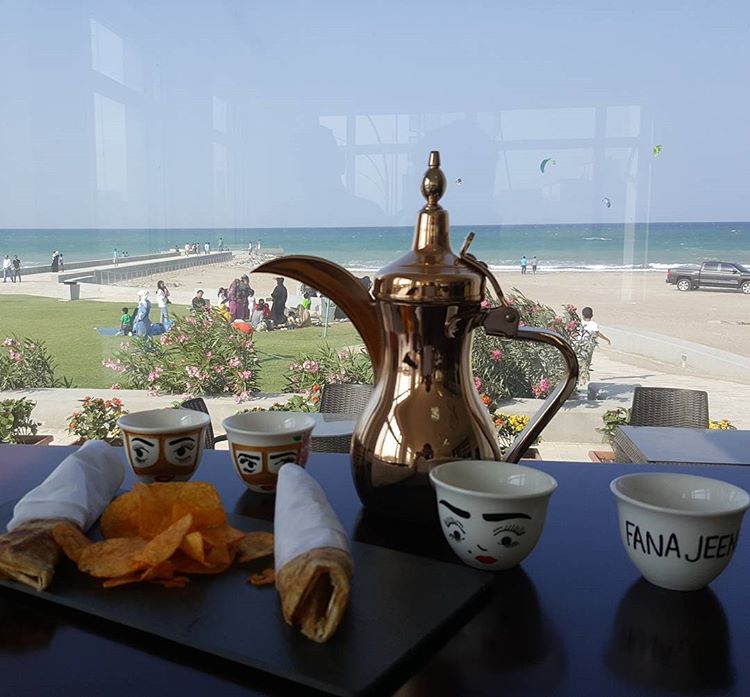 FANAJEEN
A open air all-day eatery that serves a medley of Omani fusion. Brunch is a great idea if you'd like to escape from the traditional Omani breakfast, or you can try their famous fisherman breakfast that gained its popularity served at this beachfront cosy café. The food is on point, making it a favourite spot among locals in the evening.
Location : Al Azaibah beach
Timings: 8 a.m – 11:30p.m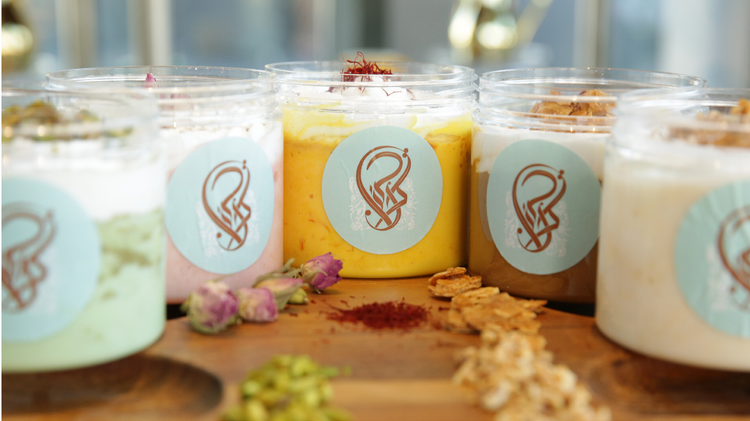 MAMA HALIMA'S KITCHEN
As the name suggests, Halima's Kitchen is not just a restaurant, it's a story that speaks from the home. This homely restaurant serves what you'd expect from 'mama'. Beautifully decorated walls welcome you and add to a perfect breakfast/lunch experience. The breakfast platter is served with assortment like balaleet (traditional sweet noodles) dal (lentil curry) scrambled eggs, chickpea gravy, and more. Pair with a karak tea for best measure. Aside from breakfast, the restaurant also caters to foodies looking to explore more than the obvious choices.
Location: Saih al Malih (Al Qurum)
Timings: 8 a.m – 10:00pm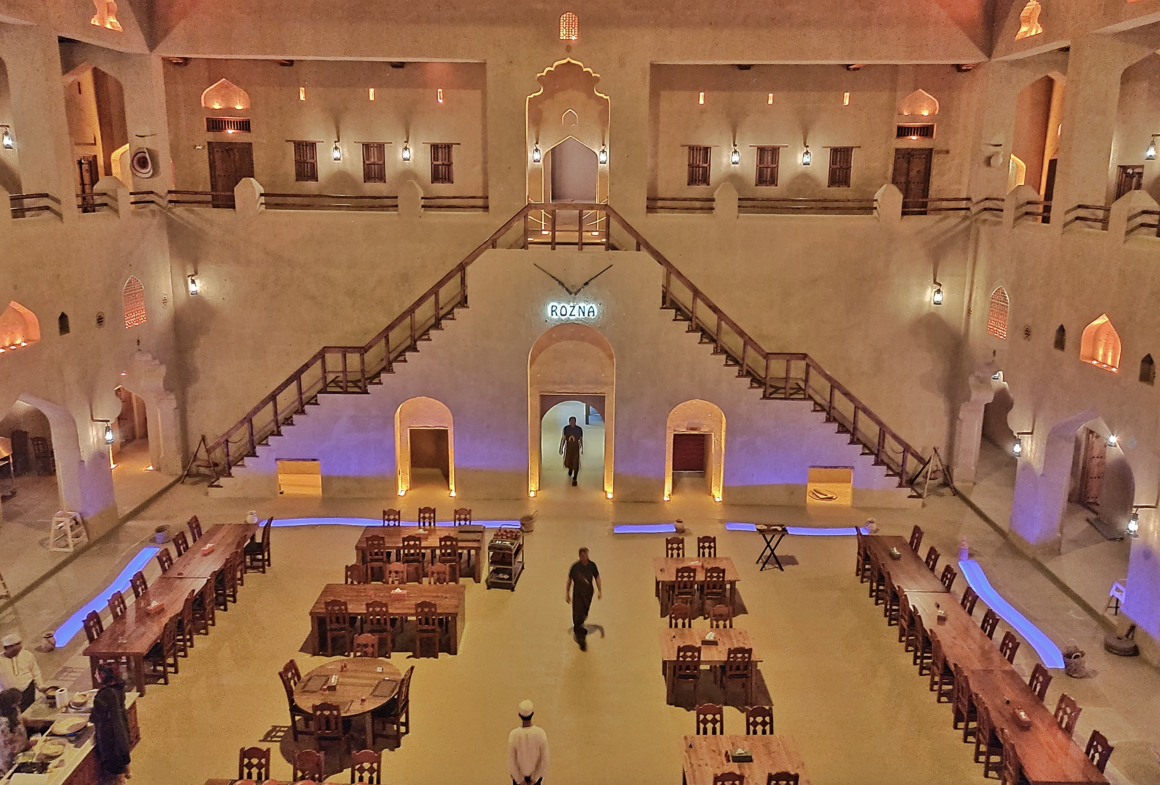 ROZNA
We have Rozna up our sleeves firstly due to the beautiful architecture of this gorgeous restaurant that showcases both Omani hospitality and culture. The museum-like venue is mesmerising, offering private dining rooms for family. Watch the water flow below you (known as Falaj system), or Omani women making traditional breads freshly for your meal. The menu boasts traditional Arabic food such as Omani shuwa, harees, mandi, mishkak(omani grills) mix grills, rice, luqaimat, mandazi, khabeesa and much more. Our team recommends this place, especially for the convenience of the parking and the perfect instagram-content!
Location: Next to the Oman Automobile Association, Seeb
Timings: 8:00 a.m – 11:30 p.m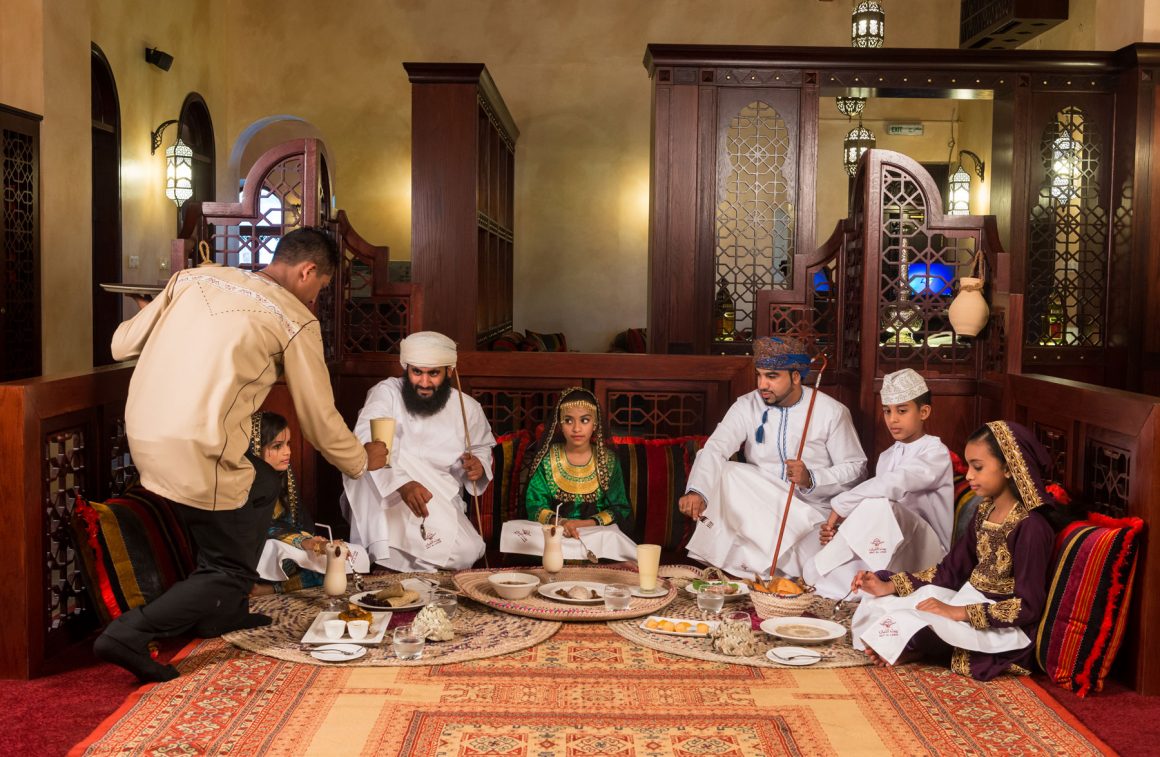 BAIT AL LUBAN
Perched on the old corniche of Mattrah, the whole experience of visiting Bait Al Luban is magical. As you enter an age-old building, you are immersed in beautiful storytelling and service. Whilst some locals may say the offering is a little contemporary, for tourists and expats, Bait Al Luban has long been a favorite for experiencing Omani cuisine within a fantastic aesthetic setting, with a shopping trip to the bustling Mattrah Souq next door to burn off the calories after.
Location: Mattrah, Oman