The 23rd Annual Gumball 3000 Rally comes to the Middle East and will arrive with a festival of supercars and superstars in Salalah on 14 November. Hosted by Maximillion Cooper, over 100 spectacular cars including Bugatti, Koenigsegg, Ferrari, Lamborghini and more, will take to the roads for the famous Gumball 3000 Rally, with participants, celebrities and influencers from over 30 countries taking part. With Celebrity entrants set to join the Middle East rally.
Winding the incredible coastal roads of Dhofar, Salalah, the rally is due to arrive to Alila Hinu Bay on the evening of 14th November, travelling along an incredible route incorporating unique scenery and roads all the way to the chequered flag at the resort. The excitement is building for both locals and tourists alike as Alila Hinu Bay, OMRAN Group's second property under the Alila Hotels & Resorts luxury hotel brand in the Sultanate, gets geared up to welcome celebrities and a fierce fleet of supercars for a stay like no-other.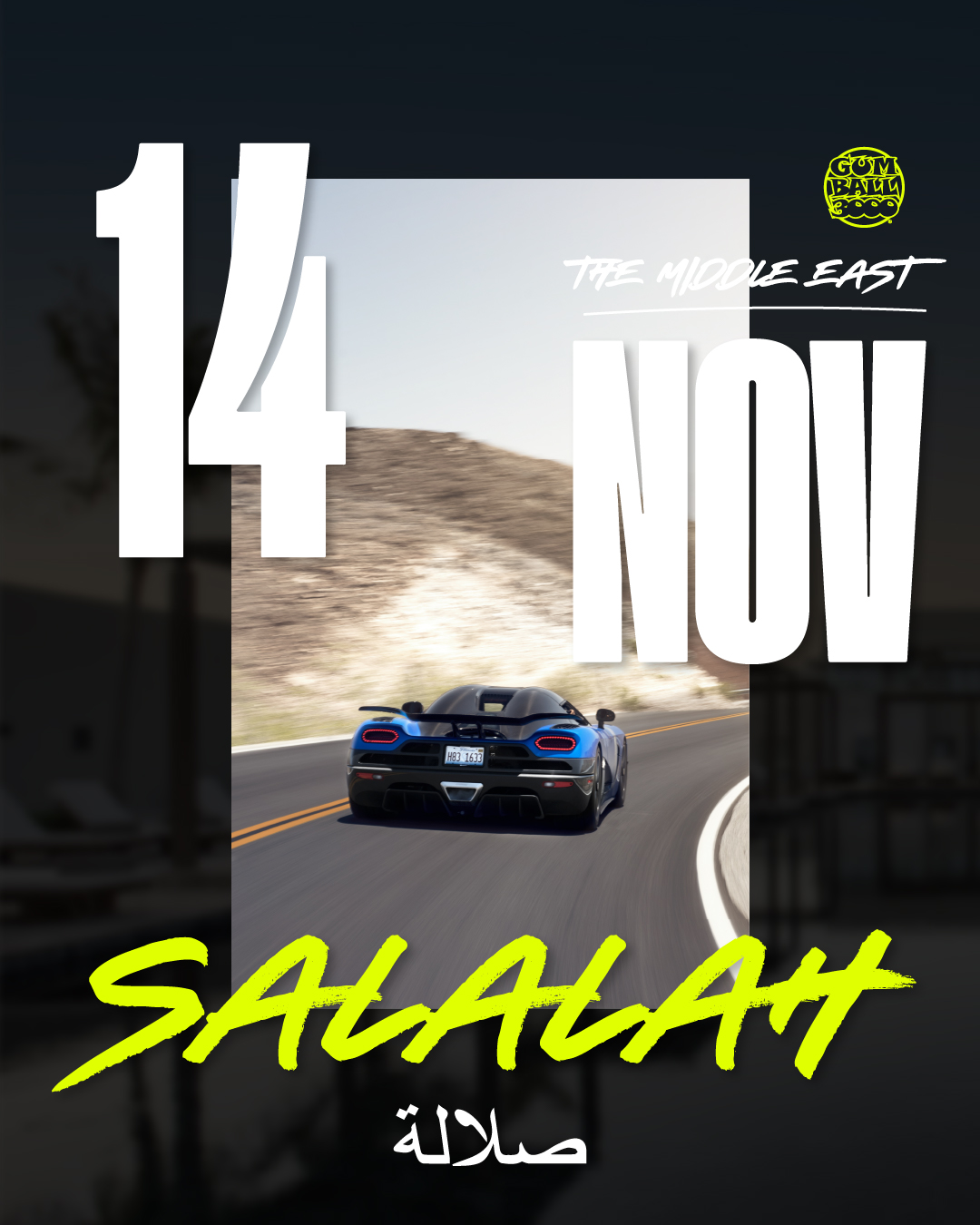 "We are truly thrilled to be welcoming the Gumball 3000 entrants to Alila Hinu Bay. The beauty and expansive space enroute to the property offer some of the most extraordinary landscapes in the world, further supporting the Oman 2040 Vision to drive Tourism as a key pillar for Oman's non-oil economy" – Juan Paolo Alfonso, General Manager, Alila Hinu Bay.
Bringing a real sense of exhilaration to the occasion, the rally will also welcome Omani social media personalities @thetwins8_, @mamacitaoficial, @zakoorr and @_.budoorr to participate in the journey, followed by a restful stay in Alila Hinu Bay's spacious private villas overlooking vistas of mountain, desert and sea. Located in Mirbat, Salalah, nestled gracefully between miles of untouched sea life and breathtaking mountain landscape, Alila Hinu Bay enriches guests to reconnect with nature in the most incredible ways, whilst filling their days with adventure and discovery.
Setting off from futuristic Dubai, the 6-day route incorporates the most incredible mountain, coastal and desert roads of the UAE and Oman, before crossing the finish line in Abu Dhabi at the finale of the F1 season. The start flag will drop at Midday on Sunday 13th November as drivers set off on the first leg of the rally towards the border of UAE and into the spectacular country of Oman. Over the following 5 days participants will travel through Jebel Akhdar (Sunday 13th), Salalah (Monday 14th), Muscat (Tuesday 15th), Ras Al Khaimah (Wednesday 16th – Thursday 17th), before crossing the spectacular finishing line at the Abu Dhabi F1 on Friday 18th.
In celebration of this exciting occasion, Alila Hinu Bay unveils exciting benefits for GCC residents looking to discover hidden gems across Salalah, Oman and rally their way into a world of adventure.
GCC Resident Offer
Bookable on Hyatt.com or directly with reservation team at Alila Hinu Bay.
Terms & Conditions:
– 25% off across rooms
– 25% off Spa treatments
– 25% off F&B excl. alcohol beverages
– Valid for GCC residents, incl. Oman
– ID card requested upon check-in
– Stays until: 02NOV22 – 30APR23
– Bookable dates: Now until 31 JAN 23
For more information and reservations visit www.alilahinubay.com email Reservations.hinubay@alilahotels.com or call +968 23373350
Follow the action and adventures on @gumball3000 #Gumball3000 #Gumballlife on YouTube, TikTok and Instagram channels. For more information visit https://www.gumball3000.com/
GUMBALL 3000 THE MIDDLE EAST – CELEBRITY ENTRANTS
GUMBALL 3000 THE MIDDLE EAST – INFLUENCER ENTRANTS