BY LAUREN SUDDABY
Nestled in the heart of Marylebone and only a moment's walk from Marble Arch, Hyatt Regency London – The Churchill captures British charm at its very best. Located next to Portman Square's private garden, which boasts a tennis court that all guests have access to, this beautiful period property ticks all the boxes for both business and leisure travellers.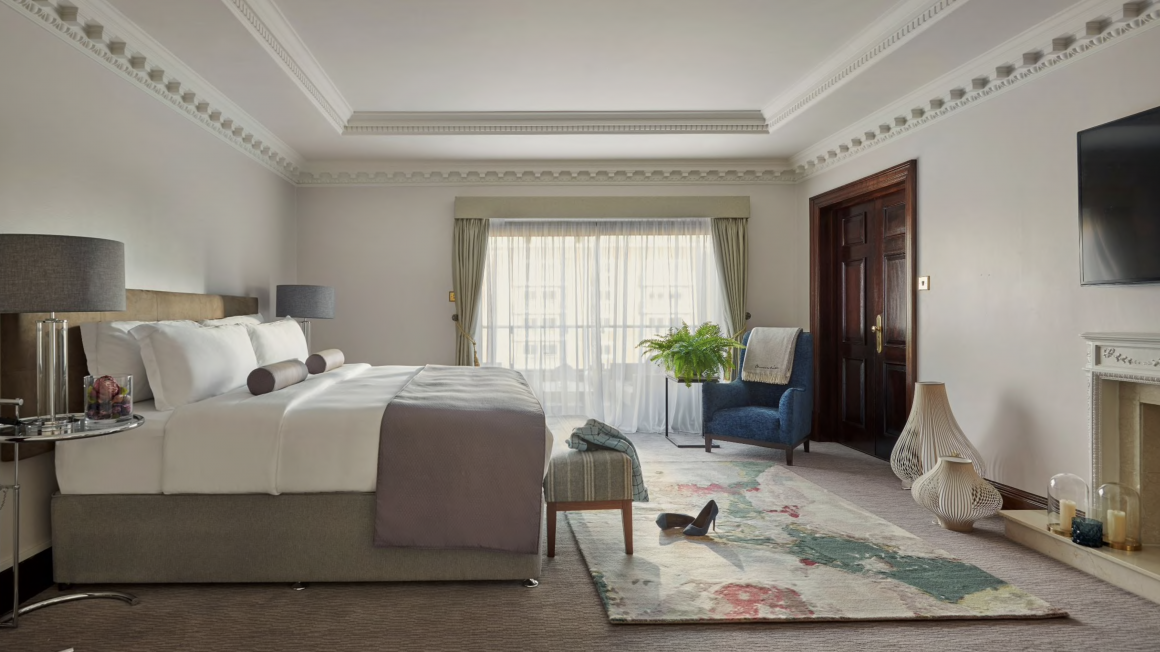 The bedrooms are stylish yet traditional, and you can certainly expect more than a nod to the late Winston Churchill and his love of travel and adventure. Churchill memorabilia and historic literature line the walls, while photos from Sir Winston's personal photograph albums – The Broadwater Collection – show him enjoying playing polo and boarding a cruise with his wife Clementine, sharing a unique insight into his life.
Montagu Kitchen in the centre of the hotel transforms from a breakfast spot – serving everything from a full English breakfast to a continental feast, reemerging as an unforgettable dinner spot as the sun sets over London. Executive Chef Roger Olsson's dinner menu celebrates modern British cuisine and comes packed full of variety, including an entire section for vegetarian diners that can be appreciated alongside meat dishes or enjoyed on its own. Although a seemingly normal British menu upon first glance, many twists are found when explored in detail, and plenty of Churchill's favourites are of course celebrated throughout.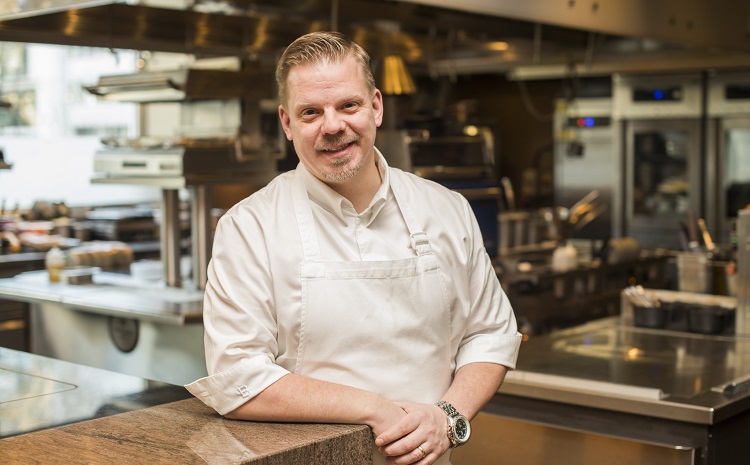 Delicious food is served with a side of ultra-attentive service as you're explained the quirky ideas behind each dish on its arrival at the table. Executive Chef Roger recommends picking a few 'before dinner' snacks, followed by three dishes from the main sections that are split into meat, vegetables, and fish options, followed by a decadent dessert.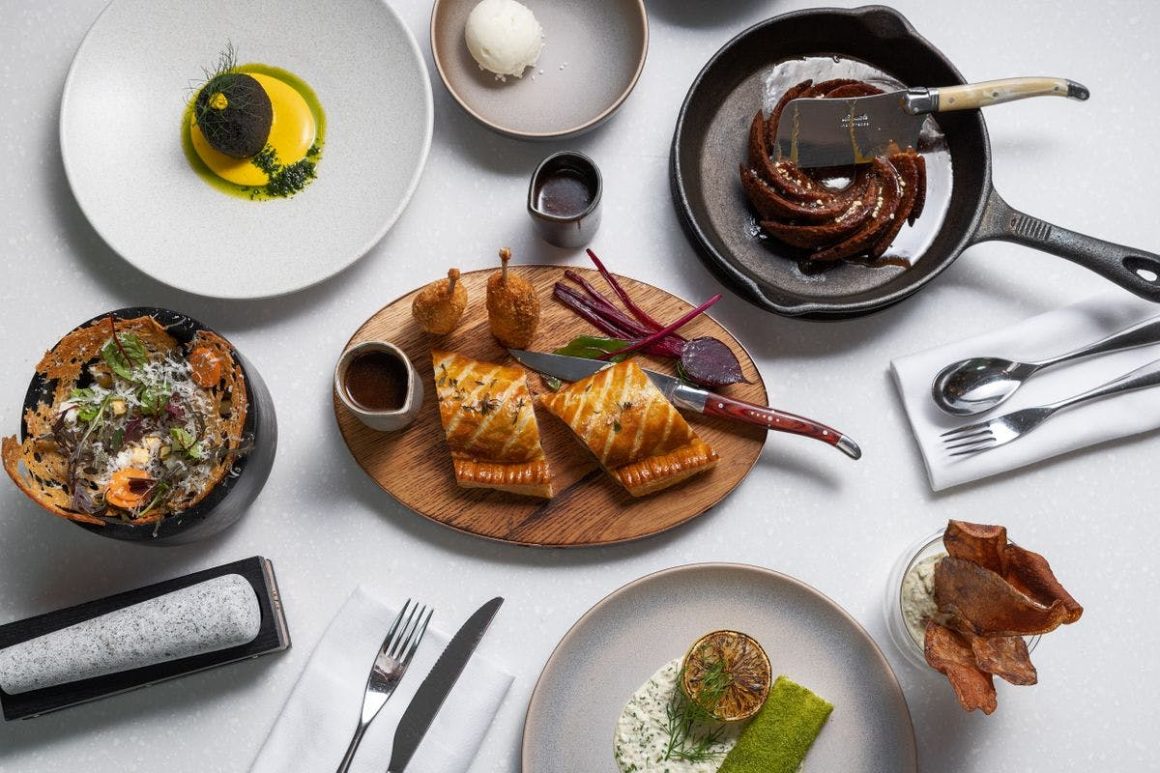 Split into chapters, there's certainly a story to be told after dining at Montagu Kitchen, so we began ours with an assortment from the 'prologue' section and most enjoyed the Bubble and Squeak bites with Coleman's spicy English mustard mayo and the Crispy Rosette that surprised us with an extremely interesting take on fish and chips.
Chapter I took us to the 'harvested' section where we were advised to sample the Homestead Farm Leek that's partially prepped at the table and inspired by the famous dish 'Welsh Rarebit' that was overflowing with flavoursome Lancashire bomb cheese and was gone in moments.
Chapter II had us hooked while tasting the fish selection, which presents an unusual Scotch Egg made with Cornish squid and prawns and is a must try for both taste and visual pleasure.
Chapter III is all things farmed, and the Manor Farm Organic Lamb is a choice we don't regret.
Lastly, as in all good stories, we finished with the 'Epilogue' section and concluded our special dining experience with a giant sticky toffee pudding for two that's served inside a cast iron pan, keeping it warm until the very end.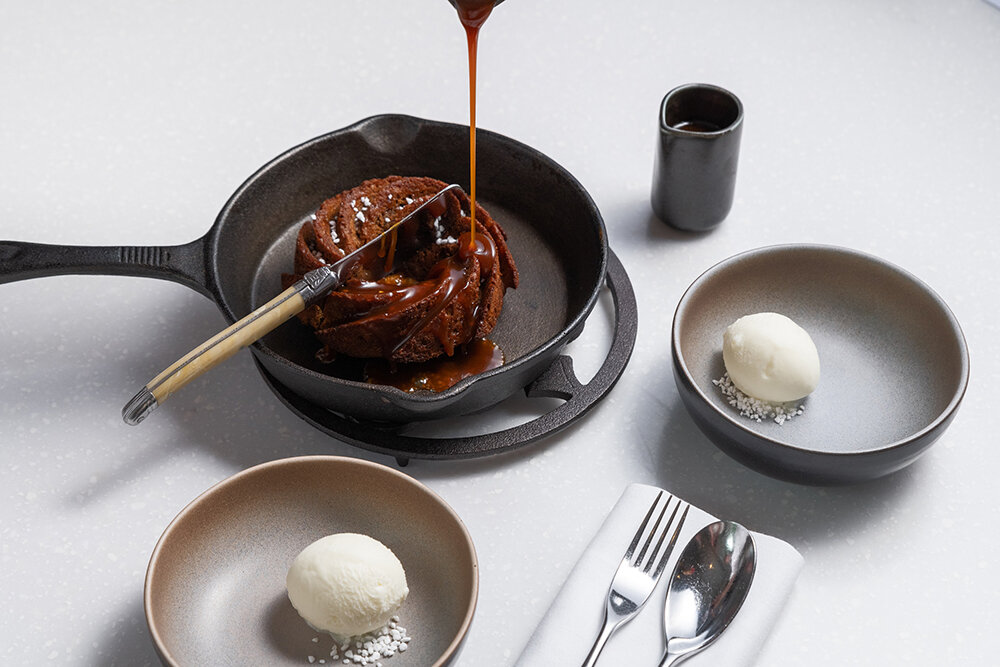 Next door to Montagu Kitchen, the aptly named Churchill Bar on the ground floor is open daily and buzzing from afternoon to late night but is best suited for a night cap after dinner, as we enjoyed it, or straight from a busy day out.
Visit https://www.hyatt.com/ for bookings and more information.