Highly Recommended Family-Friendly Hotel Taj Exotica Resort & Spa in Dubai.
As a property that I had yet to experience, but had 'seen all over town' it was always on my radar for a family staycation.
Taj Exotica Resort on The Palm, opened its doors in 2022 and is a brand synonymous with luxury and excellent hospitality; it's intrinsic to everything they do. Located at the Palm Jumeirah, with impressive views across the ocean, it's a destination in itself.
Upon check-in we were greeted with wellness beverages and a necklace designed to bring us prosperity, health and happiness. Fast forward to 24 hours later, and I can confirm that the hotel offering far exceeded my expectations in terms of people, design, F&B and catering to families of all ages.
For anyone with children that wish to visit Dubai, I highly, highly (yes it deserves to be repeated) recommend staying at this hotel. This hotel boasts all of your five-star luxury amenities, but with a difference. The people at TAJ are incredibly genuine and good at what they do. From the front of house, to those that work behind the scenes, you can feel the 'togetherness' and calm control, ensuring everyone's stay is well taken care of.
Let me give you a little example: As my young toddler galloped around the hotel property, enjoying the blue hues under a glass sky, several team members interacted and reveled in his light-hearted games, those of a small boy, who finds wonder all around. We were truly made to feel at home, relaxed and supported; the perfect ambiance for families with a lot to juggle whilst 'on holiday'. Taj is a toddler-approved getaway, without any loud noises or busy-ness, allowing adults to feel pampered but the little ones well occupied.
Luxurious Rooms and Suites
Inspired by modern Arabian lifestyle design, the rooms and suites reflect the blue and gold hues of the Arabian Sea and exude elegance with bright and soothing colour schemes. The six-storey resort is spread over 48,000 square metres, featuring 325 rooms and suites (258 rooms and 67 suites to be exact), with private balconies. The rooms and suites are beautifully appointed, with fine linens, exquisite furnishings, bathrooms with standalone bathtubs and walk-in showers.
The resort's largest suites range in size, from 165 to 500 square metres, and feature spacious living areas and private outdoor Jacuzzis. The Presidential Suite on the fifth floor has four bedrooms. This sprawling suite features a combination of two kings and two twin bedrooms. It has 500 square metres of sophisticated luxury with a spacious living area, powder room, balconies, luxury Hermès bath amenities, Noritake crockery, a dining room with kitchenette, and balconies overlooking the Arabian Sea. Another top suite worth booking is Exotica Suite Sea View, which also has an outdoor Jacuzzi. It's designed for luxury and exclusivity, with incredible views of the sea. Along with a large bedroom, the suite features a living and dining room, kitchenette, a Lavazza coffee machine, powder room, and luxury Hermès and Molton Brown bath amenities. You'll alsohave access to a butler service.
Why My Family Will Choose TAJ Again?
You only have to step-foot in the Popsicle Kids Club, with brightly coloured soft play and relaxation areas surrounded by a green outdoor activity space, to understand why kids and parents love this place. There's even a game room, featuring foosball, air hockey and video games.
The kids club offers a shaded outdoor shallow water pool and a fantastic large outdoor playground. Popsicle Kids Club opens from 10am to 7pm and they have the best trained staff to help entertain the kids. However, children under 3-years-old will only be allowed in with an adult. I joined in the fun with my toddler and enjoyed a nice takeout coffee while he enjoyed a host of games, toys and soft-play fun.
There's a private beach, a tennis court, and a mini-putting green. The multi-court can be used for basketball, volleyball, and badminton. Whilst 230-metres of private white sandy beach allow guests to lounge on the stunning shoreline upon daybeds and cabanas. Guests looking for more action can choose from a range of water sports activities. The Olympic-size 70-metre swimming pool is the Palm Jumeirah's longest pool. For those looking to workout, there's a 24-hour fitness centre.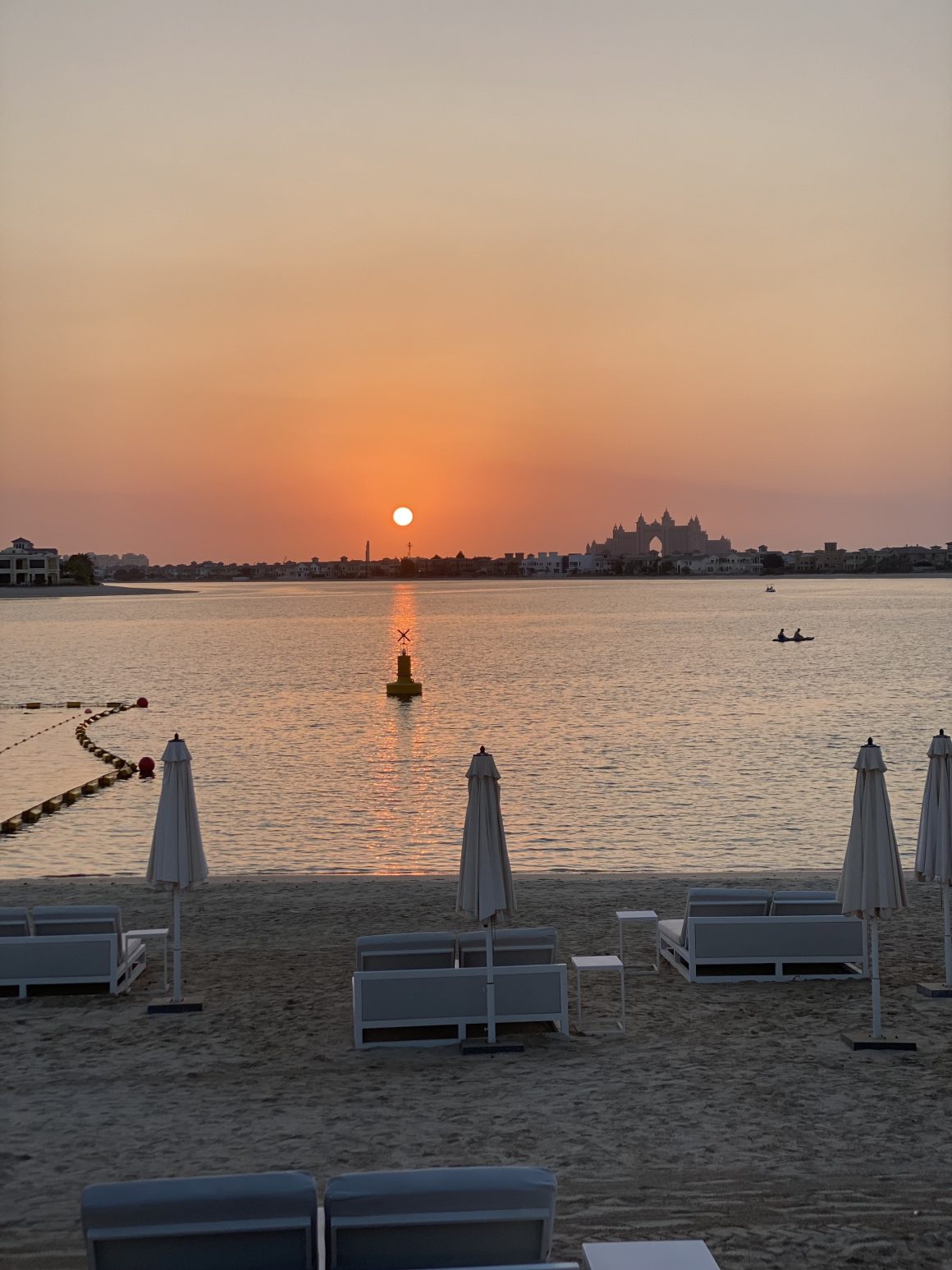 Dining Verdict?
Although there are seven food and beverage outlets, we only managed to try two of them, however both offered a great variety and food quality.
Mornings start with breakfast at Palm Kitchen which offers a fabulous buffet offering, with some dishes prepared A La Carte such as your eggs, waffles and gluten-free pancakes! The eatery caters to European, Middle Eastern, Indian, and Mediterranean cuisines with an array of breakfast items to choose from.
A novel addition, is the live music performed during breakfast. We heard a violinist serenading us as we started our day, which also kept the little one enchanted for a moment, while I happily sipped a hot coffee (it's a winning start to the day – moms take note!).
Possibly my favorite – The Award-Winning Jiva Spa
The restorative power of the award-winning Jiva Spa at Taj Exotica Resort & Spa, The Palm, Dubai can be experienced in its nine treatment rooms, or within the elegant confines of a sublime setting besides the Palm's longest pool. The profundity of this experience reaches its peak with a reviving session of Bihar School of Yoga. The holistic wellness discovery continues with rooms exclusively assigned for Ayurvedic massage and couples' therapy. Gold-infused oils offer indulgent luxury, while herb-dyed linen and lead-free pottery combine eco-friendly with elegance.
Experiencing the Indian rituals enhances the spa healing benefits, and I immediately felt at peace after the treatment. Each treatment experienced has energy healing techniques and practices. In fact, they practice self-healing every day before they start the treatments to enhance their healing power and to replenish the energy depleted while administering therapies. All Jiva therapies use bespoke products that are natural and made with a deep understanding of the therapeutic benefits of Indian herbs and essential oils.
The therapist Grace was incredible, as as I do like to enjoy spas every month, I can wholeheartedly state that TAJ Exotica Resort & Spa is home to some of the region's best spa talent.
As I type these words, I plan my next 'reset' at this beautiful property, with its beautiful family of people, enjoying moments with my family.
Instagram @tajpalmdubai