Around the lavish lagoons of the Maldives, nothing beats dining with a view. Famed for its powdery sand beaches, the exquisitely turquoise expanse of the Indian Ocean, vibrant foliage and some of the world's best diving spots, the archipelago combines the magic of the sea, sand, and swaying palms to transport travellers to a tranquil sanctuary of bliss.
Discerning guests can enhance their secluded dream getaway with an immersive culinary adventure, six meters beneath the Indian Ocean, at M6m (Minus Six Meters). Boasting exquisite fine dining with degustation menus featuring modern and diverse dishes paired with the perfect grapes, M6m is the crown jewel of the gastronomic experiences at OZEN LIFE MADHOO.
At M6m, guests can indulge in the dining experience of a lifetime as sharks, stingrays, and tropical fish glide right past their tables. The vast blue expanse of the Indian Ocean is mirrored in the stunning aquatic ambience of M6m, creating a gastronomic paradise thanks to its world-class chefs and hospitality teams.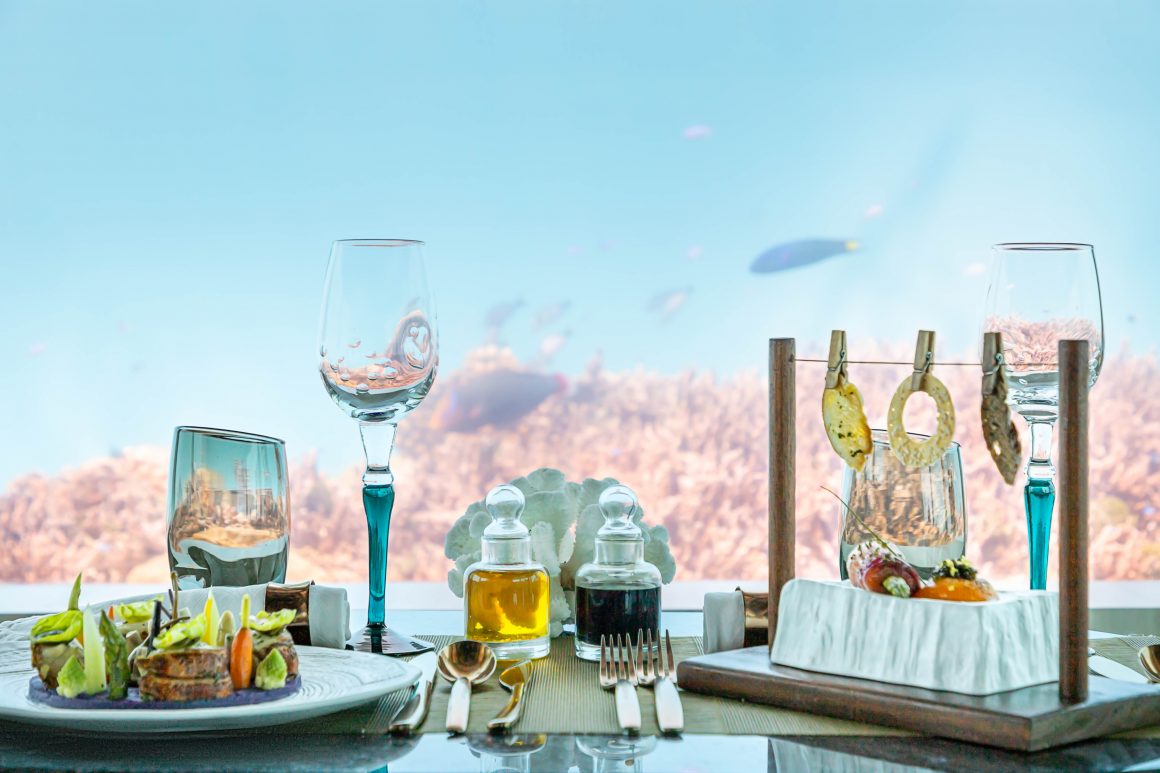 It all starts with an exquisite pairing of the finest caviar and exotic drinks at the chic M6m Lounge, before guests take the elevator down to enjoy the panoramic views of the colourful coral gardens. Infused with influences from around the world, paired with unlimited servings of the world's best grapes and mocktails.
Fresh oysters with a spritz of lime, a meal at M6m is a pescatarian's delight. But it panders to meat lovers and vegetarians with equal gusto too, creating a new culinary vernacular in the Maldives. Meat lovers can enjoy an exquisite menu where they can choose between options of a succulent Grilled Confit Chicken or a perfectly cooked Angus Beef Tenderloin. The delectable menu is completed with fresh desserts made with Maldivian ingredients such as fresh Coconut Mango Dacquoise or the intense Chocolate dome-hazelnut.
Meanwhile, Vegetarians can delight in an outstanding food experience with fully vegetarian courses such as Asparagus Parmigiana Reggiano Risotto or the Fregola Sarda.
Surrounded by a turquoise lagoon and the breath-taking Maldivian underwater world, guests are immediately transported to a universe of exceptional epicurean art and soothing seascape. The overwater bar is also ideal for pre- and post-meal catch ups, with a wide variety of cheese matching the extensive beverages and innovative cocktails and mocktails on offer.
Open for lunch and dinner six days a week, M6m is a sought-after spot not just for a romantic dinner rendezvous, but also for celebrating quality time with the family.