By MONICA KAPILA
Getting to the Six Senses Zighy Bay Oman
It's an easy drive from Dubai to the Six Senses Zighy Bay Oman and takes about 2.5 hours or so. The nearest international airport is in fact Dubai, not Muscat the capital of Oman.
We drove ourselves from Dubai to the resort in our 4 door saloon car. It would be challenging doing the drive in a low suspension car. 4 wheel drives are best but we drove the last 15 to 20 minutes to the resort slowly and carefully in our own saloon car and it was fine door to door.
Do you need a visa to visit Six Senses Zighy Bay Oman?
Check what passport you have, we didn't need visas as we have British passports but note EVERYONE NEEDS A SPECIAL BORDER PASS to visit the resort. The hotel will organise this for you once you make your booking, but do leave at least 3 to 4 working days for them to do this. You CANNOT get to the resort from the usual Oman border crossing from Dubai, it's a slightly different border crossing, just 5 minutes drive from this usual one.
Remember KEEP your border pass with you as also need it when you leave the area to go back to Dubai at the check point on the Oman side. It seems normal for them to thoroughly search your car too.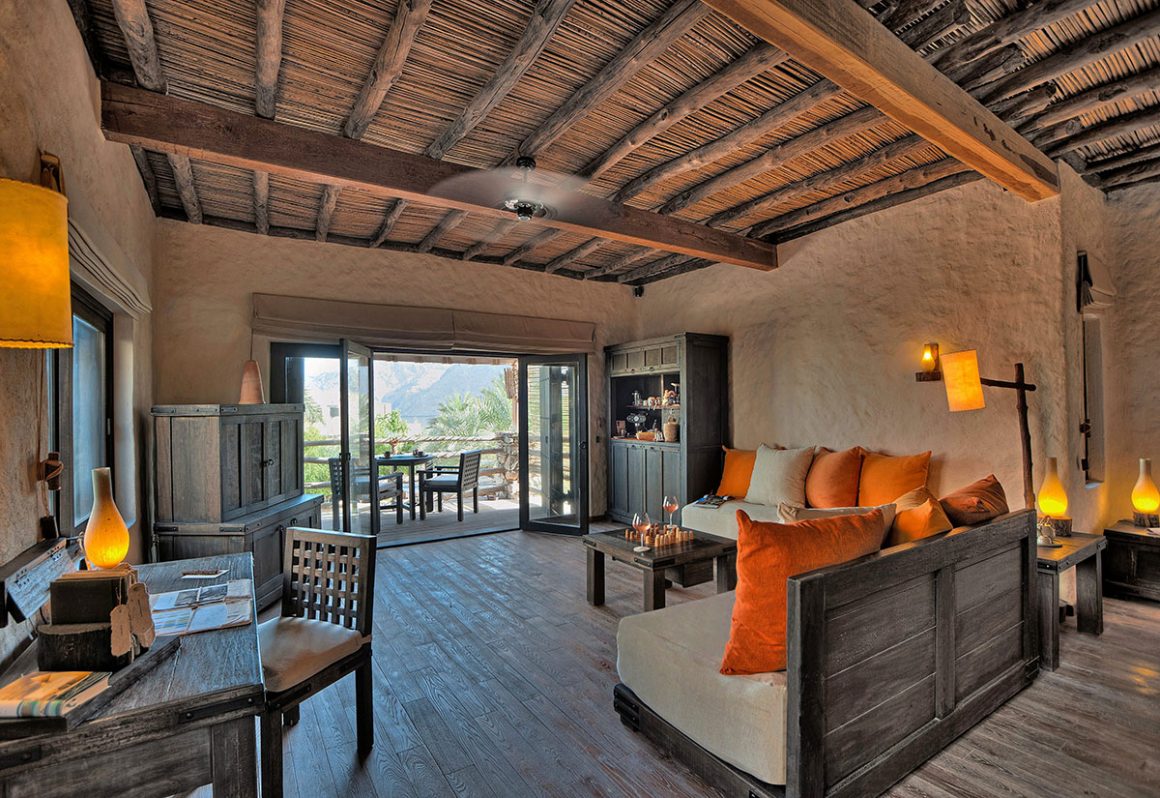 Accommodation at Zighy Bay
It's villa style accommodation and every villa has a pool. The beach front villas are very well located as you have direct access onto the large, private, soft sandy beach. There are a number of configurations of villa rooms depending on the size of your group from 1, 2, 3 or 4 bedroom villas. 
A spacious Omani-styled enclave with cool indoors and a shaded outside at your private pool area.
Six Senses resort in Oman features an extra spacious hideaway with separate bedroom and living, a beachfront oasis built of materials sourced from around the region, the Omani enclave invites you to unwind in the cool indoors under high ceilings, in the colorfully cushioned living area or on your bed made with soft cotton sheets topped with your choice of ergonomic pillows and a gentle fragrance if you wish. Refresh outside within the privacy of high mountain-stone walls, on your plumped-up sun loungers, shaded dining area by or in the private swimming pool.
The biggest villa for a party or special occasion at Zighy Bay
This would definitely be The Private Reserve that's villa number 1, a unique property at one end of the resort that felt quite private. It has 4 bedrooms, staff quarters, a kitchen, a large pool of it's own and a superb common area. I think it could sleep around 10 people in total.
The food at Zighy Bay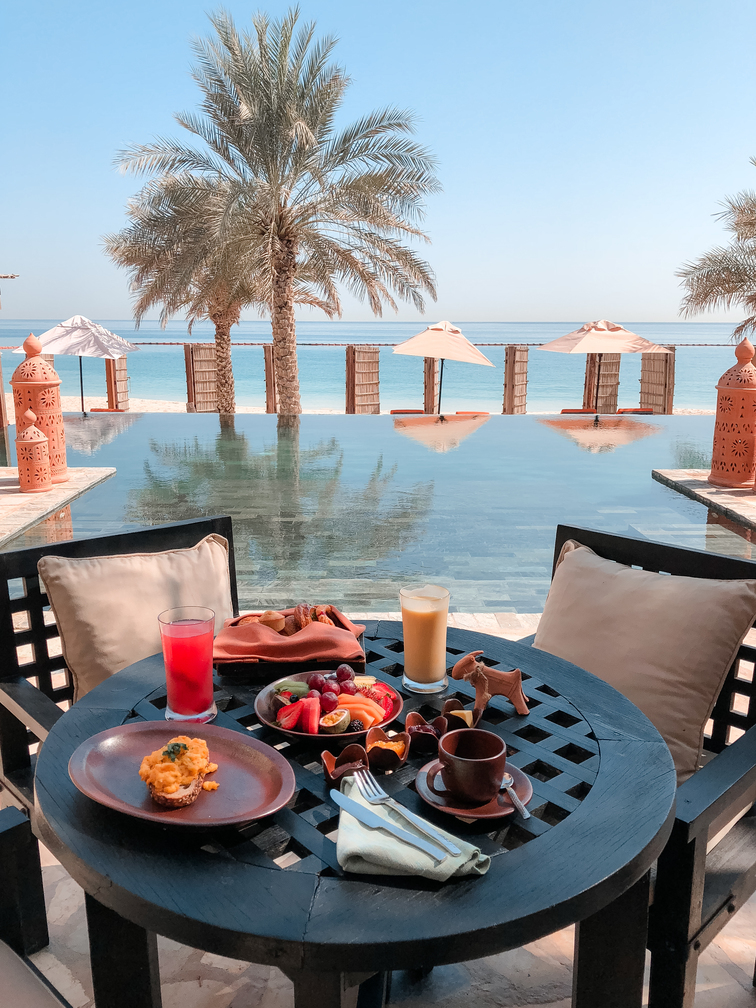 The food at Zighy Bay is exceptionally good. The breakfasts at Spice Market are part of the normal room rate and really are comprehensive and fresh. The fruit counter reminded me of our stay in Seminyak in Bali! If you want turmeric and black pepper in a beetroot shot, well that's no problem for the staff at the Spice Market.
Expect the usual breakfast fare of avocado egg combinations, overnight oats etc but there is also a very fresh Arabic Counter if you have room!
You can choose to have lunch at Summer House or Mazzeria by the beach, we had lunch at both places. It's obviously nice to have lunch by the beach at Mazzeria if it's not too hot. Their tuna salad from their new Green Shack menu was very
Expect the usual breakfast fare of avocado egg combinations, overnight oats etc but there is also a very fresh Arabic Counter if you have room!
You can choose to have lunch at Summer House or Mazzeria by the beach, we had lunch at both places. It's obviously nice to have lunch by the beach at Mazzeria if it's not too hot. Their tuna salad from their new Green Shack menu was very good.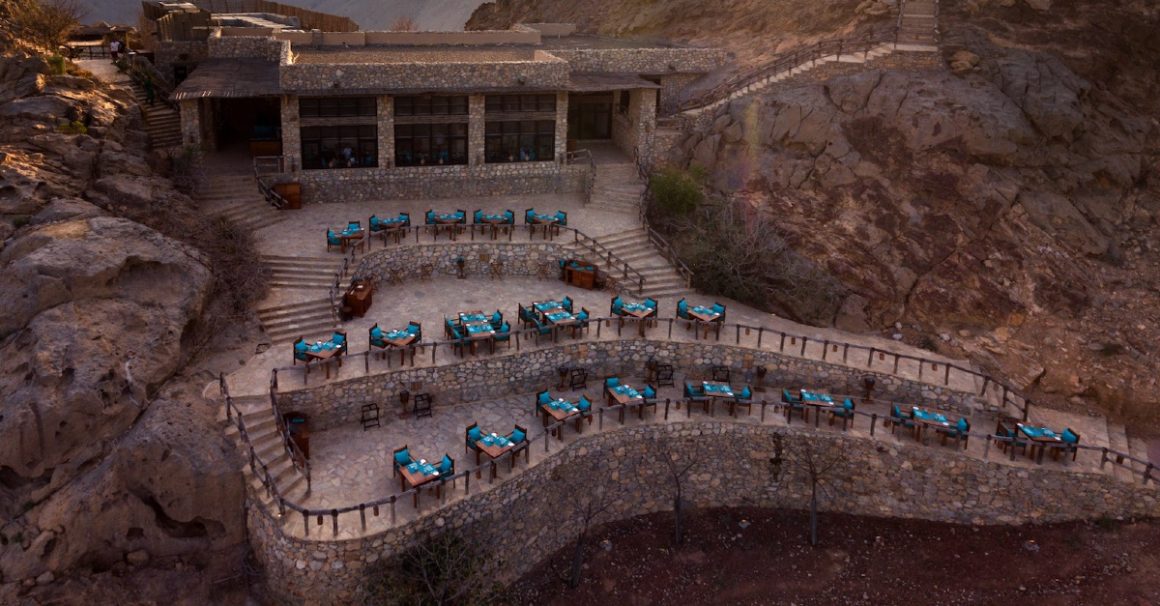 Dinner can be taken at Spice Market or the special Sense on the Edge restaurant. I urge you to try Sense on the Edge one evening. The resort arranges to drive you in their vehicle about 10 minutes or so up the mountain to a restaurant facility carved into the rock overlooking the bay. There are both indoor and outdoor tables, we started outdoors but then moved in as it was quite hot.
We also had an excellent Arabic style seafood dinner at Spice Market one evening. Food was high quality and portions were generous. Dinner for 2 was enough for 4! There are good vegetarian options at all the restaurants.
There is a special offer that entitles you to dinner as part of your room rate from June till October 2022. Breakfast is included in your room rate anyway. It's a good saving as there is nowhere else to eat other than at the resort.
Can I eat anywhere other than the resort?
No that's not possible as it's very remote, unless you went down the mountain and into the small village, about a 20 minute drive where they may be a few small eateries. I don't think this is worth it as coming back to the resort at night wouldn't be so easy.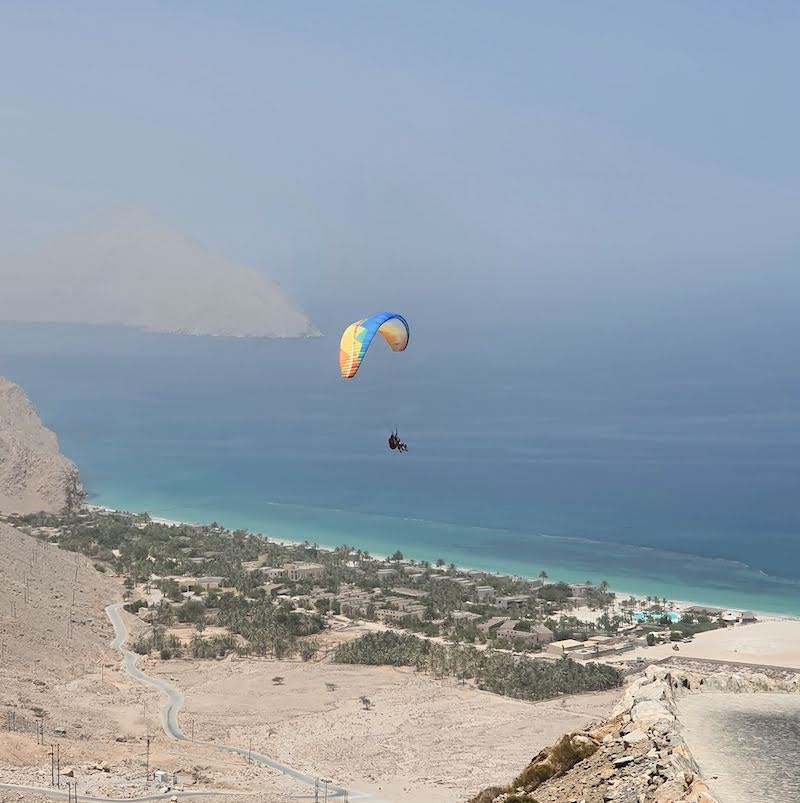 What is there to do at the Six Senses Zighy Bay?
There are a number of activities at the resort, obviously you can do a lot more on the beach and in the sea if it's not too hot! We tried paragliding with their very experienced instructor Itsu from Bulgaria.
The total flight time depends on the winds but between 8 to 15 minutes or so, which doesn't sound like much but apparently it feels like a long time when you're free flying! The resort drives you to the taking off point and anyone accompanying the paraglider (me in this case!) can then be driven down to take pictures and video en route to the landing site back at the resort.
You could also go on a sustainability tour at the resort's Earth Lab. We found this tour really insightful and it's not just lip service to a bit of recycling.
Do also have a look at the beautiful almost hidden secret farm garden that grows a lot of the herbs and vegetables used in the restaurants of the resort.
Kids would love the Earth Lab where they can make their own soaps and take them home as souvenirs. Armande is head of sustainability at the resort and is very knowledgeable about anything and everything to do with sustainability. Don't forget to check out the sugar and ice tongs made from bamboo! Such a clever idea!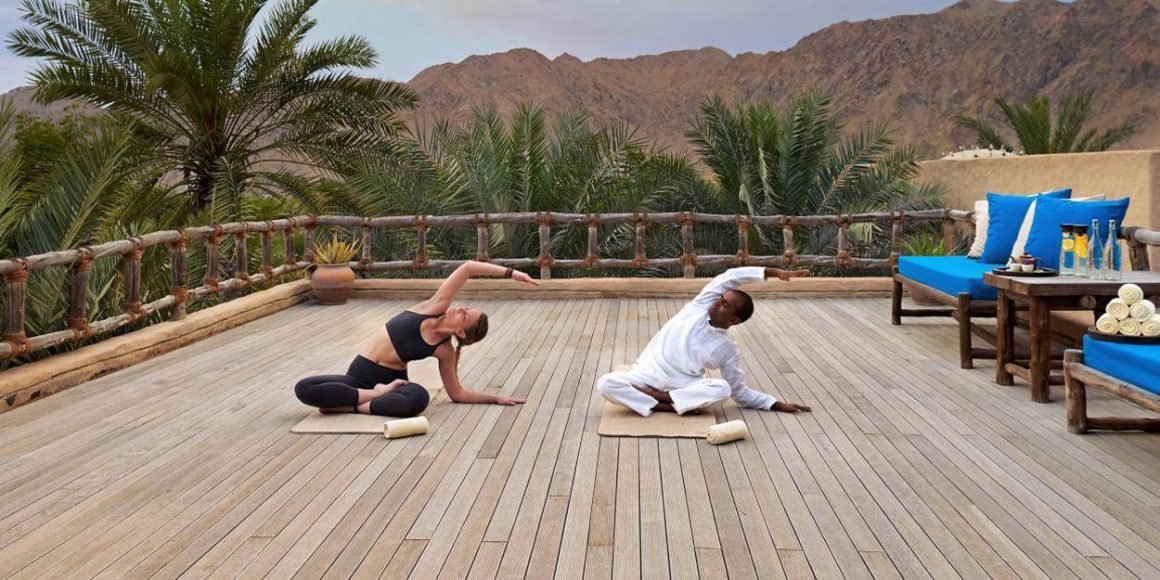 What about Wellness at Zighy Bay?
You must do the special Wellness Screening undertaken by Ayurvedic doctor Dr Peeyush at the spa in the resort. You'll receive a comprehensive set of health markers and a proper plan with advice on how to work with whatever state of fitness you have.
Don't forget to ask him what would be the best breakfast shots for you to have in the mornings and then ask the staff at the Spice Market to make them up for you!
There is also a full spa facility with separate sauna and jacuzzi areas for men and women. There is also a hammam area too. I was very impressed with the Organic Pharmacy range of products they used in the spa. In fact they have a new shop in Marylebone High Street in London! Try their geranium face serum after a steam. There is also a well-equipped gym with a beautiful garden view.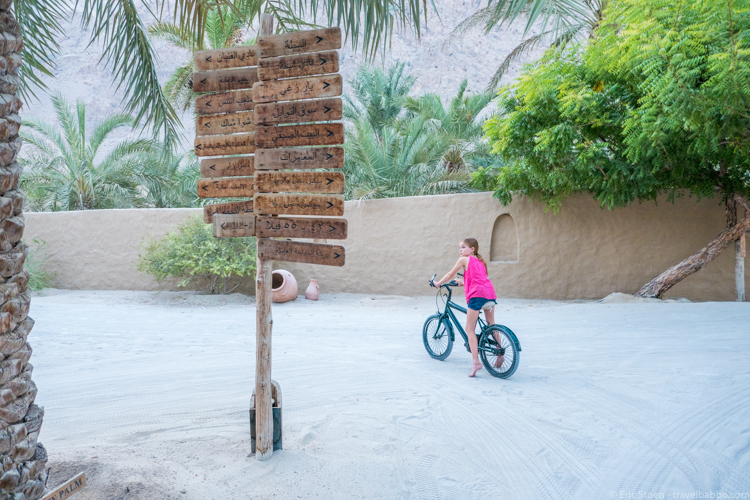 How do we get around the resort?
That's easy, you can walk, take a bike, each villa has 2 cycles, or simply call a buggy via your G.E.M. (guest experience manager). The GEMs are there to welcome and orientate you into your room and explain all the facilities at the resort. Nothing is too much trouble for them and it's really helpful to have one main point of contact for anything you may want. We contacted her very easily via What's ap throughout our stay.
Overall is a trip to Six Senses Zighy Bay worth it?
This is an expensive but magical holiday, we totally enjoyed it. Here's why:
For us coming from Dubai, it was very convenient not to have to apply for visas or book any flights. The short door to door journey that too in our own car was definitely another big plus point. On seeing the resort for the first time, you do have one of those blown away moments as the Gulf of Oman seen from the height you're at is very impressive and awe inspiring. Our beach front villa room was more Maldivian than Middle Eastern bearing in mind the remoteness of the location, and the ease of walking out onto the beach or to our own beautiful pool was very special. 
The dinner at Sense on the Edge was something we'll remember for a long time, particularly for the setting hewn into the rock face. I loved being able to totally customise my juice shots at breakfast based on what Dr Peeyush had advised. I really valued receiving a comprehensive plan of what to incorporate into my routine after the holiday had finished. 
Finally without exception, all the staff at the resort at all levels made you feel welcome and extended genuine hospitably to all guests. Maybe that's a Six Senses thing, I'll find out when I visit another Six Senses resort, one to be opened in London's old Whiteley's building in Bayswater and one closer to home on the Palm Jumeirah very soon. 
For more information, or to book the ultimate luxury Omani getaway, visit Six Senses Zighy Bay