Sri Lanka has already emerged into the global limelight as a favorable tourist destination in the last couple of decades. That said, my Sri Lankan friend, Thushari, told me that my trip to his homeland will not be complete without a visit to Kalutara. I listened. Enter, Anantara Kalutara.
Opened in 2017, a design based upon an original blueprint conceived by the late master architect Geoffrey Bawa. It offers stylish rooms with traditional touches, first-class facilities and possibly, Sri Lanka's best food. Inspired by Sri Lanka's sacred and colonial treasures, Anantara Kalutara Resort's design both complements and showcases its unique location between the Indian Ocean and Kalu Ganga with river and lagoon frontage. The resort blends seamlessly with the island's tropical beauty and rich culture.
The hotel is deceivingly big; it houses a total of 141 rooms and villas split between two wings either side of a paved public road. Its clever design is thanks, in large part, to Geoffrey Bawa, as it is based upon a design that he did for a former hotel company back in the Nineties that was partially built yet abandoned due to the civil war. The humungous pitched roof lobby area, which houses a library dedicated to Bawa, and 'The Wall' – an ingenious walkway that connects the hotel's lagoon and ocean wings – are Bawa's original designs yet his protégé, Channa Daswatta, conceived the rest. The hotel is a marriage between Anantara's contemporary style and has features local traditions to remind you of where you are.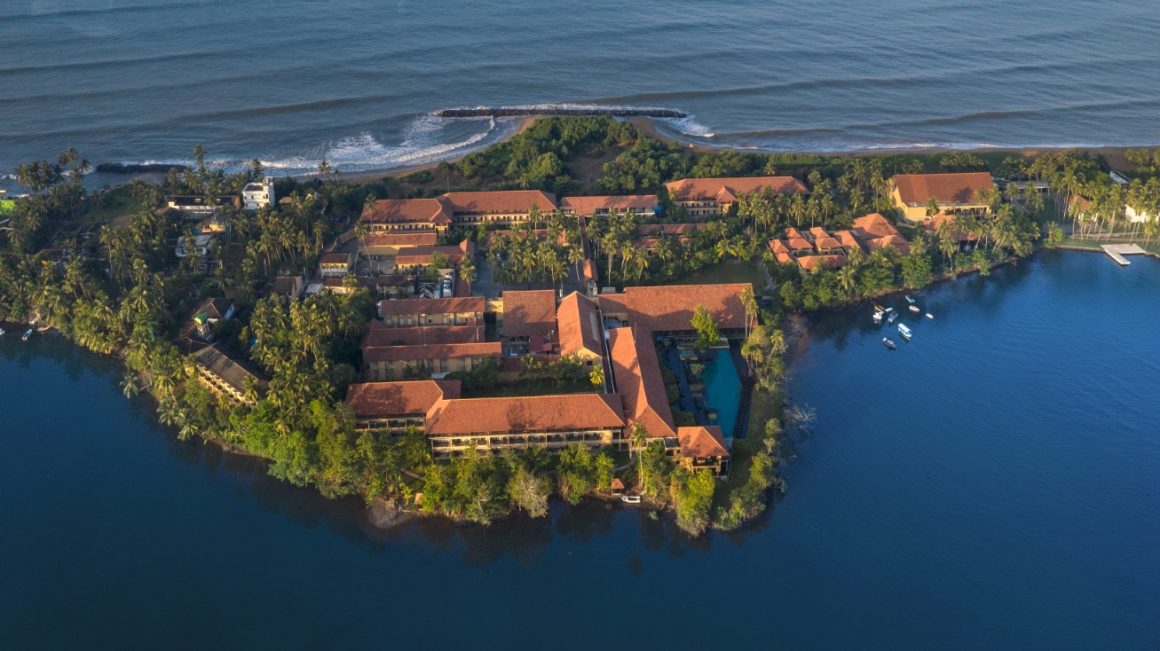 It feels tranquil yet isn't cut off; in the morning, the mosque's call to prayer drifts across the lagoon and you can also hear the rumble of railway carriages plying the South Coast Line. Aside from the 12th-century Richmond Castle (a manor house-turned-orphanage), Kalutara has few notable attractions. Lunuganga, the house and garden of the late Geoffrey Bawa, is an hour's drive away.
Perhaps my favorite part of the resort, apart from the majestically spacious Royal Bawa Suite, is the tree house. You read that right! If fairytales were always your favorite type of childhood story, and if you dreamed about one day reaching the Faraway Tree, then having high tea in the Anantara Kalutara treehouse would suit your magic-minded brain. You can thank me later.
Service is polished and staff are extremely attentive, greeting me by name every chance they get. Oh and be sure to try their fresh king coconuts, absolutely, refreshingly, tasty. There are two swimming pools – a meandering lagoon pool with separate baby pool, close to Olu restaurant ( one of the three incredibly good restaurants at the property ), and a long lap pool in the Ocean Wing, overlooked by Acquolina restaurant. There's also an excellent spa with a collection of single and double treatment rooms—must try the signature massage, a fitness room with lagoon views, a kids' club, a big screen for movies and sports, and a library. Need I say more?
Overall, a haven for mind, body, taste buds and soul.
Only the best,
Lucas Raven