A self taught food enthusiast who, over the years, has honed the art of cooking and baking, Simran Dhanju sees herself not only as a food photographer, stylist and culinary professional, but also as a passionate and creative soul, whose creativity is always seeking that next venture to experiment with, be it painting, decorating my house, or upcycling old furniture by giving it a new look!
Here she tells her story, in her own words (Stay tuned for the recipe at the end – you can thank us later!)
Living in Oman for over 15 years it has become home to me. It is where my culinary journey took a professional turn, as I won numerous cooking awards including the prestigious StarChef award from Indian celebrity chef Sanjeev Kapoor for my artistic culinary skills. This led me to start running cooking courses, writing a regular food column, crafting bespoke cakes, and working as a freelance food consultant, photographer and stylist. I have worked for many clients and local restaurants, such as the Al Mouj Golf Course restaurant. Perhaps it was my belief that food is truly an art form that geared my interest in bespoke cakes, dolled up with intricate details that take a long time but are truly worth the pain at the end when it creates a memory and brings smile on the faces of your loved ones and clients. You can see my 3D sculpted cakes on my Instagram page @sugar_shower . I also started to create YouTube videos as I wanted to showcase the beauty and rich culture of Oman. My vision is to highlight from where you can buy the freshest local produce to make scrumptious dishes. Watch me create recipes with the finest local produce at my YouTube channel, Simran In The Kitchen which can be found at YouTube.com/c/simraninthekitchen
My kitchen is my studio where I experiment and test new ideas, and I love to translate that vision through my storytelling in photography and styling. As a food connoisseur, I have always been deeply connected with food. The pandemic was an interesting time for me to explore and creatively represent my love for food, and my photography took a professional turn. What I missed most about life before lockdown was that feeling of cooking and sharing a feast with my friends, being able to sit down and indulge in some great food together. To try and re-capture this experience, I started to enhance my photography and styling during the lockdown so I could share my food virtually, capturing not just the way it looks, but the narrative and the atmosphere behind each dish. It was such an enriching experience to be able to share my food online not just with my friends but also with the community and relationships I built on Instagram.
I took this passion a notch further through digital mediums of Instagram page, Reels and IGTV videos, along with publishing my recipes on my website at www.simranskitchen.com where you can find lot of fun and interesting recipes.
I hope to inspire you all to create delicious food with your family and friends through my content.
My recipes are not confined to one region, they are an interpretation of modern and traditional recipes that are influenced and enriched by every culture I touch. At it's core, my focus has always been to cook nutritional food, and infuse modernity into traditional dishes, experimenting and giving my own little spin to make delights that become new family classics.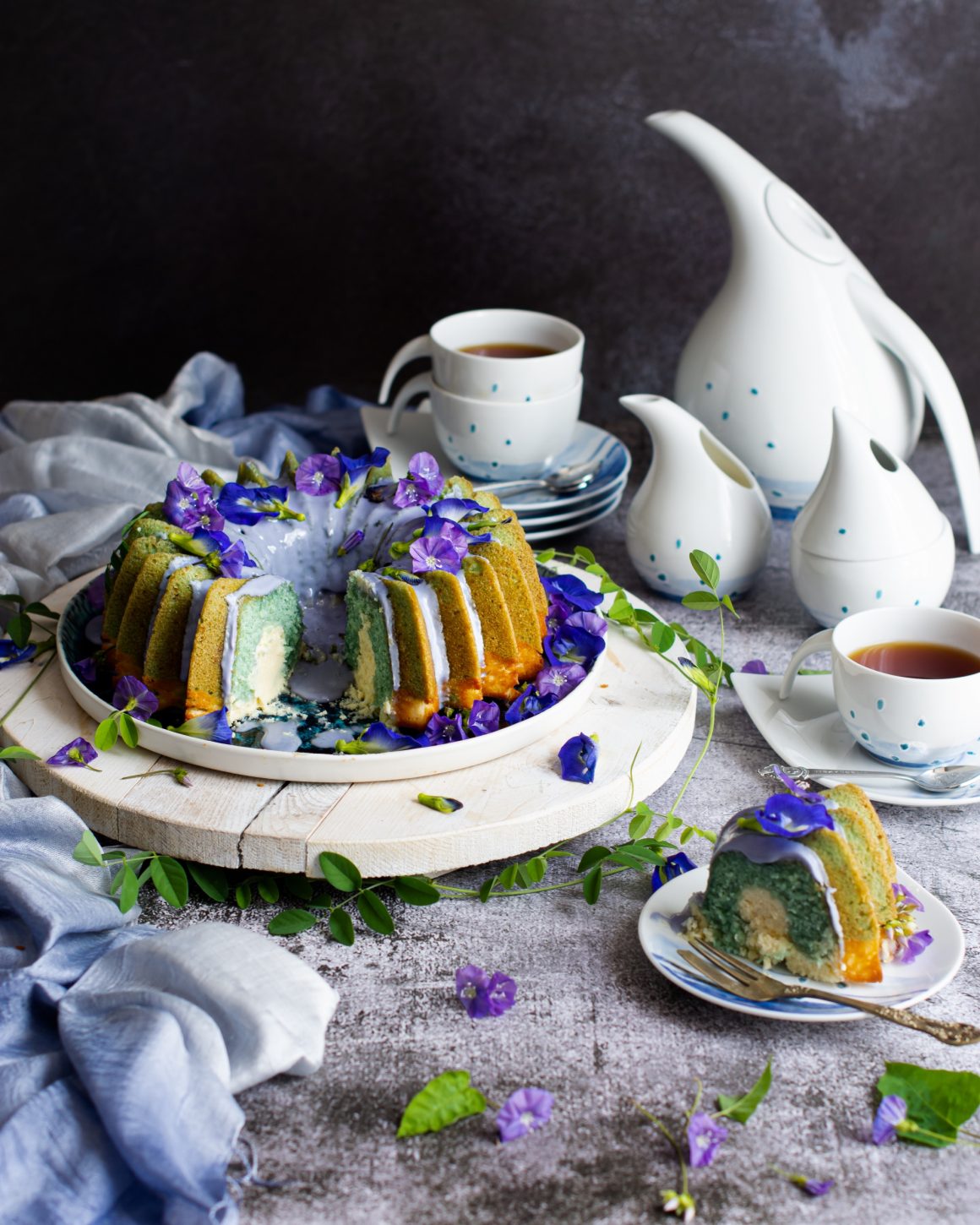 Here's my first recipe for you guys, a Butterfly Pea Bundt Cheesecake. Do give it a try and tag me on Instagram as I would love see your delicious creations!
Butterfly Pea Bundt Cheesecake:
Ingredients:
For cake layer:
3 tbsp dried butterfly pea flowers
1/4 cup water
1/4 cup full cream milk +2 tbsp more
2 eggs, room temperature
125g unsalted butter, room temperature
3/4 cup caster sugar
1 1/2 tsp vanilla essence
1 1/2 cup plain flour
2 tsp baking powder
1/2 tsp salt
For cheesecake layer:
300g cream cheese, room temperature
2 eggs
1 1/2 tsp vanilla
1/2 cup sour cream
1/2 cup caster sugar
For sugar glaze:
1 cup icing sugar
Equipment needed:
Nordic ware Bundt pan
Method:
In a small bowl, pour hot water over the butterfly pea flowers. Let them infuse in water for 30 minutes. Strain the flowers, squeezing out maximum water by pressing down with the back of a spoon. Reserve 2tsp of water aside to use later for glaze.
Add milk to the butterfly pea water. Keep aside.
In a stand mixer bowl fitted with paddle attachment, blend butter, sugar and vanilla until light and creamy and pale in colour.
Add eggs to the mixer, one at a time and blend for a minute. Stop the mixer and scrape down the sides and bottom and blend again for a minute. Add the prepared milk and butterfly pea water mixture to the butter mix. Blend for few seconds and don't worry if the mixture looks curdled.
In a bowl, sift together the flour, baking powder and salt. While the mixer is off, add 1/3 of the sifted flour mix to the butter-egg mixture and blend on speed 4 for 30 seconds. Turn the mixer off each time you add the flour and blend on low speed until just combined. Scrape down the sides and blend for few more seconds to combine. Do not over blend the batter.
To make cheesecake batter, in a large bowl, using the electric hand mixer, whip the cream cheese for 2 minutes until it's creamy and smooth. Add eggs and blend to combine, approximately for a minute. Add vanilla, sugar and sour cream and blend for just a minute to combine everything together.
Grease the Nordic ware Bundt pan with the non-stick baking spray, making sure to cover all the crevices of the pan. Pour in the butterfly pea cake batter at the bottom and make slight dip in the middle by pushing the batter upwards a little on the sides with the spatula. Now gently pour the cheesecake batter on top, keeping it mostly in the center of a slightly indented cake batter.
Bake in preheated oven for 30 minutes. Remove from oven and let it cool in the pan for an hour to reach room temperature. Cover the pan with foil and place it in the refrigerator to chill completely for 6 hours or overnight.
Invert a serving cake plate on the cake pan, flip and transfer the cake on it.
To make glaze, sift the icing sugar in a bowl. Add 1 tsp reserved butterfly pea water to the sugar, along with 2 tsp of water, mix and adjust the consistency if it's too thick by adding few more drops of water. The glaze should not be runny. It should have a thick ribbon dropping consistency when dropped off the spoon.
Pour the glaze carefully in the crevices of the cake. Decorate with fresh butterfly pea flowers on top.