Ramadan is the time to refresh the body and mind, as well as celebrate strength and spirituality. Whether you're celebrating Ramadan on your own or with your loved ones, there is no better way to embrace the month of giving and spirituality than exchanging gifts with family, friends, members of your community or even treating yourself as a form of self-love.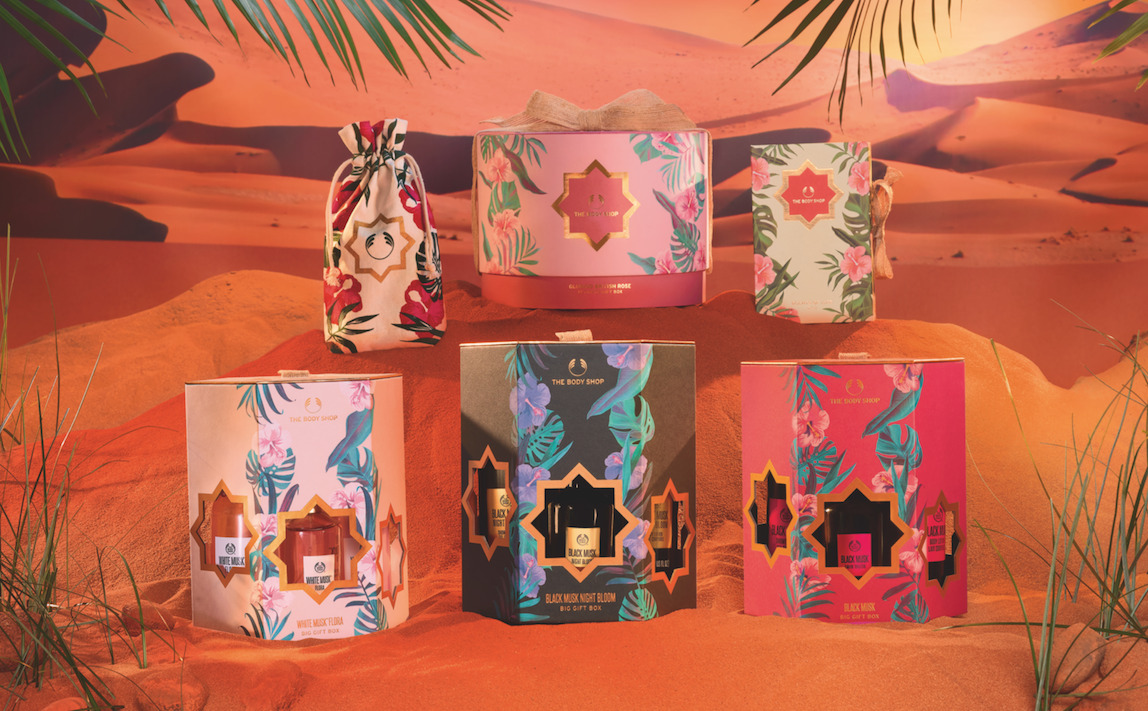 Give back and come together this Ramadan and Eid with The Body Shop's 2021 collection of refreshing and delightful gifts and treats. Here are some of the uplifting and luxurious gifts you can pick up for yourself or your loved ones this Ramadan and Eid:
COOL DAISY BODY CARE COLLECTION This cool scented special edition is made with daisy extract and will leave you feeling fresh and clean. Lather up with a squeeze of Shower Gel (AED 39), slather on the instantly-absorbing Body Yogurt (AED 72), and quench thirsty skin with a spritz of Hydrating Body Mist (AED 64).
Create a fragrance combination that's unique to you! This Ramadan, The Body Shop continues to celebrate self-expression by adding three new scents to their revolutionary Scents of Life collection. Swirl in soft musk and floral notes with the Pink Blush Eau de Toilette (AED 149), Powdery petals meet the delicate scent of sandalwood with the Let's Bloom Fragrance Mist (AED 79), while aromatic wood and patchouli warm the elegant Bronze Passion Eau de Toilette (AED 149).
WHITE MUSK® FLORA LUXURY SELECTION (AED 299) Floral. Modern. Vegan. Re-awaken their senses this Ramadan with the sophisticated White Musk® Flora Luxury Collection. The floral treats in this extra-big gift set are infused with cruelty-free musk and uplifting notes of orange, bergamot and bouquet of peony and jasmine. The set includes an Eau de toilette perfume, shower gel, body lotion and fragrance mist.
GLOW MORE VITAMIN C SKINCARE GIFT (AED 199) Get that fresh-faced glow and help keep skin feeling smooth, soft and hydrated with the Glow More Vitamin C Skincare Gift. Made with camu camu berries extract, these two little treats will give skin a boost of radiance for a healthy-looking glow. The set includes the vitamin c skin boost and vitamin c glow boosting moisturiser.
BLACK MUSK BIG GIFT BOX (AED 299) An opulent selection for lovers of this legendary fragrance. Envelope yourself in notes of bambinella pear, pink pepper, vanilla, vetiver and bergamot. Make your morning routine a moment of indulgence. The set includes an Eau de toilette perfume, shower gel, body lotion and fragrance mist.
SCENTS OF LIFE DUO (AED 228) Do you like playful fragrances that compliment your mood? Treat yourself (or someone else) to two bestsellers – the woody and floral (with notes of rose and saffron) Red Fixation Eau de Toilette and floral and fruity (with notes of passionfruit and magnolia) All Mine Spritz.
FRUITY & FLORAL HAIR & BODY MIST DUO (AED 158) When you need an uplifting pick-me-up pronto, the fragrantly fruity Hair & Body Mists are just the ticket. This duo includes a lively floral scent of Pink Pepper & Lychee, and a refreshing citrusy boost of Pomegranate & Red Berries.
SPECIAL EDITION COOL DAISY GIFT BAG Create a bespoke gift by filling this jute bag with three Cool Daisy products of your choice.
GET READY FOR EID BEAUTY CALENDAR (AED 399) Prep for party season and make someone's Eid extra- special with the Get Ready For Eid Beauty Calendar. Unbox a little treat every day in the countdown to Eid, like the instantly smoothing Vitamin C Skin Boost and make-up picks like the Eye Definer and Colour CrushTM Lipstick, for the perfect party look.
GO BOLD FOR EID – Bold, beautiful and full of colour. Get set to celebrate Eid with warm shades and a lasting party look.
**The Body Shop's Ramadan and Eid gifts are available at all stores across the UAE and wider in the GCC. For more information, please visit the website https://www.thebodyshop.ae/ or keep up to date with the brand's latest news and launches on Instagram @thebodyshopuae