Erica and Hannah are the founders and yoga teachers at Salaam Space Yoga Studio, located down by the sea, in the village of Qantab. I 'virtually' met with them for this interview after attending a private yoga session with Erica. I was introduced to yoga at a young age through my ballet teacher, but I never experienced a one-on-one session before.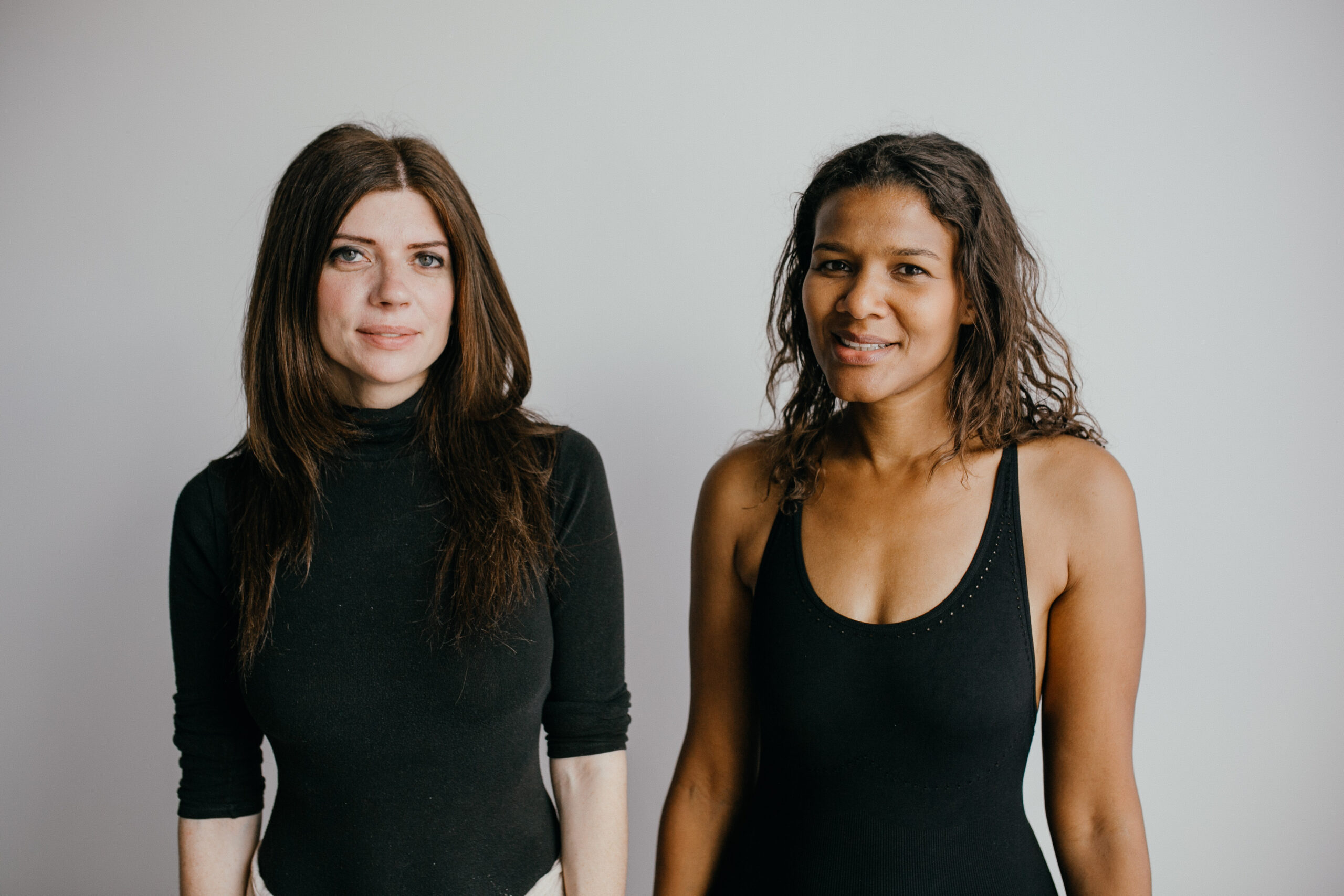 On a Thursday afternoon, I parked my car down at the yoga studio, along the beach where the sea was quiet and the sun ready to set, turning the sky from a vibrant blue to a light shade of pink. As I approached the studio, the door opened and Erica greeted me with a wide smile and a peaceful demeanour – still agitated from my day of work, I was immediately calmed by her attitude. We spent one hour together for an individual yoga class. I first filled out a form with questions related to my health but also my upbringing, my daily life and my interests. We reviewed the form together to further develop my answers. The practice that followed was tailored to my needs. There wasn't a move I was making that wasn't observed and studied by Erica. Whenever she would spot a neck movement, a shoulder position or a breath that wasn't to her liking, she would quietly guide me towards an improved alternative. It is the succession of these small improvements which led to a greater peace within me and a more focused attention to the present moment from my end. I felt a deeper connection between my body and my mind as the time was passing by, to the sound of Erica's soft voice. Before I left, Erica wrote down on a piece of paper a sequence made of asanas and pranayama exercises that I would have to practice daily until our next session. The exercises she shared with me are not random or the same as for her other students. They are based on what she observed of me and my physiology, and each exercise that had been practised together during our session.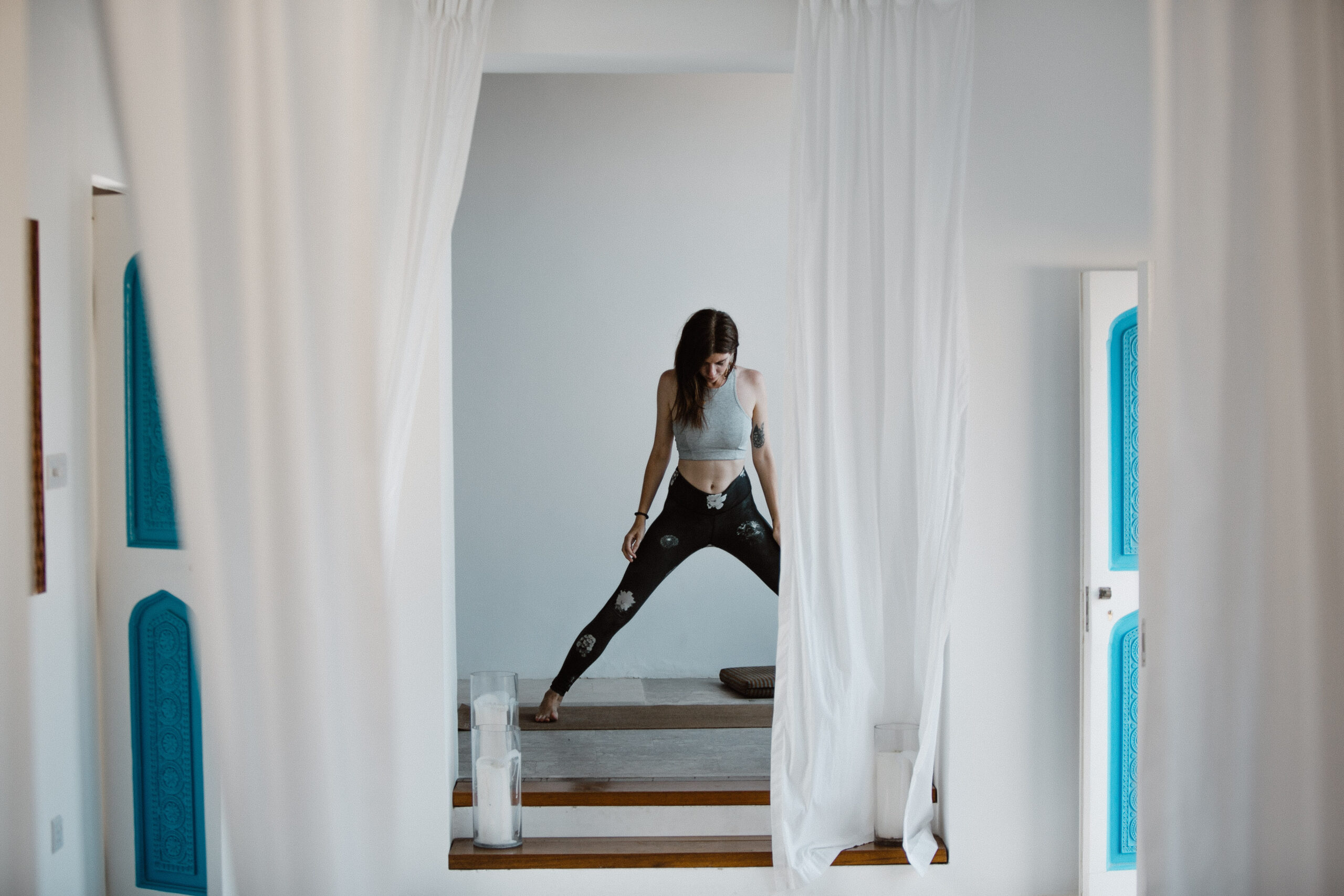 I couldn't describe my experience in better words than Erica's: "If you see yoga as a process of moving towards a more purified version of yourself and coming closer to the essence of yourself, then having someone who is not just looking at yoga asanas (positions) but rather at the person means the asanas could be very efficient with how you apply them. What I love about the yoga that we teach is that it is focused on the person, not on the topic matter. We use the tools as they are for their functions, not for the sake of creating a shape."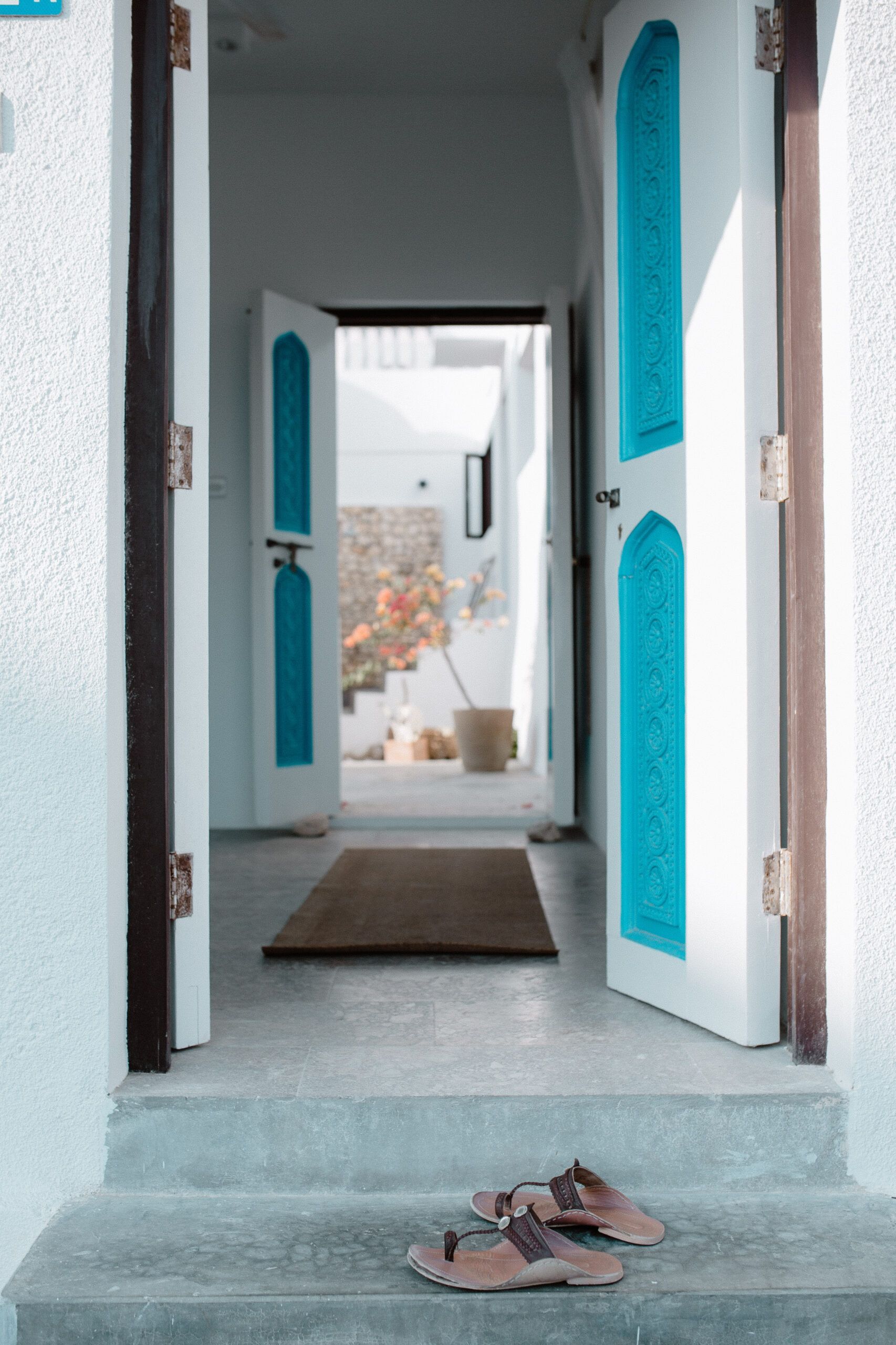 Without further ado, here are the traces of an inspiring conversation I had with Erica and Hannah about their peaceful yoga studio, their passion for their work and the growth of their students.
• How did you hear about Oman and especially the Port of Qantab, where Salaam Space Yoga Studio is located?
E: I have been living in the Middle East since my childhood. When I was eight we used to come on holiday to Oman and we stayed in Al Bustan. I have fantastic memories of Muscat and particularly the south of Muscat. Hannah and I believe peace is the great unifier, and Oman so effortlessly encapsulates this ideal. All of our past experiences led us to this place that by nature is grounded, kind and humble.
• More than ever, with the health crisis and its consequences on our societies and our lives, we need to go back to our inner selves and look after our mental and physical health. Why is Salaam Space Yoga Studio the perfect place to do so?
H: We meet you where you are within your yogic journey and provide customized pathways for you to reach your goals. Whether you are healing from a temporary condition, living with a chronic illness or preparing the body and mind to become stronger and more resilient, you will be guided towards your goal, and services will be tailored to your individual needs.
E: There is a big difference between following and copying a teacher, and being taught. When you're in the presence of a good yoga teacher, they'll be watching the movement of your breath, the way you're synchronizing your breath with your movement, watching for shifts in the colour of your skin, watching for signs that your heart rate is increasing, and they'll be tailoring everything that they say to what is going on in that moment in your body. They will be there to guide you and see whether an asana agitates your mind and instead move you toward an asana which brings greater calmness. Practicing early on with a dedicated teacher sets the scene for a practice that can take you to a great emotional wellbeing. It is also motivating, and together we can create more consistency.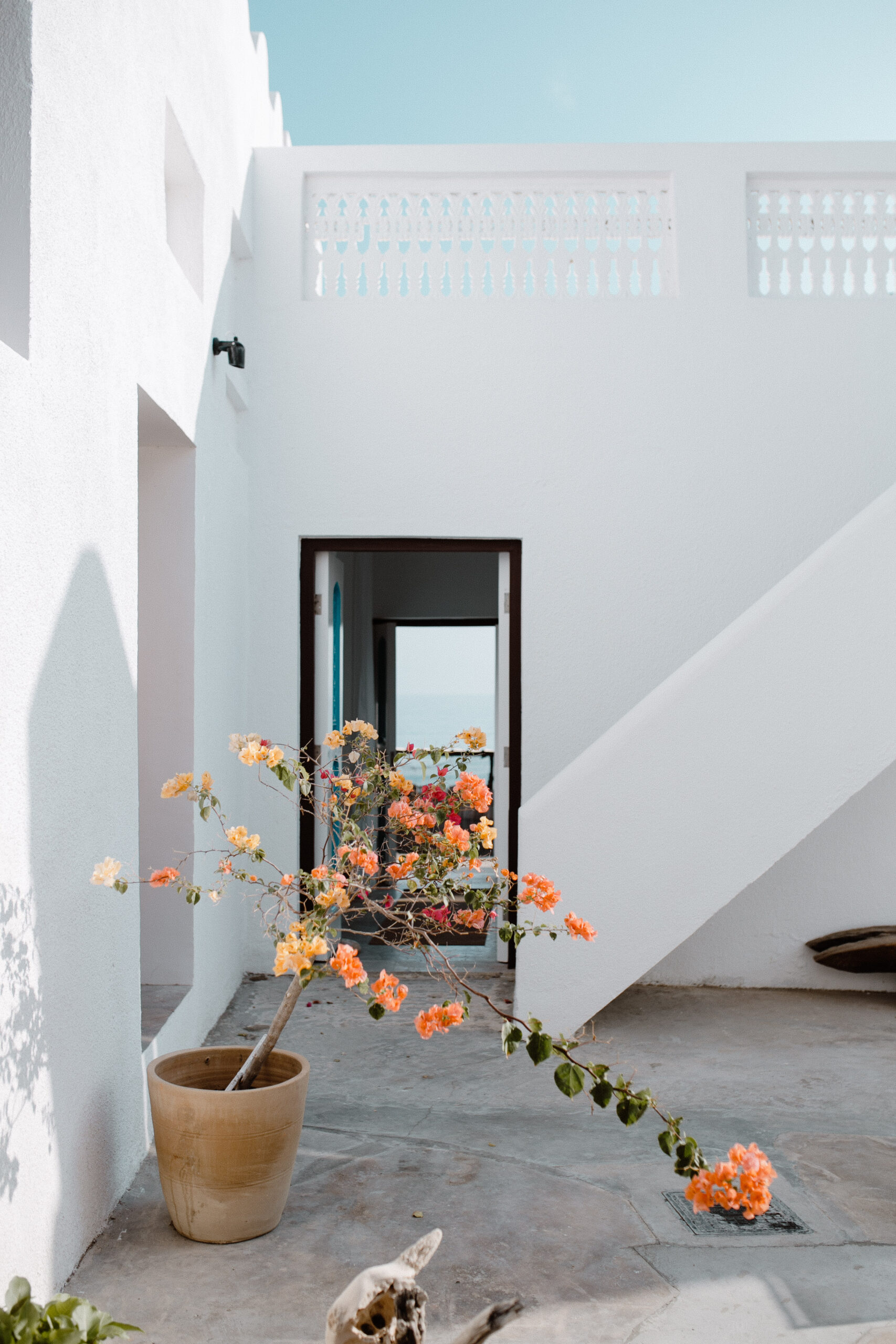 On the other hand, the building we're in has been on that beach for dozens of years, has weathered many storms and yet, it still manages to maintain a true sense of solidity. There's a stability inherent in Oman, and it's anchored in Salaam Space walls. That's what I feel when I teach here – it's a very safe space.
We often talk about yoga leaving pranayama behind as a lesser practice. Erica, when I had my session with you, I loved that you integrated pranayama exercises in my daily sequence. Can you tell our readers more about pranayama? And why do you think it should be in the spotlight as much as yoga?
E: We say that asanas take care of the body and pranayama takes care of the fluctuation of the mind. It completes the practice in a sense.• Some people never practiced yoga in their lives and may not know that it's just what they need to ease their anxiety. What would you tell these people?
H: The practice of yoga will sustain whoever you are, whatever you do and wherever you are in your life because it's a holistic science, and I think the way yoga has been portrayed – as a competitive sport and a series of fitness exercises – is a disservice to everyone because in reality everyone is welcome as they are. That's what I wish people would know. Yoga is an invitation to be with yourself and accept yourself as you are with tools that will serve you for the rest of your life.
E: The outcome of a yoga practice can be as varied as the people practicing it. It enhances anything that you do.***
Salaam Space has tailored their class schedules to make sure everyone can visit, regardless of office hours or family responsibilities, weekdays and weekends alike. For the early birds, the sunrise session is an ideal way to start the day, while the night owls may prefer the candlelit session soon after sunset. You can also book their private classes whenever it is convenient for you, after dropping the kids off at school, during a lunch break or later in the evening when things get quieter. There's even the possibility to take your classes online.I am an avid reader, and I loved the yoga library with its view through the small window on the stunning mountains around and the traditional village of Qantab. There you can find Erica's favorite yoga book, The Four Desires by Rod Styker, as well as Hannah's, Tantra: The Path to Ecstasy by Georg Feuerstein. So if you haven't made any plans yet for the weekend, why not book an individual yoga session and plan to read by the beach afterwards?
Do not miss the next off campus yoga retreat by Salaam Space Yoga.
For more information, visit their website www.salaamspace.com or their Instagram page @salaamspaceyoga.