Smartwatches are one of the trending electronic gadgets today. Huawei, a pioneer in the tech industry with decades of research and development experience has exceled when it comes to designing smartwatches that are instilled with top tech features. Starting from their gorgeous designs, long battery life, solid health monitoring and fitness tracking features in addition to the handy/personal assistant features, which help you with accomplishing your daily lifestyle activities. Huawei's smartwatch family – the HUAWEI WATCH GT Series – has one for all type of users, be it the fashionistas and luxury lovers, the hard working athletes or everyday users who like to keep up with the latest gadgets out there.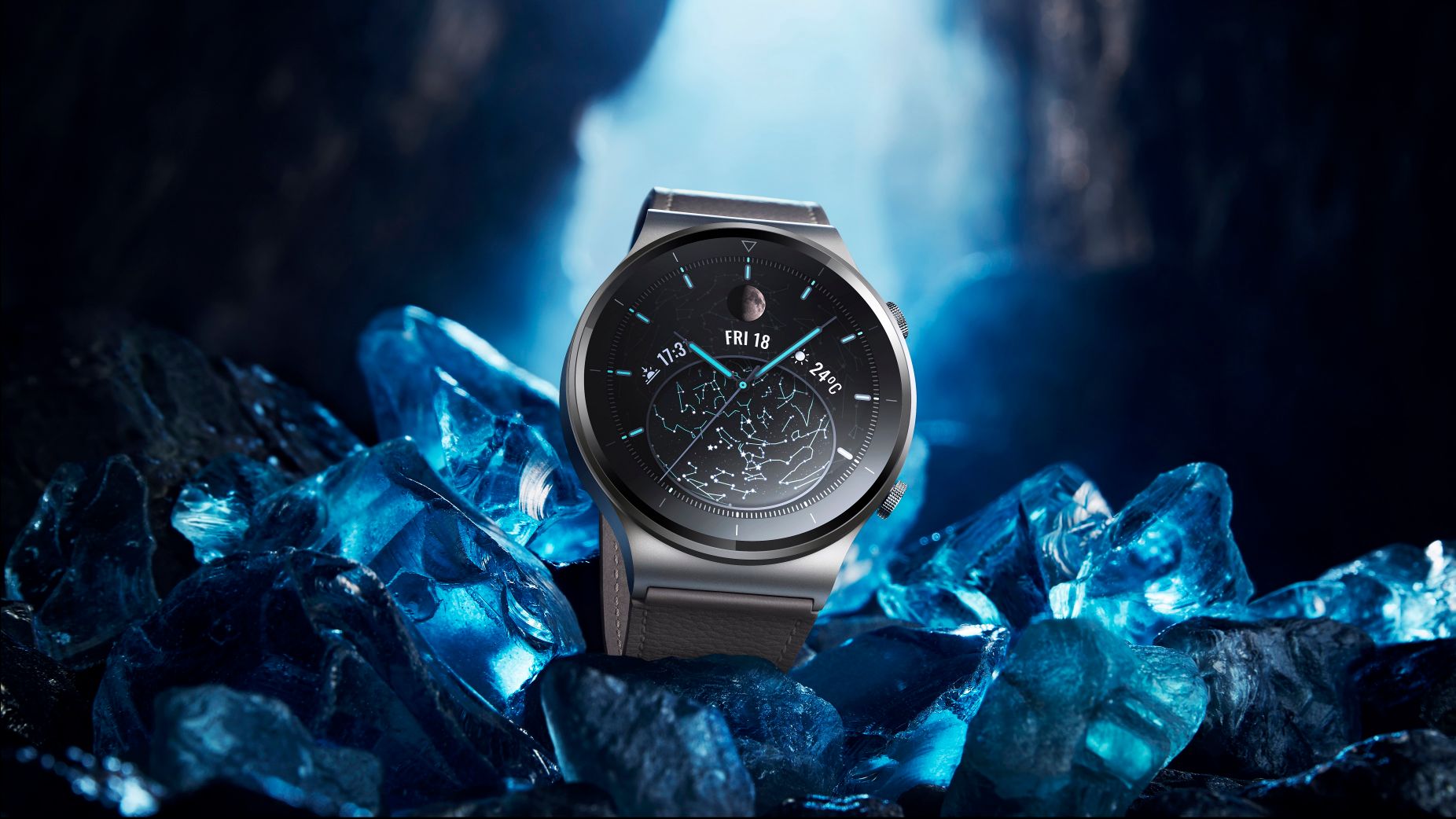 Luxury on your wrist
If you are someone, who tends to lean towards premium and high-end products then the HUAWEI WATCH GT 2 Pro Moonphase collection is the right choice for you. Huawei's latest smartwatch is blend of high-end materials and latest technology, with its premium classic design you will find features that can only be found in luxury classic watches such moon phase. With mirrored sapphire glass for its 1.39-inch AMOLED display and a ceramic back, the HUAWEI WATCH GT 2 Pro is shock and wear-resistant, letting you enjoy wearing it for extended period. The elegance of this high-end smartwatch is complemented with two colour options of Night Black for sport edition and Nebula Grey for classic edition.
Other than the luxurious design, the HUAWEI WATCH GT 2 Pro comes with a 2-week battery for continuous power; it also supports wireless and reverse charging with a compatible smartphone. Upgraded health-monitoring features that record your heart rate, blood oxygen levels (Spo2), sleep variations and stress levels. The high-end smartwatch also comes with a wide range of sports modes including golf and skiing to help you improve your performances with precise fitness tracking and analysis. You can also take it for a swim or perform other water-based sports, thanks to its 5ATM water resistance*, while the wide range of handy assistant features that include call, notifications, camera shutter and more only help in easing your daily activities.
*Leather straps are not water resistant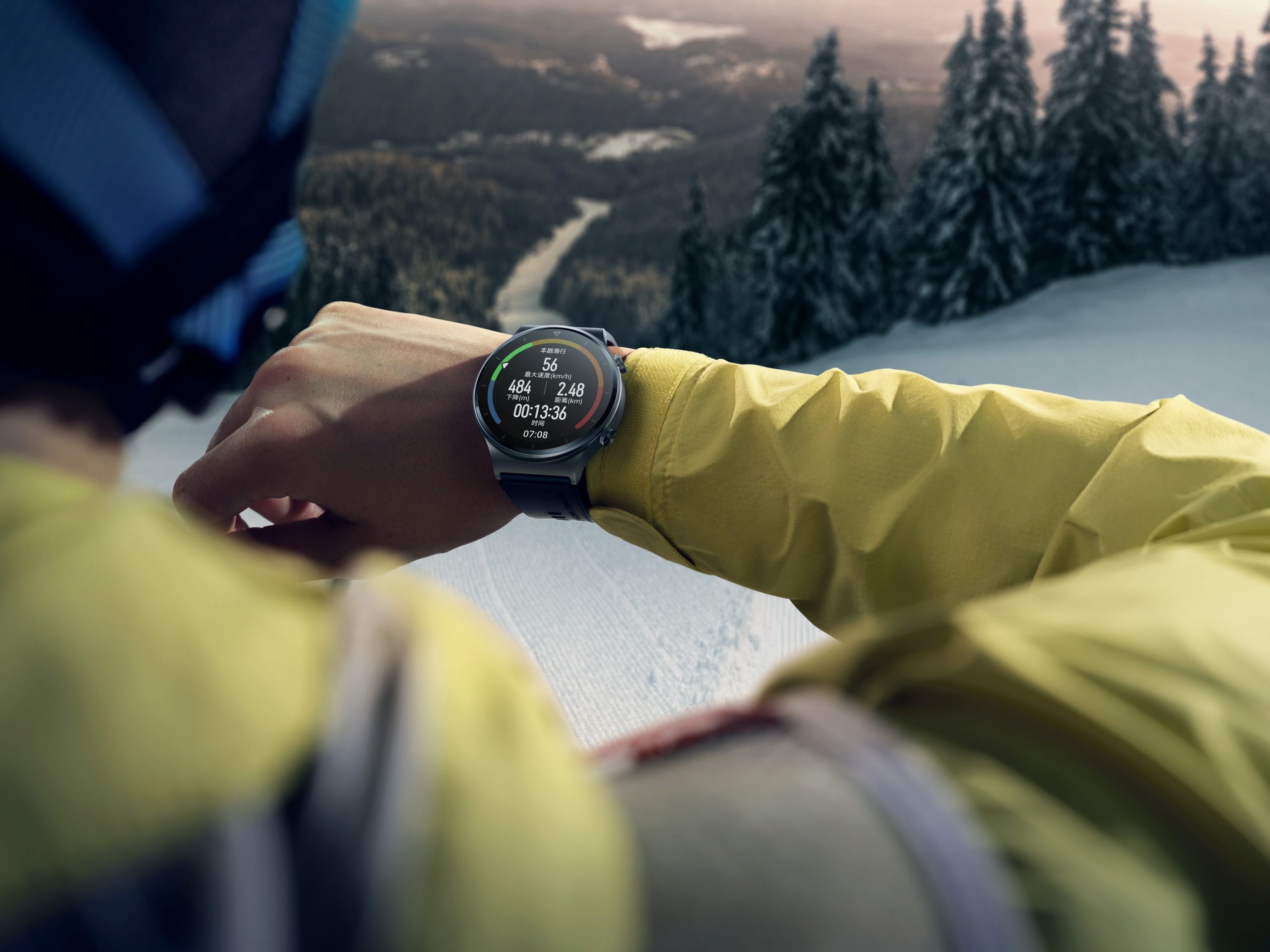 Sports and fitness lifestyle
If you are a person with a mind and an eye for sports and fitness then the HUAWEI WATCH GT 2e sits well for you. It comes with a 2-week battery, a sporty design and many workout modes.it also supports smart tracking of up to 100 sports. The watch can smart track 15 different professional workout modes, eight of which are outdoor sports (running, walking, climbing, hiking, trail running, cycling, open water swimming and triathlon), while the other seven are indoor sports (walking, running, cycling, pool swimming, free training, elliptical machine and rowing machine). Automatically, tracking all the data on its own, while precise satellite tracking allows for accurate GPS and GLONASS tracking if you go for a run outside.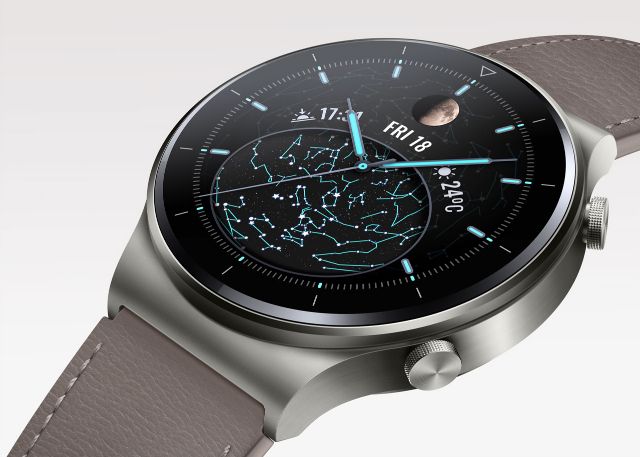 There is also the HUAWEI WATCH Fit that comes at a lower price point compared to the HUAWEI WATCH GT 2e but does not compromise or comes short in health and fitness tracking. This smartwatch combines a dazzling rectangular 1.64-inch, large AMOLED screen with a 70% screen-to-body ratio. The HUAWEI WATCH FIT comes with approximately 130+ different gorgeous watch face styles to express your individuality on a daily basis. You can also set the background to one of your favourite photos from your phone. With a battery that can last for 10 days, you also get enough power to get you through. The HUAWEI WATCH FIT comes with an expansive range of smart fitness features such as the Animated Personal trainer, which is just one of the unique fitness features on the HUAWEI WATCH FIT. The smartwatch comes with 12 animated fitness courses built-into it and it also supports 96 workout modes.
One for daily use with a touch of top tech
What if you do not fall under the luxury lovers nor the athletes, but still long for a smartwatch to accompany you on a daily basis for all your activities? Well, you have to meet the HUAWEI WATH GT 2. Available in two variants of 46mm and 42mm for all wrist sizes out there. Packed with a long lasting 2-week battery life (just like its siblings!) and a wide range of health monitoring and fitness tracking features, the HUAWEI WATCH GT 2 (46mm) is ideal for those who want a powerful smartwatch that they can depend on for daily use and one that is able to keep an eye on their health as well. On the other hand, the smaller variant, the 42mm comes in a stylish design making it a great choice for the fashionistas out there. While it comes with all the same features as the 46mm variant, it does give up however, a little in terms of battery, bringing it back to 7 days.
With so many smartwatches in the market to choose from some might be forgiven if they do not have their minds made up on a choice. Whether you are looking for a high-end smartwatch with a premium classic design or one that could accompany you during strenuous workout sessions or simply, a smartwatch to be on your wrist wherever you go. Choosing your smartwatch has never been easier thanks to the HUAWEI WATCH GT Series.