During Huawei's HDC 2020 event, the brand announced their new true wireless stereo (TWS) earphones, HUAWEI FreeBuds Pro. The True Wireless Stereo earphones is coming soon and adopts a similar yet different design from the previous generations, while also boasting a new iconic look with a wide range of smart features.
The latest HUAWEI FreeBuds Pro takes a different approach in the design for a more iconic and premium look. The earphones' stem forms a recognisable square geometric shape, which is unlike the rounded tube before. It also adopts an in-ear design both for wearing comfort and noise cancellation. In-ear design is undoubtedly providing an extra layer of noise cancellation compared to HUAWEI FreeBuds 3, showing Huawei is dedicated to provide an enhanced noise cancellation experience.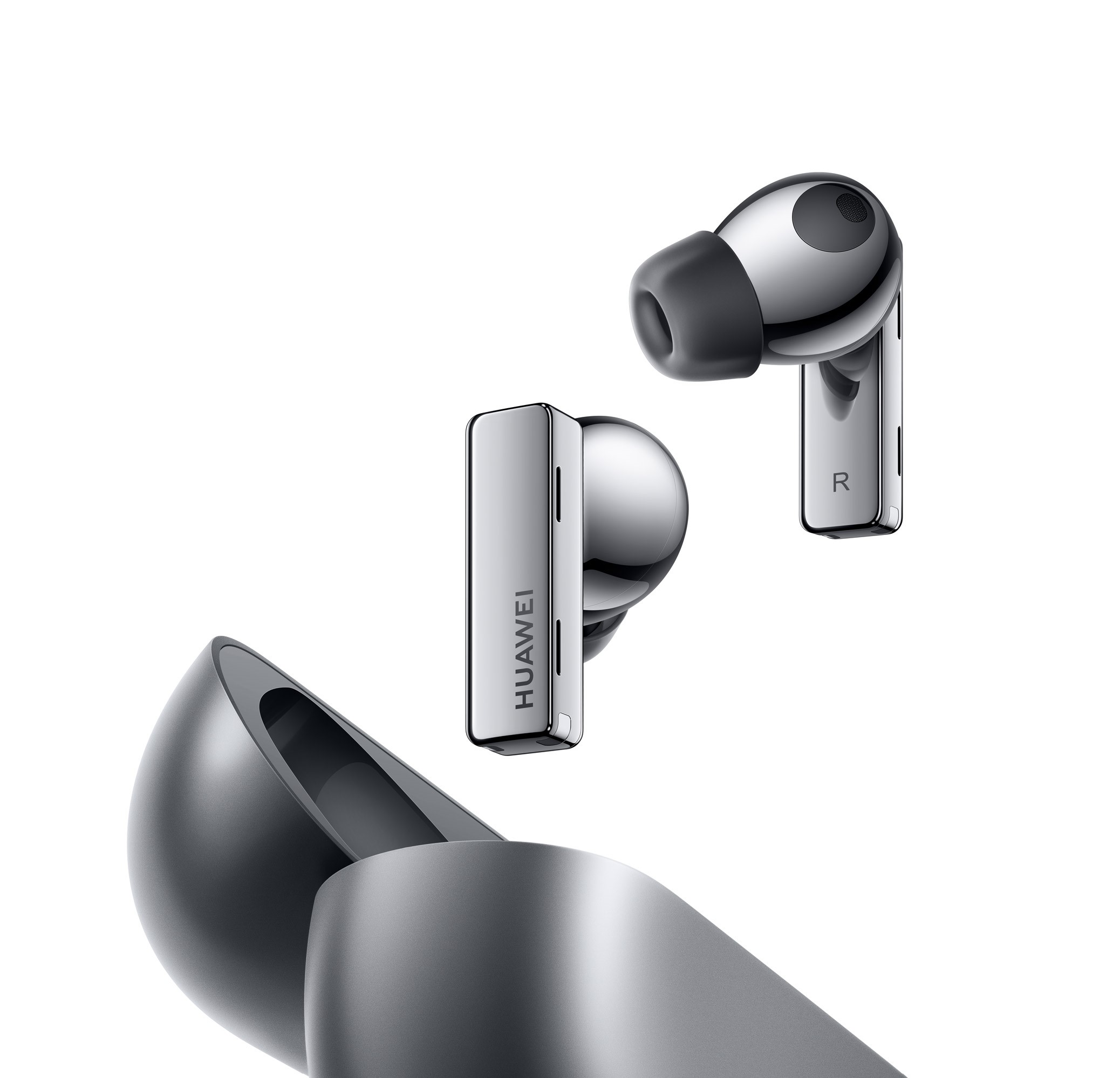 Boasting an intelligent dynamic active noise cancellation feature, the HUAWEI FreeBuds Pro doesn't simply cancel out all the noise around you. This is because Huawei believes that not all sounds around you is technically 'noise', there can be important information or even conversations that need to be heard. This is what the intelligent dynamic active noise cancellation mainly does, it identifies and isolates what is actual noise around you and eliminates it for a better audio experience.
To pick up the sounds in the environment, the HUAWEI FreeBuds Pro uses three high-sensitivity microphones, an 11mm super-magnetic steady-state dynamic driver, a bone voiceprint sensor, and other high-quality acoustic components. The microphones help the HUAWEI FreeBuds Pro in quickly and accurately identifying the noise in the ambient environment which then plays into the earphones ability to automatically switch between noise cancellation modes, which steadily drives the acoustic components to generate sound waves in reverse to eliminate the noise for comfortable listening. In addition to this, a dynamic perception system with a built-in acceleration sensor and infrared sensor studies the user, such as their wearing habits and postures, to improve the accuracy of the sound environment recognition and adapt a smarter noise cancellation experience.
The data collected by these sources is then analyzed through AI deep learning algorithms to let the HUAWEI FreeBuds Pro automatically switch between three noise cancellation modes. First is the Ultra Mode for enhanced noise cancellation that eliminates out every kind of disturbance, which is perfect if you are on a plane or train. Second is the Cozy Mode, which helps you to stay focused by reducing noises from paper flipping, typing, computers and conversations, which is great for in an office environment. Finally is the General Mode, which greatly reduces the ambient noises in the environment, allowing you to enjoy your content comfortably in a noisy scenario like a coffee shop.
Thanks to its ability to identify and isolate noise, the HUAWEI FreeBuds Pro's noise cancellation features do not just tune out everything. Take for example its Awareness Mode, which when turned on, reduces the ambient noise around you but makes sure you are kept alert with important sounds such as vehicles, announcements and more. There is also a Voice Mode, which reduces the noise around you but keeps voices loud and clear. This means that even if noise cancellation is turned on, you don't have to take off your earphones to have a conversation.
Apart from noise cancellation, the HUAWEI FreeBuds Pro also delivers in regards of call noise cancellation. With the help of a three-microphone call noise cancellation system and bone voiceprint call noise cancellation technology, background noise is effectively filtered out while your voice is enhanced for a better calling experience. It also boasts an iconic design that is stripped off any fancy decorations and made purely for an elegant and functional finish. The HUAWEI FreeBuds Pro also boasts a long-lasting battery life along with support for both wired and wireless HUAWEI SuperCharge, which can charge up to 30% wired and 18% wirelessly in just 10 minutes. You can also connect the HUAWEI FreeBuds Pro to two devices at the same time, regardless of the platform or device for seamless switching between devices. This is paired with a wide range of smart interactive features complete with seamless connectivity.
With the HUAWEI FreeBuds Pro, Huawei takes the next step in noise cancelling technology, stepping away from the trend of muting all ambient sounds by intelligently identifying and isolating what is noise from sound and eliminating them for an enhanced audio experience. The HUAWEI FreeBuds Pro comes in three colors Carbon Black, Ceramic White and Sliver Frost.Starting October 15, the earphones will be available for pre-order from Huawei website https://bit.ly/3nMXNba for OMR 64.900. Purchase of the new earphones comes with a HUAWEI Smart Scale gift.