Let us tell you something about a good Friday brunch; you need variety, live stations, and an energized ambiance, all of which the Kempinski Muscat delivers with great detail.
As a team of true foodies, our group naturally gravitates towards the Chef's themselves on the brunch scene. Who's cooking up a storm front-of-house? With live stations ready to be explored, it's time to dig in and devour the action, being prepared in front of our eyes.
The Kitchen at Kempinski Muscat delivers a sensory, all-day dining experience that simply shouldn't be missed. A vibrant and dynamic restaurant that presents a wide range of delectable dishes, The Kitchen is centered around Levantine and European cuisine. A delicious pastry corner and a pop-up concept encourage guest interaction with our fantastic and knowledgeable team of chefs.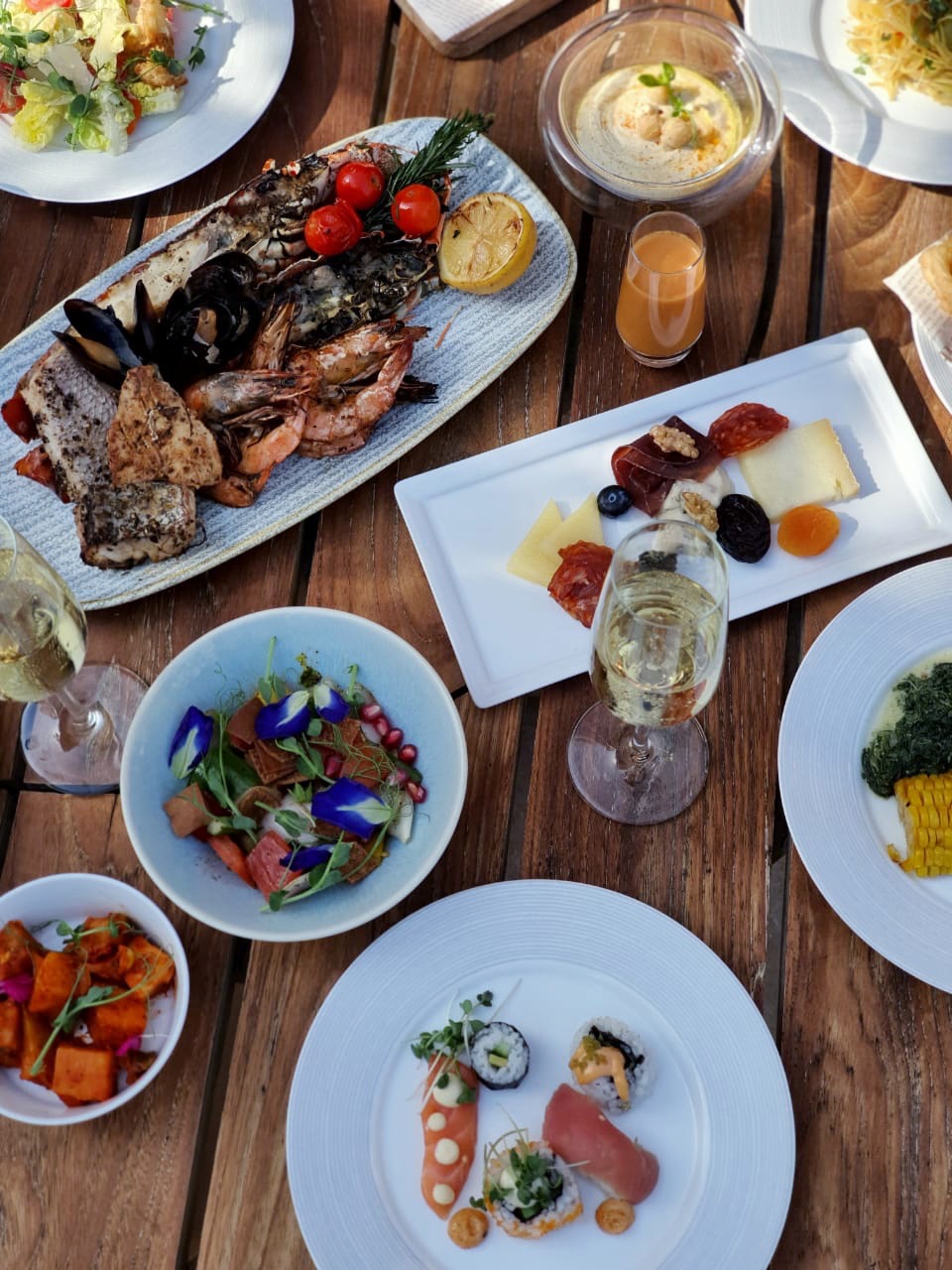 Focusing on seasonal ingredients and locally sourced produce, the restaurant's concept is about simplicity and flavors as we take you on your culinary journey across Europe and the Middle East – whatever you or your fellow diner crave for, there is sure to be a fabulous dish their chefs can cook up to captivate your senses.
Don't miss to try Lamb Freekeh, the Signature Dish of The Kitchen Restaurant, a succulently braised lamb leg flavored with Omani grounded spices, served with broken wheat, and infused with saffron water and seven spices olive oil.
The Friday Brunch boasts a total of 7 live stations; a fresh seafood counter, sumptuous meat carvery and tempura station, freshly-baked bread corner, not-your-average salad bar, assorted sushi, and sashimi counter, an Asian grill station, and a glitzy not-to-be-missed dessert bar.
The chefs have taken a very quintessential approach to cater to every taste and palate.
We kickstarted those Friday feels and flavors with a round-up of appetizers; a cheese platter with a hearty choice of classic comforts, from a classic Caeser salad to a traditional muhammara; the perfect way to get warmed up for the feast ahead!
Next up, we tried the delicious tempura-battered shrimps, squid, and calamari, followed by one or two visits to replenish our plates with the most incredible Australian short ribs. These simply fell off the bone (as they should) and came with your choice of 4 sauces and jus. Partner this with truffle mash or homemade mushroom sauce, and you're in rib-lover heaven!
As for the other mains on offer, it's hard to advise on where to start. The bustling seafood market presents grilled Omani lobster with saffron aioli, with the very best of the local fisherman's catch, caught every morning at 5 am from Oman's winding coastlines. With everything from freshly-shucked oysters, to Omani groupers, snappers, and sole, dig into a world of crustacea.
If you still have space, feel free to jump between the counters and see what goodies the Chefs can cook up for your group or table. The Asian section is seriously not to be missed either; did we tell you to come with your appetite in tow?
Fast-forwarding to dessert, give a sweet ending to your decadent food journey with a delectable Eton mess; the quintessential English dessert where fresh strawberries meet broken chards of meringue and whipped cream; heaven! Oh and don't forget your double espresso. It'll help with digestion and pairs perfectly with pistachio baklava, churros with chili chocolate, or a dulce de leche.
We can also recommend the exotic cheesecake, the saffron ras malai, the pear almond tart, and many, many more. The list goes on…
The Kempinski hosts graciously greet you in true hotelier style, and whilst C-19 precautions are firmly in place, they have curated an experience that offers all you desire with the 'new-normal' brunch dynamic.
Kempinski Muscat has a whole host of exciting culinary offers to delight residents and visitors this summer. Be sure not to miss out on their delicious dining experiences and unbeatable deals.
Friday Brunch at The Kitchen

Kempinski Muscat

13:00 – 16:30 PM

OMR 28 Inclusive of soft beverages