If there's something Muscat's been longing for, it's a contemporary Asian-influenced dining spot/watering hole, and what better form than with a 1930's inspired speakeasy where dark plush velvets and ornate gold birdcages welcome you in style to dine and experience artistic yet authentic food in the heart of the city @babanwmuscat @wmuscat
Ba Ban was named after an ancient piece of folk music, "Ba Ban" literally means "eight beats," and pays tribute to the 1920s and 30s Shanghai music scene where a hybrid form of Chinese jazz blossomed. Mixing local folk melodies with Western styles of music, the nightclubs of Shanghai carved out moments of East-meets-West merriment at a turning point in the country's history.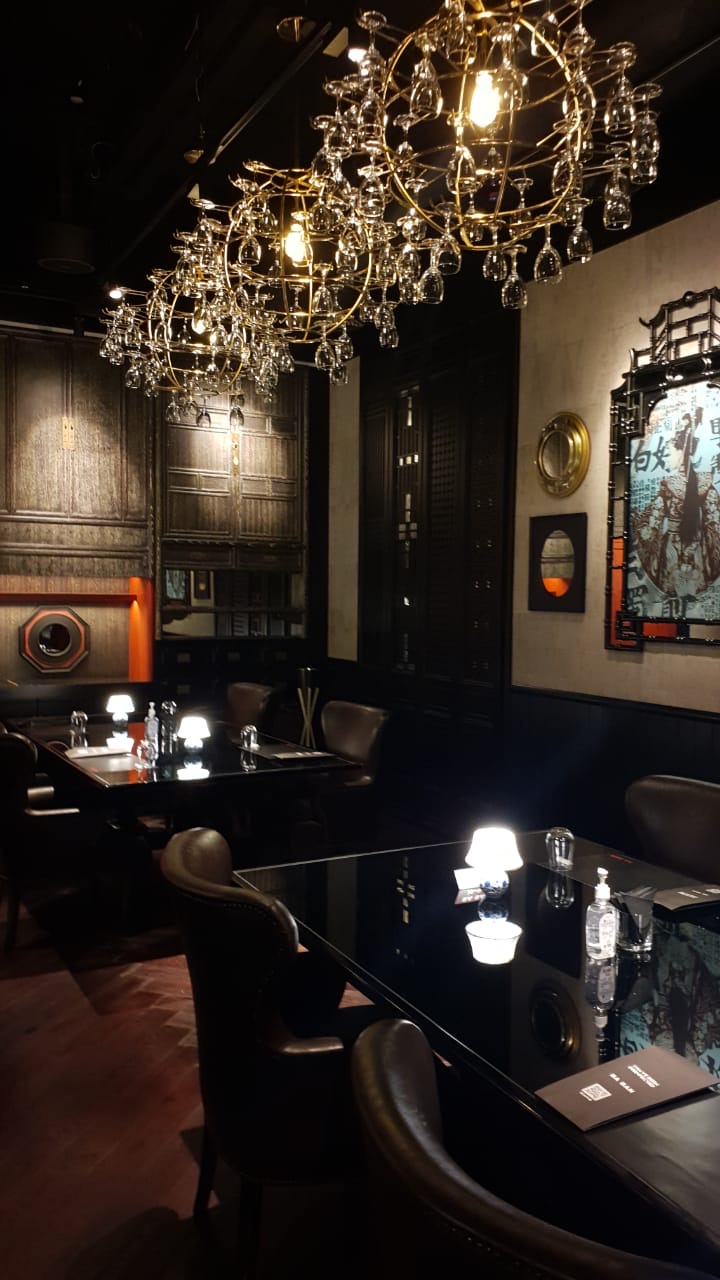 A fusion of traditional Chinese cuisine and modern flair, delicately prepared by Chef Dayi Nong, the menu boasts delicious dim sum, classic Peking duck with a Cantonese twist, silky noodles and mango pomelo sago pudding, making every bite a journey to distant lands. Chef Nong is fresh to Muscat after spending the last six years in Dubai and has spent over a decade perfecting the technical dim sum preparation and Cantonese delicacies.
Chinese cooking is one of the oldest and most diverse in the world and is composed of eight traditional types of cuisines, and each cuisine corresponds to a different province in China. These eight provinces are Anhui, Cantonese, Fujian, Hunan, Jiangsu, Shandong, Szechuan, and Zhejiang. Today you will taste Chef Dayi Nong's favourite dishes – enjoy your journey with Ba Ban.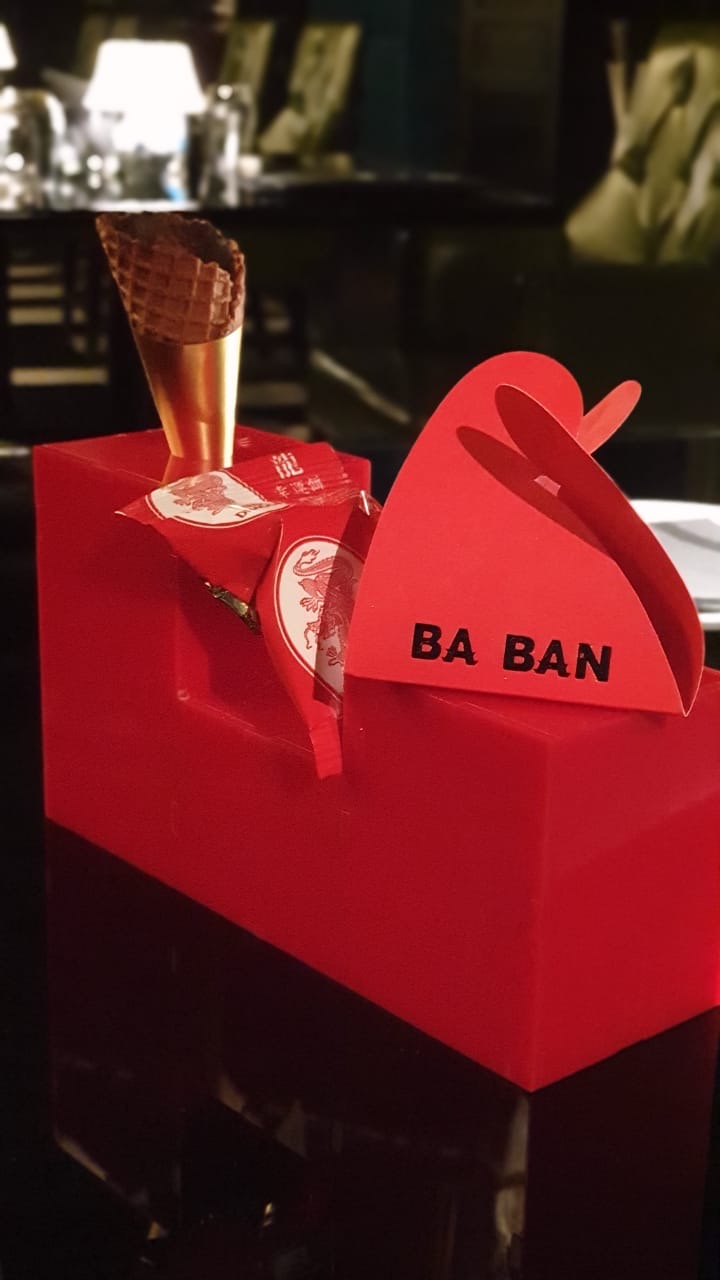 Tasting Menu:
Chicken Hot & Sour Tofu Szechuan Soup

Hot and sour soup is the ultimate Chinese food staple.
It is a Chinese soup claimed variously by the regional cuisines of Beijing and Sichuan as a regional dish.
The Chinese hot and sour soup is usually meat-based, and often contains ingredients such as day lily buds, wood ear fungus, bamboo shoots, and tofu. The complexity of its flavor is unmatched, thanks to spicy broth seasoned with vinegar and finished with an array of garnishes.
Dim Sum Sampler (one of each – 5 pieces total)

Steamed Dim Sum served with W's special dipping sauce: ginger-spring onion soya sauce, Szechuan sauce
Crystal Prawn & Black Truffle
Omani Lobster "Har Gow"
Sea Scallop & Chicken "Shumai"
Wagyu Beef & Mushrooms
Crystal Sesame Mushroom
The unique culinary art of Dim Sum originated in China many hundreds of years ago. According to some sources the first Dim Sum was made 2,500 years ago, as evident in the poetry and music of that time. Although Dim Sum is inextricably linked to Cantonese cuisine, it actually did not originate in Canton. The first Dim Sum is believed to have been made in Northern China and has changed and developed enormously over the centuries. The names of these little delicacies have also gradually changed. Originally it was an exclusive luxury made for the Emperor and his family, but it was also enjoyed by the wealthy. Eventually it was also served in tea houses, particularly the busy tea houses along the famous Silk Road. The Chinese meaning of dim sum is commonly translated to "touch the heart".
"Crouching Pumpkin" & "Hidden Carrot" sampler (one piece each)

Fried dumplings
"Crouching Pumpkin" Braised Peking Duck

In the Chinese culture the pumpkin is a symbol of prosperity, abundance, descendant's luck, illustrious children and enchantment. They believe the fruit can draw earth energy to manifest gold. Chef Dayi was inspired by the symbolism and came up with a unique twist of an otherwise rather traditional fried dumpling.

"Hidden Carrot" Crispy Turnip & Radish Pastries

Rather than offering the old run-of-the-mill vegetarian options, the culinary team wanted to come up with something unexpected and exciting. Traditionally carrots and radishes are eaten for good luck.
Steamed Omani Lobster

Supreme soya sauce with Chinese Tie Guanyin tea, ginger, black garlic, fresh coriander

Drawing on the fishing heritage of Oman and their high-quality lobsters, the classic dish of steamed lobster in Chinese cuisine has been brought into the 21st century by revamping it with crispy wok fried Tie Guanyin tea and fermented black garlic for a more subtle taste.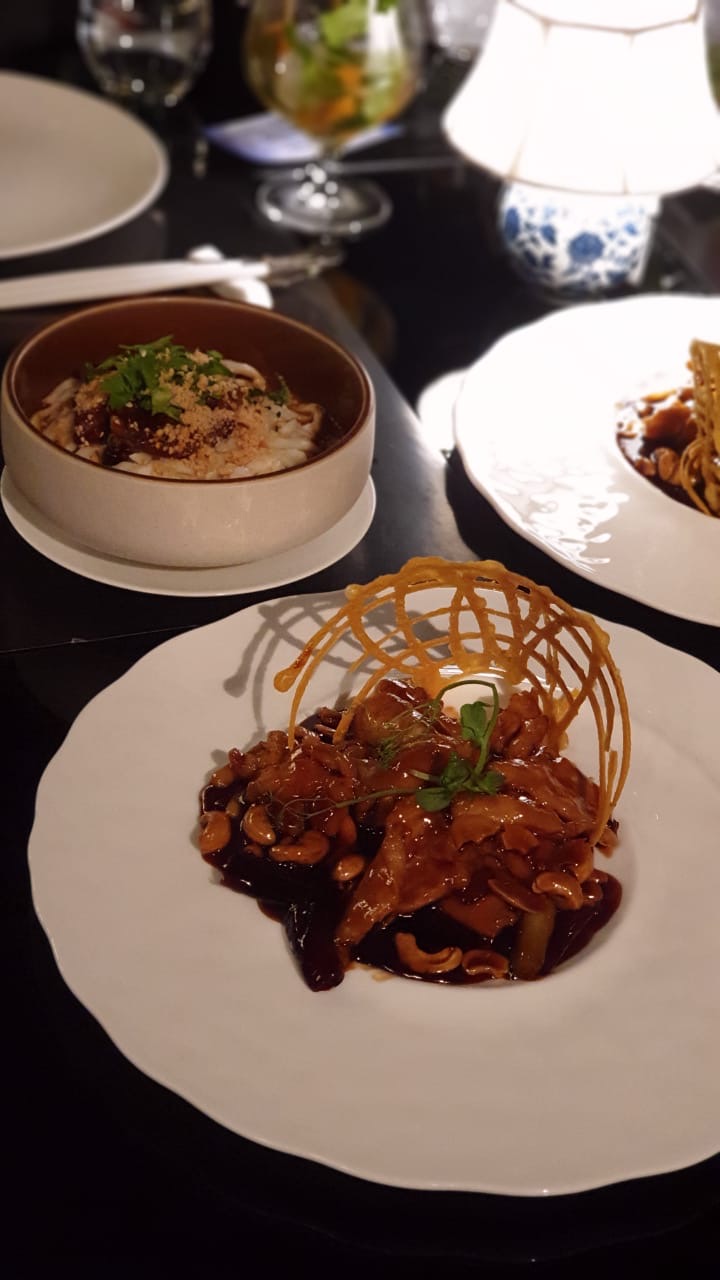 The history of Kung Pao Chicken is very interesting. Legend has it that that the dish was created by Ding Baozhen, a governor of the Sichuan province during the Qing Dynasty. Ding Baozhen was very interested in cooking. He liked eating chicken and peanuts, and especially loved spicy flavors. He created a delicacy made of diced chicken, red pepper, and peanuts while in the kitchen. Kung Pao Chicken was originally a private home cuisine of Ding family, but as time passed it became a well-known dish.This was only one account of how Kung Pao Chicken was first created. Others have speculated that while visiting his home, Ding Baozhen was served a dish featuring diced chicken, peanuts, and spicy Sichuan peppercorns. He liked the flavor, and he asked the family chef for the recipe. He began eating it on a regular basis and serving it to his own guests. The dish quickly spread around the Sichuan province, where it was named in honor of the dish's most ardent fan, "Ding Baozhen," Kung Pao is actually the honorable official title of Ding Baozhen. He was a good governor during his 10-year service in Sichuan; he contributed a lot to the local people and died in the 11th year of governor Guangxu's reign. So, the Qing government gave him an official title, "Kung Pao," which translates to "an officer who tutors the crown prince." His contributions to the people of Sichuan earned him a namesake for the honorable dish.
Beef Szechuan Dan Dan

Homemade noodles, peanuts, soya, spring onions

The name refers to a type of carrying pole (dan dan) that was used by walking street vendors who sold the dish to passers-by. The pole was carried over the shoulder, with two baskets containing noodles and sauce attached at either end. As the noodles were affordable due to their low cost, the local people gradually came to call them dandan noodles, referencing the street vendors. The name translates directly as "noodles carried on a pole", but may be better translated as "peddler's noodles".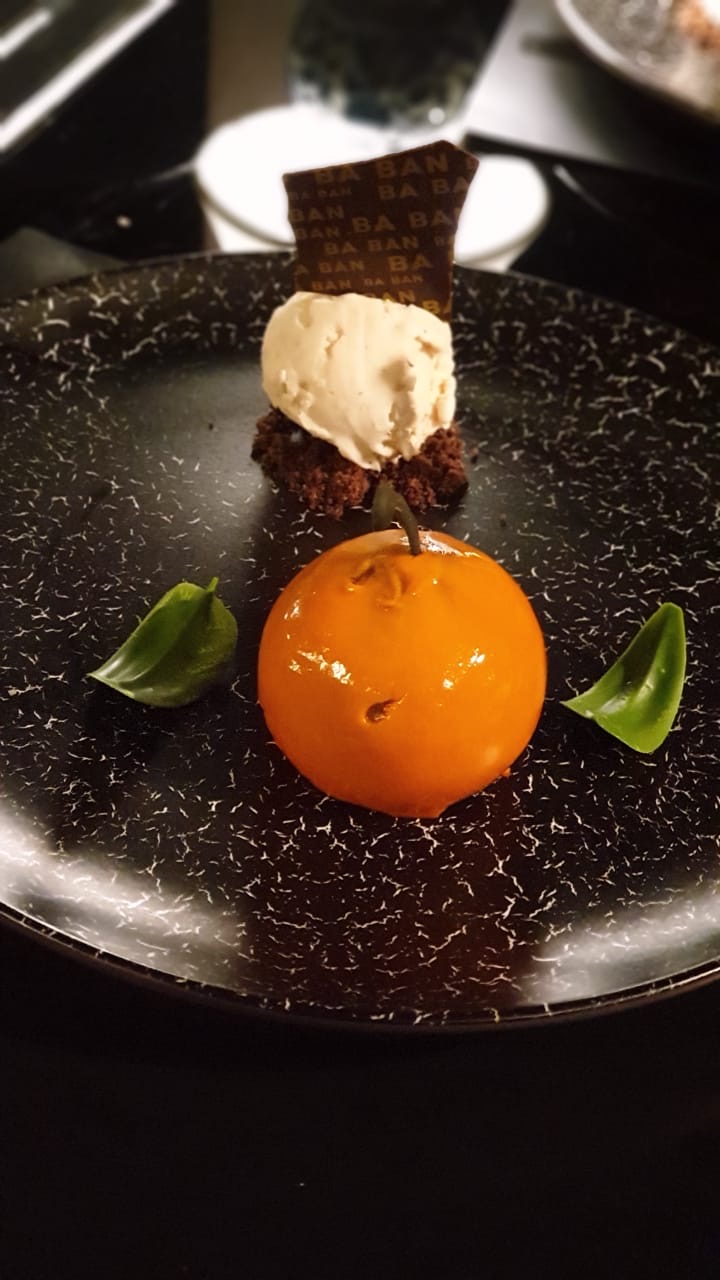 Art Mandarin Valrhona Chocolate Cake with Earl Grey Milk Tea Ice-Cream

During Chinese New Year, mandarin oranges are considered traditional symbols of abundance and good fortune. During the two-week celebration, they are frequently displayed as decoration and presented as gifts to friends, relatives, and business associates.
Following the strong symbolism behind the mandarin, the culinary tem decided to create and extraordinary dessert based on the finest chocolate. The Earl Grey milk tea ice-cream is an exciting partner to the chocolatey goodness.