It's hard to say no to a slice of dense and creamy New York–style cheesecake, but that doesn't stop pastry chefs from reinventing the utterly addictive dessert to suit palates from across the globe. From fruity to baked, fluffed to infused, here are our favourite cheesecakes from across the Sultanate.
Japanese Fluffy Cheesecake – Roselle, CCC Qurum @roselleoman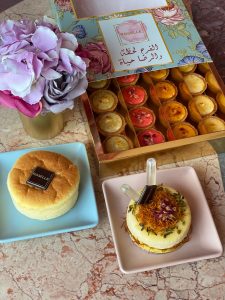 Light and fluffy, Japanese Cheesecake is a wholly new sensory experience for a real cheesecake lover. It's a melt-in-your-mouth combination of creamy cheesecake and airy soufflé. A second (or more) serving is a guarantee, as it's light and feels guilt-free! Japanese Cheesecake has the tangy, creamy flavor of cheesecake, with the moist, cotton-soft texture of soufflé and Roselle Oman has done this trendy dessert proud. You can order from @roselleoman or give them a call on 9742 4879.
San Sebastian Cheesecake – HuQQa Muscat, Al Mouj The Wave @huqqamuscat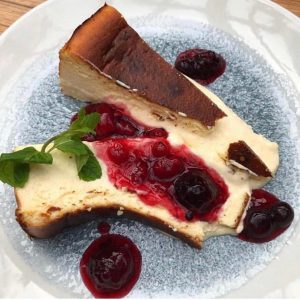 The latest global obsession in the cheesecake world is none other than the San Sebastian Cheesecake. Being both rich and fluffy, it's baked at a very high temperature, causing the cake to develop a deep brown-baked outlet layer while maintaining a smooth and liquid-ish texture inside. The mahogany burnt top gives it a beautiful rich color but also adds the extra flavour notes that set it apart from other cheesecakes. San Sebastian Cheesecake is so creamy and dreamy that you might not even notice it doesn't have a bottom crust. To experience for yourself you can contact @huqqamuscat or call them on 2454 9977.
White Chocolate & Coconut Cheesecake – Aches For Cakes, Al Thaiba @achesforcakes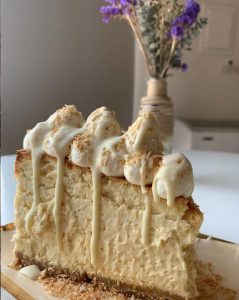 Aches for Cakes wins the award for most experimental cheese cake flavours. Today we are featuring the white chocolate and coconut variety, however they have everything from Avocado, Lime & Coconut to Saffron & Cardamom, Kinder Chocolate to Double Berry Swirl. It's cheesy and dense (as it rightfully should be) with light flavours to lift the overall experience. This bakery means what it states; you will certainly 'ache' for your next cake. (Trust us, we are having serious withdrawal symptoms already). You can order via Talabat or whatsapp your order to 9463 4749.
New York Baked Cheesecake – Baba Ice Cream, Al Khuwair @babaicecream1979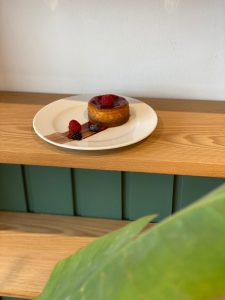 This classic New York cheese cake offers the perfect biscuit base. The texture can be described is somewhat cake-y with a perfect combination of salty and sweet notes throughout; let's say it has a balanced sweetness which makes it the ideal cheesecake for those with a savoury-favoured palate.
The cheese cake comes served with a fresh berry sauce, however the cheesecake itself comes in many variations and is alternated on the menu; from lemon to chocolate, marmalade fruits or topped with an indulgent chocolate sauce. This eatery truly deserves to be in the top 5. You can order via @babaicecream1979 on Instagram or call them on 7909 7711.
W Cheesecake – Harvest, W Muscat @wmuscat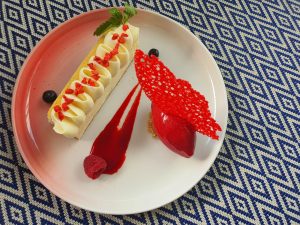 It's no surprise that W Muscat's Cheesecake has made the list because just like W, its cheesecake is anything but ordinary. A burst of vibrant colours on a plate, this perfectly balanced combination of crust, heartwarming cream filling and cooling sorbet hits the right spot every time. W Muscat's Chef De Partie in Pastry, Anup Domanic says "The beauty of this signature dessert lies in its simplicity. Using normal flour and basic ingredients with no preservatives, means that every flavourful bite is perfection." Available for pre-order, you can enjoy this mouthwatering piece of heaven at home by simply calling 2212 0000.