When you're looking for flame-grilled chicken with a fiery kick (well, actually the punch depends on your choice of marinade and palate) then look no further than Nandos! Team Oman Magazine has been getting quite creative during lockdown, seeking out tasty finds that work for deliveries and pick-ups. We are pleased to say that Nandos delivered to our doorstep an array of hot, fresh and peri-good dishes to be devoured by our insatiable editorial team (writing makes for hungry work you know…)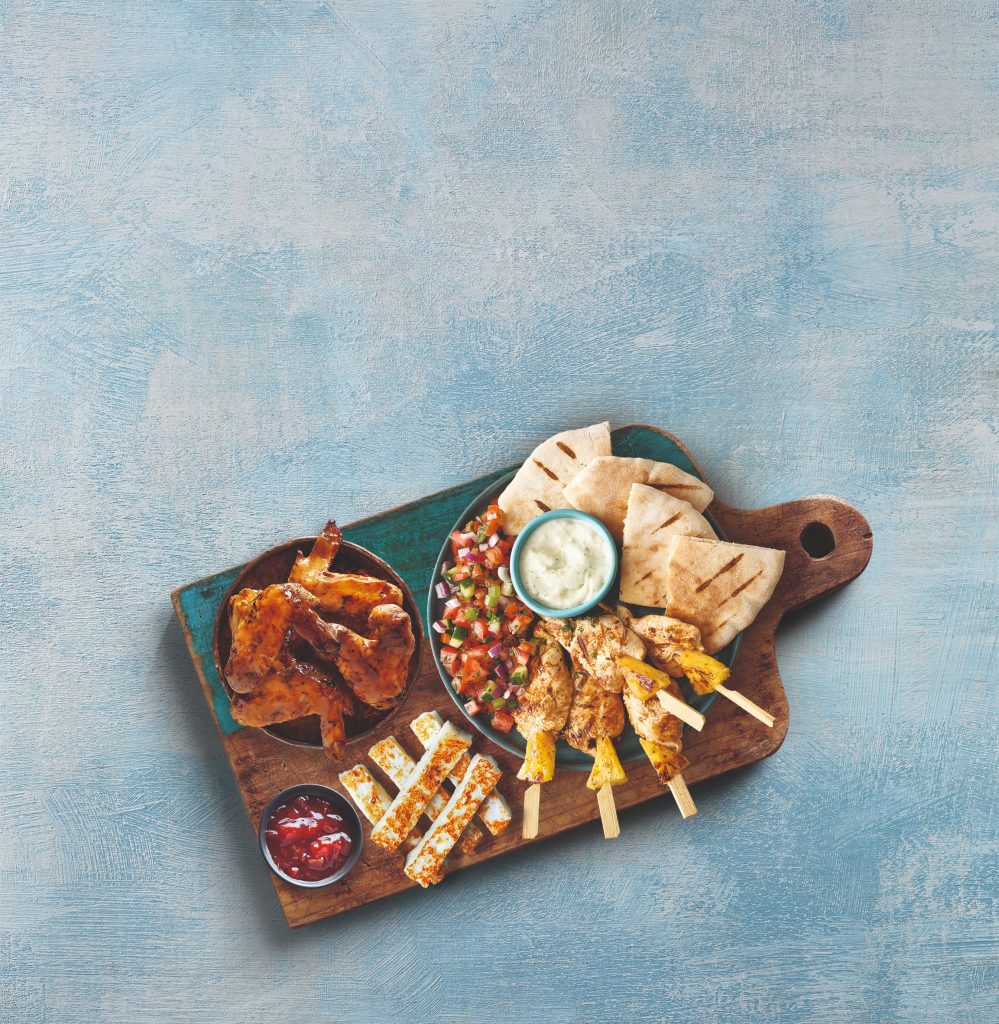 Appe-teaser's Platter
Let's get started with the exotic line up of tasty starters. We opted for the 'Appe-teaser platter' comprising of juicy chicken and pineapple skewers, grilled halloumi sticks with a chili-jam dip, warm pita breads, yoghurt, chicken wings and a freshly chopped salad. We could happily order this as a main dish for dining al fresco or enjoying a mix of mezze options. Truly satisfying and highly recommended by the entire team. 10/10!
Mediterranean Espetada – Chicken
This flame grilled PERi-PERi dish serves up chicken thighs stuffed with feta cheese, courgette, sun-dried tomato and olive filling, layered between courgette, red onion and halloumi. Each succulent mouthful boasts a creamy sensation and dependent on your marinade choice, the feta can make for a cooling cream to your PERi-ignited tastebuds.
Festa Fries
Potato chips (or thick fries) come loaded with pulled chicken, PERi PERi and an oozing, melted cheese topping. For those who can't get enough of the loaded-fries trend, then this new addition to Nando's menu will be sure not to disappoint! Gooey greatness at its best.
Half Chicken – Whichever way you like it!
Go big on the protein and order a half chicken, choose your sauce and be sure to be left wanting another. You can never go wrong with a classic Nando's chicken, albeit quarter, half or whole. Our spice level never exceeds medium – how hot can you go?
Chicken Caesar Wrap
Encased in a superbly soft wrap, this tender chicken fillet comes enveloped in croutons, parmesan cheese, sun-dried tomatoes and Nando's Caesar dressing, toasted and oh-so-comforting. We loved the packaging too! Great for a grab-and-go option or lunch-on-the-move (i.e. eating in your car in lockdown).
As we sign off with our stomachs satisfied and our minds pulsing with ideas (We have the PERi-PERi to thank for that) let us leave with this; Nando's never disappoints. It's consistent and charismatically flavorful. To book your poultry feast, head over to Nando's Oman online, or look them up on Instagram and Talabat. You can thank us later!
https://www.instagram.com/p/B8Ybj0rlo62/