It's no secret that the team at Oman Magazine have been long-term fans of the popular international eatery Wagamama. Referring to their belief in the philosophy of kaizen meaning 'good change' it shapes every dish they create to 'forever create and make things better'; if that's not a mantra for foodies to live by, what is?
Since1992, when opening their doors in London's Bloomsbury, Wagamama is inspired by fast-paced, Japanese ramen bars and a celebration of asian food. It was from here that our much-loved pan-Asian spot burst into life, bringing the flavours of asia to all.
25 years later and the sights and smells of contemporary and versatile Japanese cuisine can be found in The Sultanate at the CCC complex in Qurum. During this period of lockdown and a long list of home-deliveries to try out, Wagamama's tantalising menu surely ignited our interest. So, what are we waiting for? Let's dig in to some of the best bites…
Bang Bang Cauliflower
An alternative and vegetarian take on the 'chicken bang bang' Asia, this dish offers a great option for veggies or as a sweet side to break up the richness of other dishes. It's a yummy and more-ish dish, served with fresh coriander. One of our favourites for sure.
Steamed Chicken Gyoza
Who doesn't love a perfectly done Gyoza? These steamed pouches of perfection come in servings of 4 pieces per portion, with tangy side sauces and soya sauces to enjoy. The chicken is subtle in flavour and the dough gets it's moments in the spotlight with its pillowy texture. The ultimate feel-good food.
Chili Prawn Skewers
This combination is a no brainer. Big, juice and succulent grilled prawns, lathered in a homemade lemongrass and chilli marinade and topped with caramelised lime. This doesn't need any further explanation; its a match made in crustacean heaven.
Yaki Soba
Whilst mild in flavour, the prawn and chicken combination layered between piles of soft, thick, eggy soba noodles, make for a soothing and sumptuous noodle experience. Topped with pickled condiments, seeds and fresh herbs, this hearty noodle dish is perfect for picky eaters and those who prefer the milder, more mellow tones of Asian cuisine.
Katsu Curry
This dish was making headlines during lockdown for all the right reasons. The Katsu curry at Wagamama has long been hailed for its iconic nutty, sweet and creamy sauce that leaves the diner wanting more. Breaded chicken fillets and a refreshing side salad make this dish a home-run winner across the globe. If you fancy making your own, Wagamama have shared their secret recipe. However, when it's available and cooked to perfect (and available at the touch of a button) why not order in and enjoy each enjoyable bite without the washing up?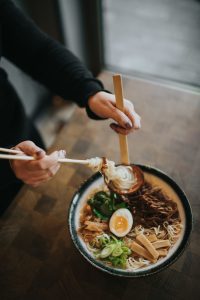 Ramen Noodles
Oh-so-soothing are these Ramen noodles. This warm and buttery broth combines slithers of succulent beef, spicy chicken noodle soup, red onion, spring onions, beansprouts, chillies, coriander and fresh lime. Oh and don't forget the egg! That's the cherry on top in our books.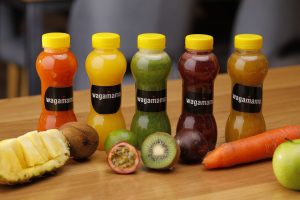 Fresh Pressed Juices
In line with Wagamama's mantra of positive eating, their variety of freshly pressed juices are truly well balanced when it comes to flavour and Asian-fare. Some offer hints of lemongrass or ginger to give a bit of zest to your detox. These make for a great alternative to processed beverages and perfectly compliment your meal. We loved the beetroot combination where 'spicy berries' were the star of the show.
To order online or arrange delivery, head over to Talabat or call Wagamama directly below! We hope you enjoy it as much as we did.
https://www.instagram.com/p/CBF5ns6gLFO/