It's a pleasure to meet you, Kate. We are curious to know how Kate Toledo Home come about?
Thank you. One of my quests has been the challenge of how do I give my paintings a life that continues after the white gallery walls. The first project was the creation of Kate Toledo Scarves which we started in 2012. Our collaboration with long-established silk printers in Lyon, France produced the most exquisite silk-screened scarves for us. So beautifully printed and executed they were destined to become family heirlooms to be passed down. The next step seemed a natural progression, to extend the artwork, colours and patterns into our homes and the homes of others. We offer a bold large scale statement in the wallpaper collection or accent pieces for special table settings or perhaps cushions and bedding options. After a year and a half of experimenting with a variety of products, searching for printing houses that would reproduce the quality and colour matching that we demand for our products, looking for top quality sustainable suppliers and building our platform we were ready to launch in January 2020 our Kate Toledo Home eCommerce platform reaching customers worldwide.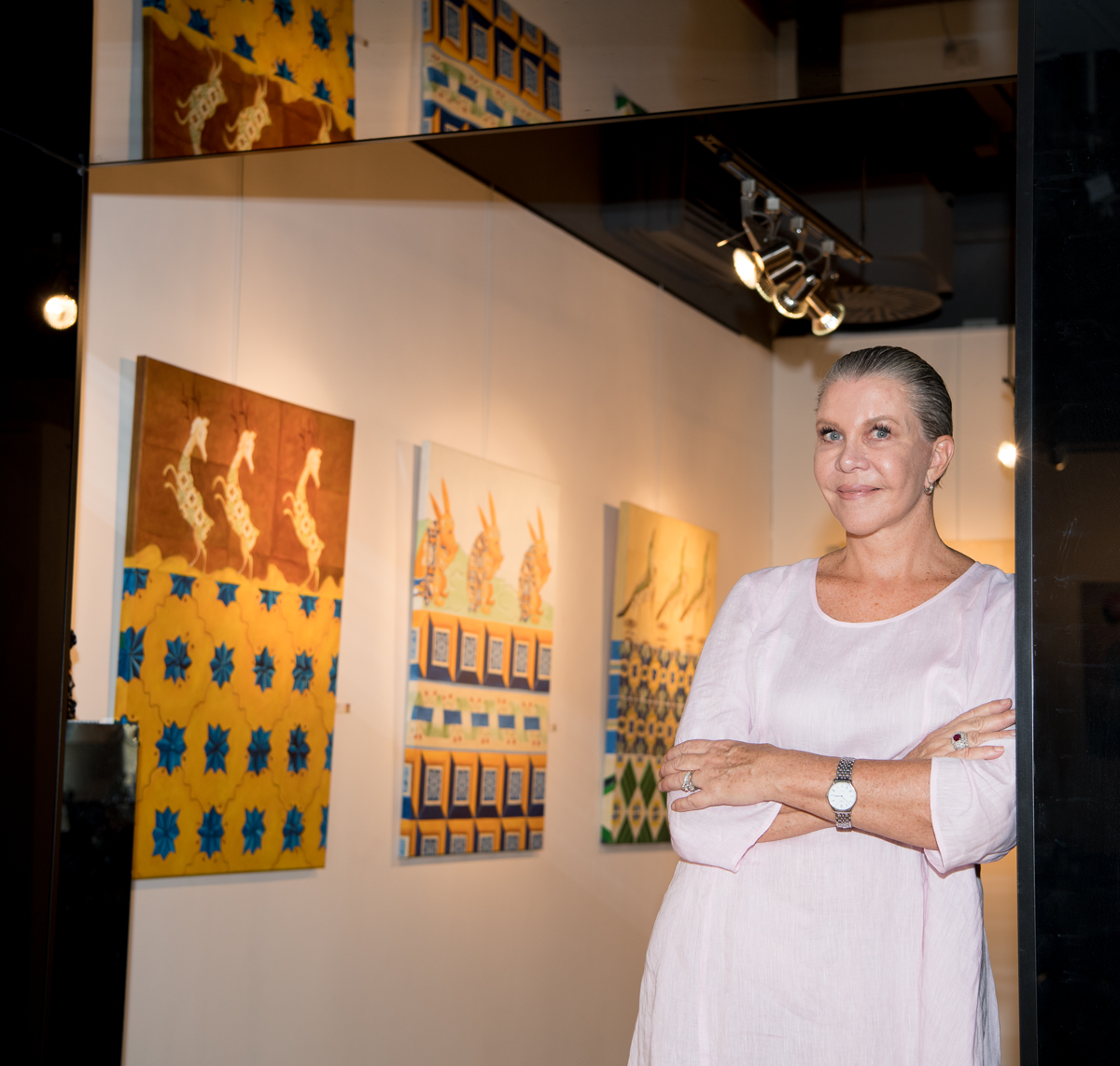 Your home decor pieces exude an elegant and regal vibe that expresses a passion for art. How does it feel to see homes transformed into art havens?
I have to say it is indeed thrilling. As someone who surrounds herself in colour and detail, we offer our followers and clients truly individual pieces to brighten up our days and personalize our spaces be it an office or a home environment.
What inspired the transition from painting to home and interior decor?
Interior decoration, the atmosphere and security we create in our rooms with colour and furnishing choices is, of course, the key to the mood we wish to create. I saw the chance with my paintings to offer something completely unique and joyful.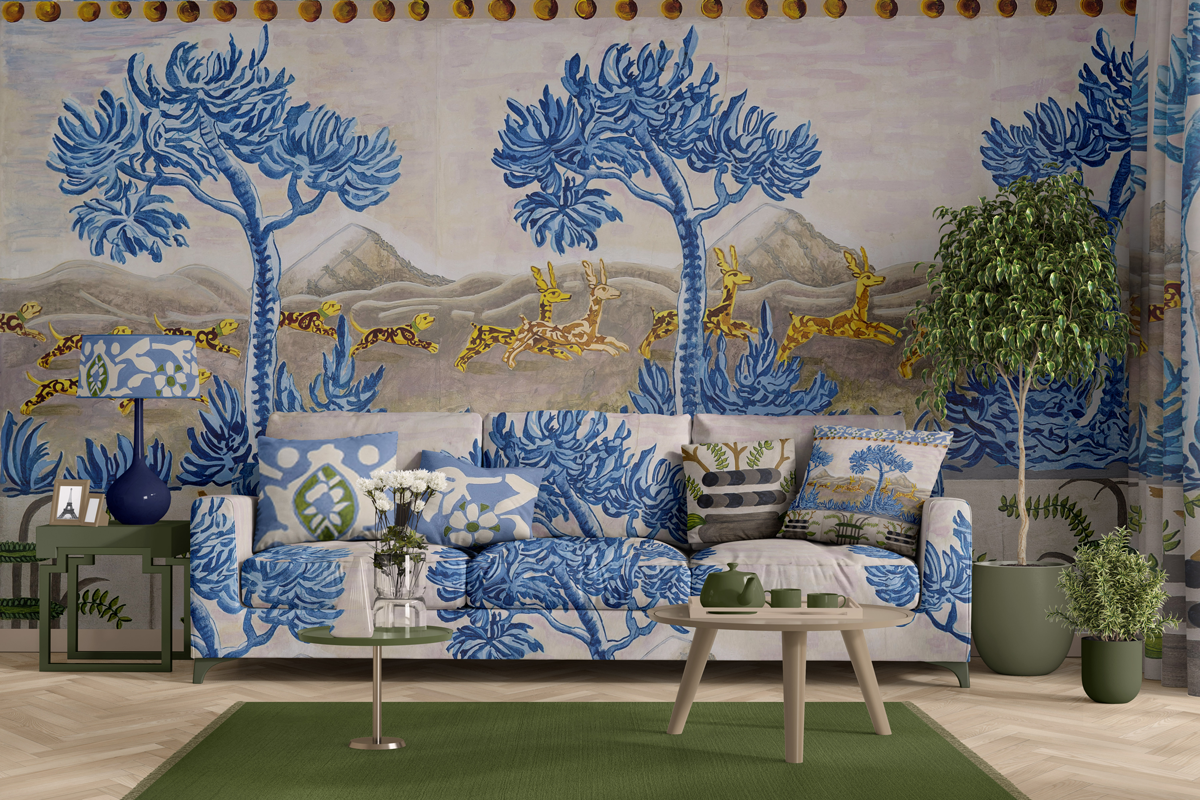 Your mission is to fill homes with lots of beautiful art. How does Kate Toledo Home aim to achieve this?
We achieve this through our online store (katetoledohome.com). From this starting point and the extensive selection, we have from the Portuguese Collection, you can create your special room with the wallpaper, curtain, cushion and furniture options. You can design your guest table settings from our plates, table mats and napkins and of course the very personal details in the bedroom with our bedding choices.
Can you tell us more about your latest home collection?
This is the launch of our first home collection. The images that make up this Kate Toledo Home collection are taken from acrylic on canvas paintings from my Dubai exhibition, The Portuguese Collection – a retrospective on Portuguese history through modern travels. The series is inspired by 17th and 18th-century Portuguese tile and faience work. We have used, in some cases, the whole image or details of a painting to create our range of accessories for that special home.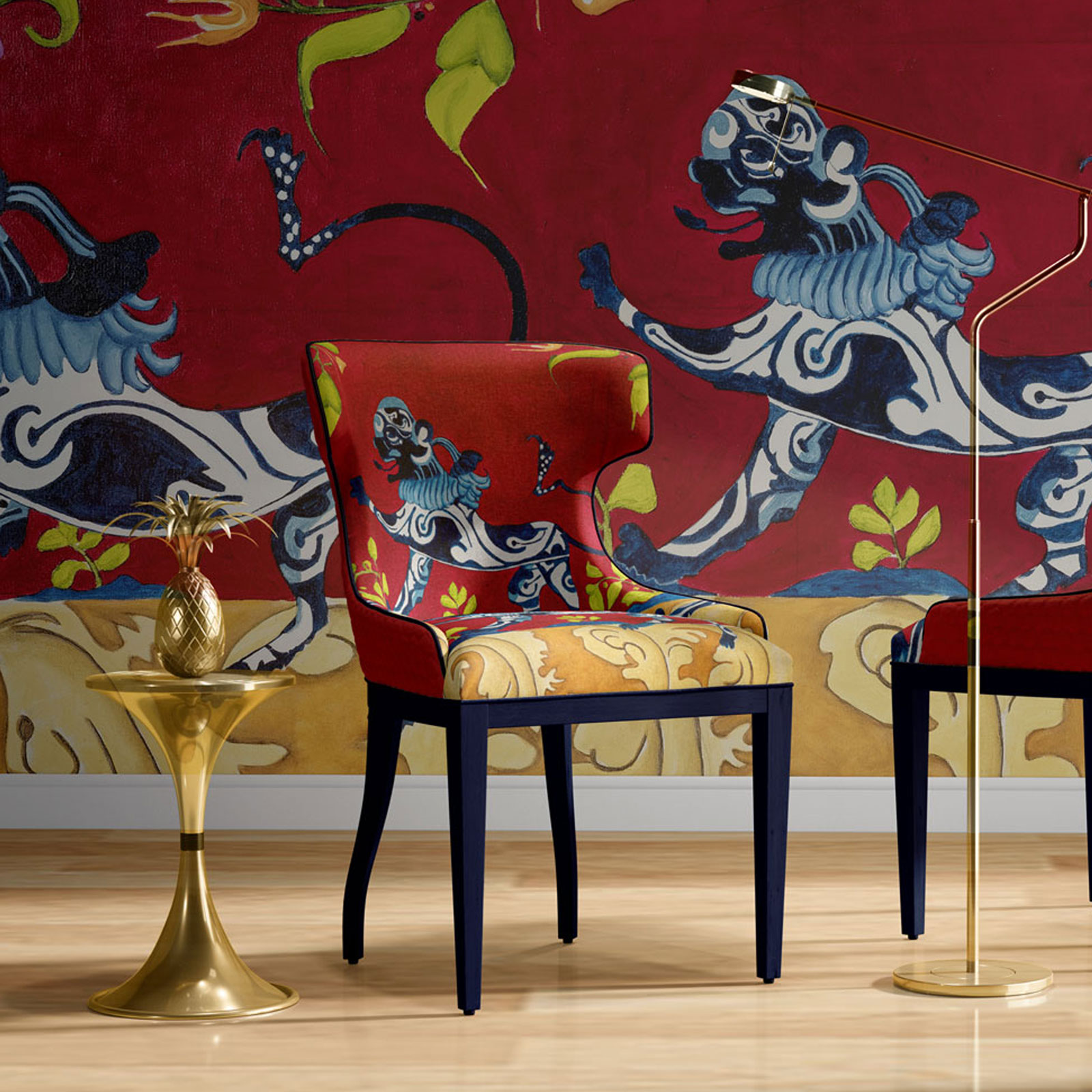 Is there a particular piece from this collection that occupies a special place in your heart?
I love all the pieces. We spend a tremendous amount of time sourcing our pieces and selecting the artwork for each of the products we offer, I must say I love the wallpaper and the impact it gives a room, plus any of our three chairs.
How do you go about selecting art for home decor? Is it an instinctual process?
All the art in our KTH collection is an original Kate Toledo artwork which you will not find anywhere else. When buying artworks, the key is to buy what you love, a piece you wish to live with and admire every day. Home decor, the art of putting a room together beautifully, is not usually an instinctive process, one carefully selected central piece or colour will help build the rest of the "look" and bring the room together harmoniously.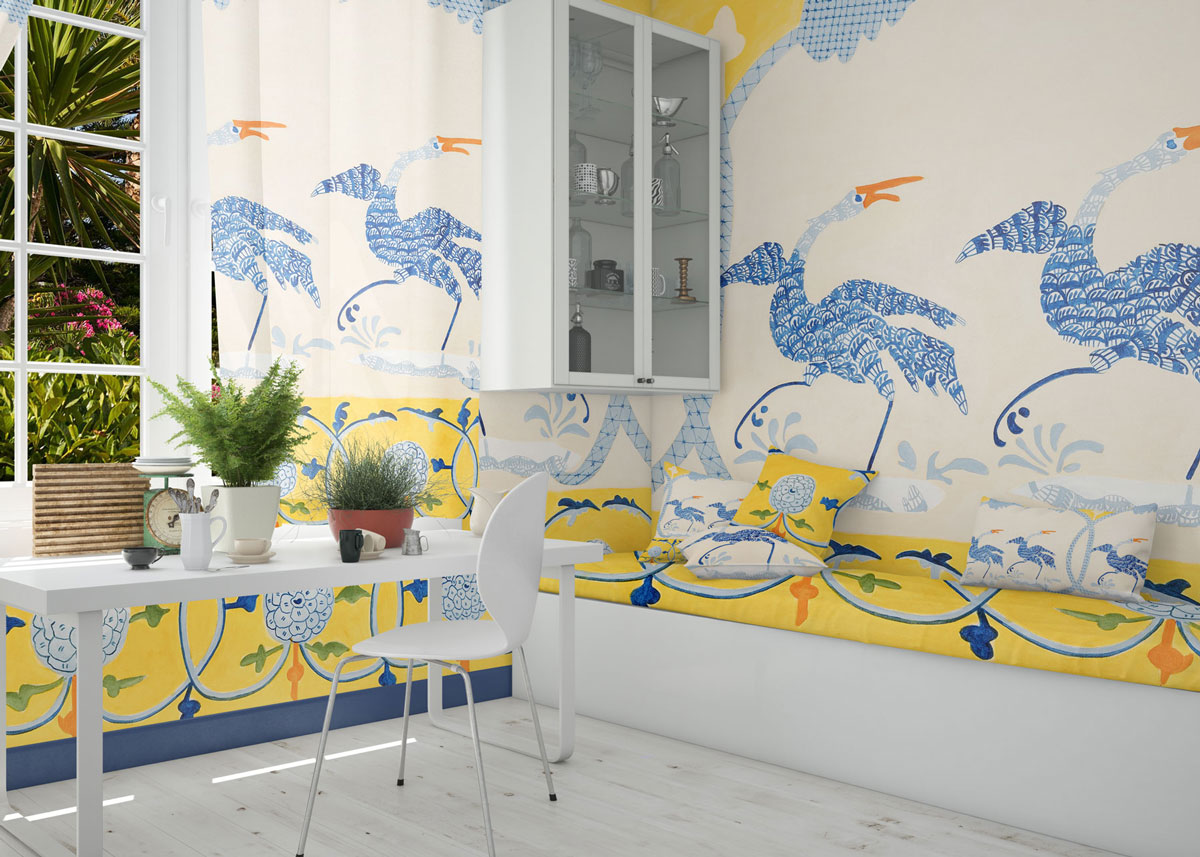 Who are your decor pieces designed for? Who should have Kate Toledo Home at their living room?
Our Kate Toledo Home accessories have been created for anyone who is looking for a beautiful, one of a kind, original statement piece, be it larger or small. Who should have a KTH piece in their living room? anyone who appreciates beautiful things.
Let's talk about your breathtaking wallpapers. how do you translate your art into the wall? Is there a set process or is it different every time?
We have two kinds of offerings; one is a set pack of wallpaper where the client will need to fit onto their walls. The other is the art customized to fit that particular wall. In both cases, we ensure the artwork that is in the canvas is exactly the art you will have in your walls. We are very careful in maintaining the colour tones and brush strokes when printing the wallpaper. The whole purpose of KTH is to provide the art and not just wallpaper or an accessory.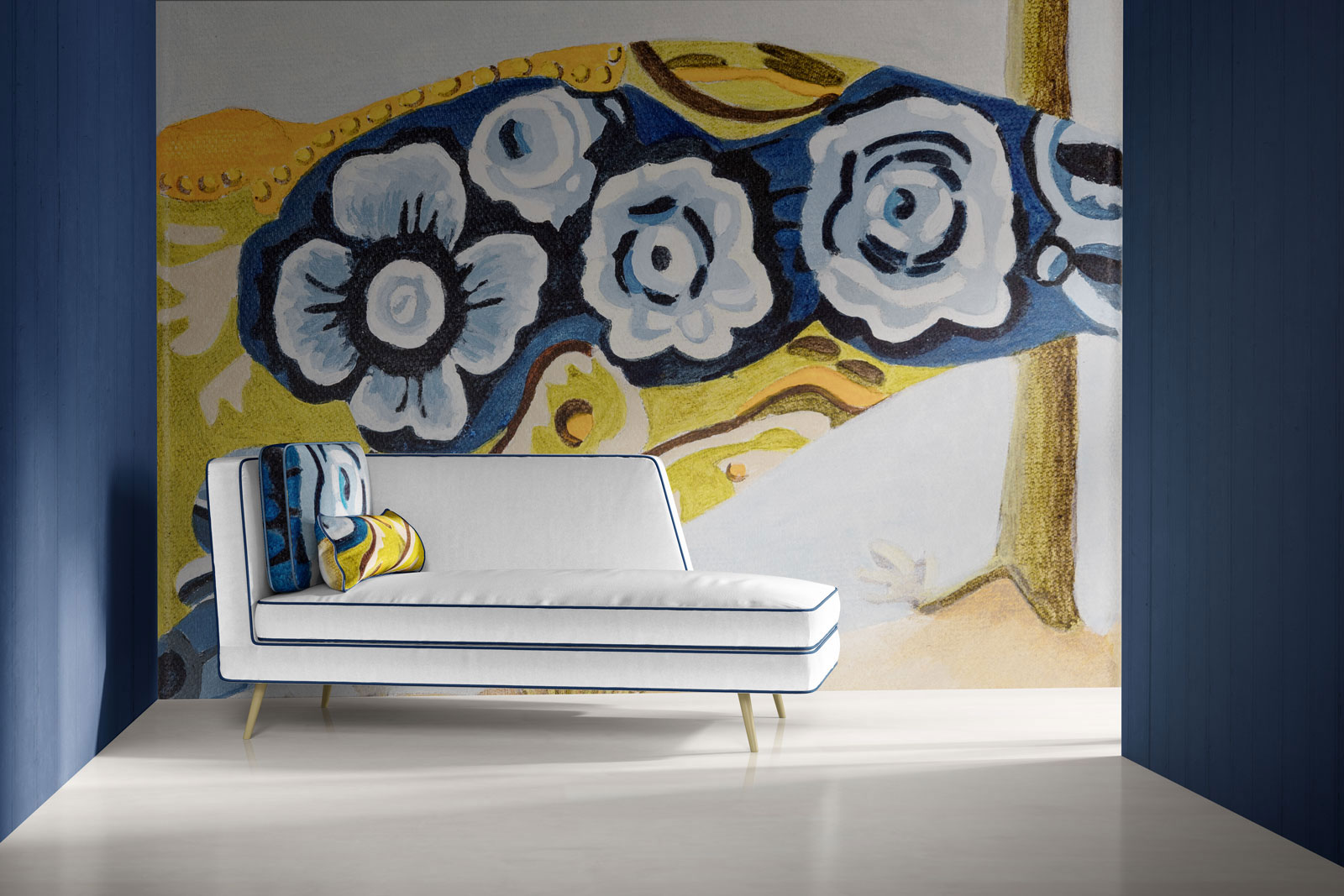 What do you think is the most important thing about wallpaper design?
Our KTH wallpaper collection is a feature in whatever room it is placed. Usually, one wall is all you need, each image tells its own special story in vibrant colours and great detail. It will catch your attention.
Where do you get your inspiration from?
I spend a great deal of time in Lisbon. In fact, it's my second home. I am continuously struck by the beauty and grace of their 17th and 18th-century tile and faience work. This Portuguese Collection is a combination of my interpretation of these images from times gone by and my tropical palette. Each collection is an inspiration brought by history and its art.
What can we expect to see from Kate Toledo Home in 2020?
Each KTH collection is inspired by one of my painting collections. Each year KTH will transpose one of these collections into "Living Art".