by ADELA EILEEN
One of my 2020 goals is to explore more regional and international kitchens from exotic lands, and this week I happen to stumble upon quite an interesting cuisine that is taking place at Grand Hyatt's Marjan Restaurant: Sundanese, a cuisine hailing from the highlands of West Java, Indonesia.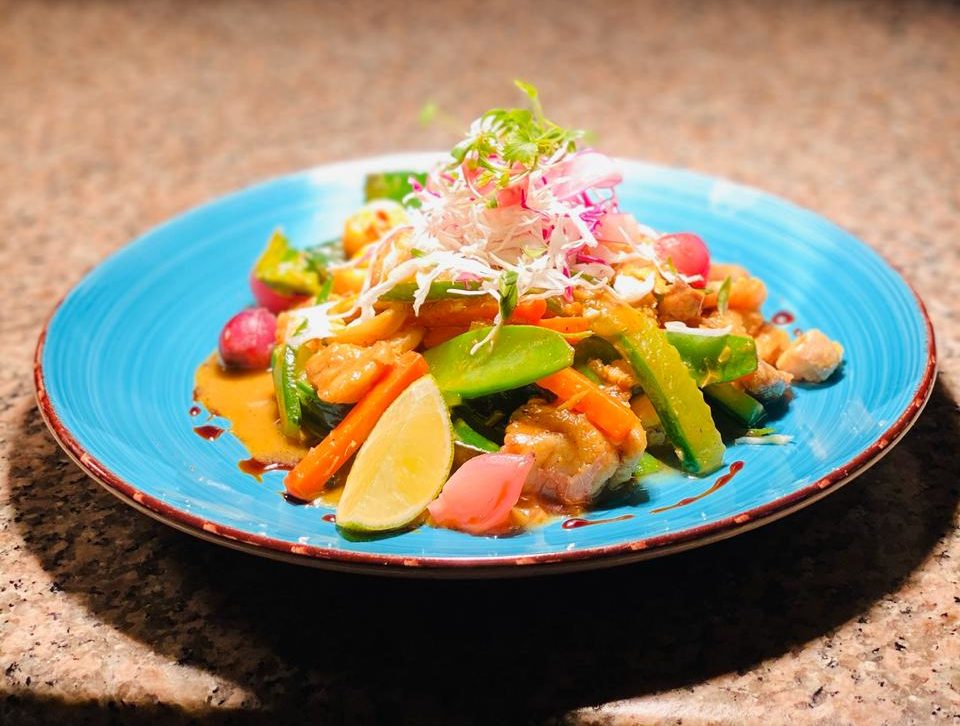 Sudanese is a province of West Java (known as Indonesia) famous for being home to some of the warmest people. Hence the name, Sunda, which translates to 'beautiful, goodness, truthfulness'.
Sundanese cuisine reflects simplicity, with fresh sourness, mild sweetness, and hot and spicy tangs — all encompassed into one mouthwatering dining adventure. With the help of chef Ratdita Anggabumi from Jakarta, a master of Sundanese flavours, we got to dive in and try his creations at the recent 'Flavours of Sunda' festival that's happening at the restaurant.
For Sundanese people, freshness is key, and everything is prepared in mortar or pestle and used instantly. You'd find flavours such as galangal, nutmeg, pandan, tamarind, lime, ginger and lots of chillies generously infused within the cuisine.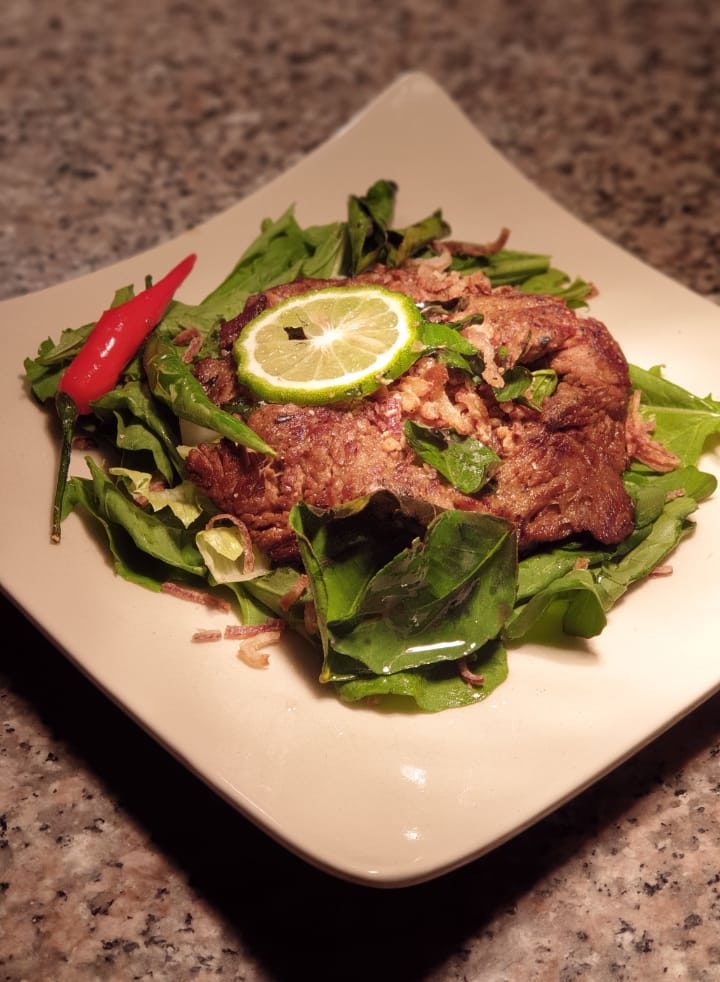 The a la carte dinner menu is selectively designed by the chef who has kept it very earthy and comforting. A warm drink named Beras Kencur is served (the name already sounds healing), a perfect herbal drink for wintertime, which gives you a strong kick and calms down nerves. The sip was followed with a shareable platter of starters that incorporated a variety of flavours from signature dishes. There was a simple comfort starter batagor, a seafood dumpling with sour cashew nut dressing; bala bala, a crunchy vegetable fritter almost similar to Indian pakora; asinan bogor, a combination of fresh sliced vegetables, carrot, cabbage cucumber, beansprout and pineapple, splashed with a mild sauce; and finally letak, a medley of cucumber, beans, cassava leaves, with kaempferia galangal sauce. The last two dishes were absolutely a highlight.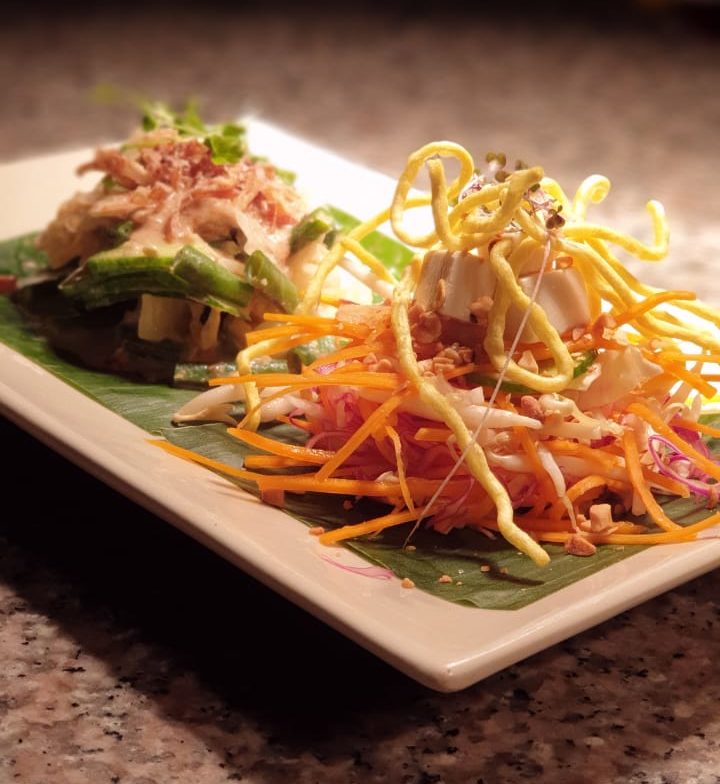 After sampling the appetisers, we knew we're off to a great start. We skipped the soup and dived right into the main course, which comprised four dishes with an option of choosing one. We went with the empal gepuk, a flatten beef with a sweet-and-sour coconut base, served on a bed of salad dressed in lime, kefir lime, basil and chilly. The dish was exquisite.
If coconut isn't your cup of tea, you can try the banana leaf steamed dish: Hayam pepes kemangi, a basil spiced chicken, served with steam rice; semur daging, spiced beef with soy; and the pepes ikan, steam fish with galangal and lime.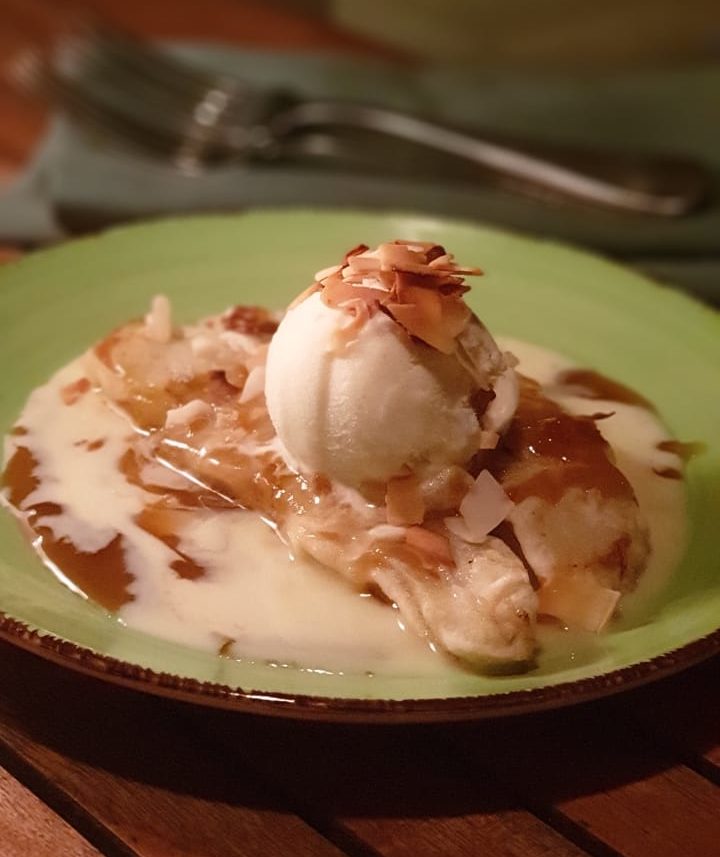 For desserts, we enjoyed the misro hui, one of the trending desserts of 2020. It's a baked sweet potato cake with vanilla and coconut cream. Sounds exotic? you bet. It's a must-try. The pisang goreng fried banana with toffee sauce and ice cream is also a delectable choice. ( perfect sunda ending)
Overall, Flavors of Sunda festival was a beautiful Sundanese night to remember. The food is what i'd call a mixture of Japanese-thai, with its own origins of course. Head over to Marjan Restaurant at Grand Hyatt Muscat and savour the goodness before it ends. Also, please make this a permanent stop for Indonesian cuisine; we need to have Sundanese dishes throughout the year!
Flavours of Sunda is only for a limited time and will conclude at the end of February 2020. We recommend it.
Book a Table:
Where: Marjan Restaurant, Grand Hyatt Muscat
Cost: OMR28 inclusive of unlimited adult beverages.
Timing: 7.30pm – 10.30pm, daily.