Set at the Hormuz Grand Hotel Muscat, a Radisson Collection Hotel, OMNY Brasserie
presents a contemporary and chic take on a New York brasserie, with a subtle nod
to local culinary influence.
With a clear modernity, the restaurant boasts rich teal and mustard upholstery,
banquette seating and stylish gold accents throughout. With a generous seafood
counter showcasing the best of the fisherman's catch, and an envious butcher's
station where fillet mignon, marbled prime cuts and tomahawk steaks await; there is
certainly something for every foodie to explore at this trendy eatery.
Having dined at OMNY on many occasions since their opening, Team Oman Magazine opted for a few different dishes to sample and we were certainly not disappointed; OMNY is a venue for consistency and beautifully curated dishes.
Warm Octopus served with Chorizo, Polenta and Asparagus
This dish was very well done indeed. The octopus was soft and incredibly tender; cooked to
perfection. The punchy edge of the chorizo added a nice, salty power to the plate, and the asparagus had just the right amount of 'bite'. We would certainly order this again.
Dish Presentation: 5/5
Dish Flavour: 5/5
Prawn and Scallop Risotto
This dish was very pleasant and perfect for those looking for a mild and more mellow take on a seafood risotto. The rice was cooked impeccably, 'al dente' as to be expected served at the perfect temperature.
Dish Presentation: 4/5
Dish Flavour: 4/5
Omani Lobster with Dauphinoise Potatoes and Sautéed Vegetables
The Omani lobster is generous in size and hearty in portion; for those of you that are yet to try an Omani lobster, you absolutely must do so at OMNY brasserie. You can choose whether you'd like it grilled, topped with butter, marinated or oven-baked with cheese. For us we went for the classic grill, allowing the flame to do its magic and leave all of the natural lobster flavours to unfold on our palates.
The side of sautéed vegetables was cooked beautifully, a nice colourful array of
broccoli, yellow zucchini and baby carrots. Now, moving onto the hero of this dish, let's talk about the dauphinoise potatoes. Delicately and thinly-sliced potatoes, layered and seasoned, with a classic sauce distributed lightly throughout, topped with a golden cheese top. Total heaven! Making this lobster treat all the more indulgent.
Dish Presentation: 5/5
Dish Flavour: 5/5
52% Cacao chocolate cake with red berry coulis
This dessert comprises thin layers of cake with a very high cacao binding the cake
together, and ultimately smothered in chocolate. Topped off with fresh berries, this is a bitter-chocolate lover's dream, and offers a less-sweet approach to afters.
After – Dessert Coffee
The coffee served at OMNY is divine and came as a Lungo should; with a
perfect 'cream' from the coffee as it reaches the surface.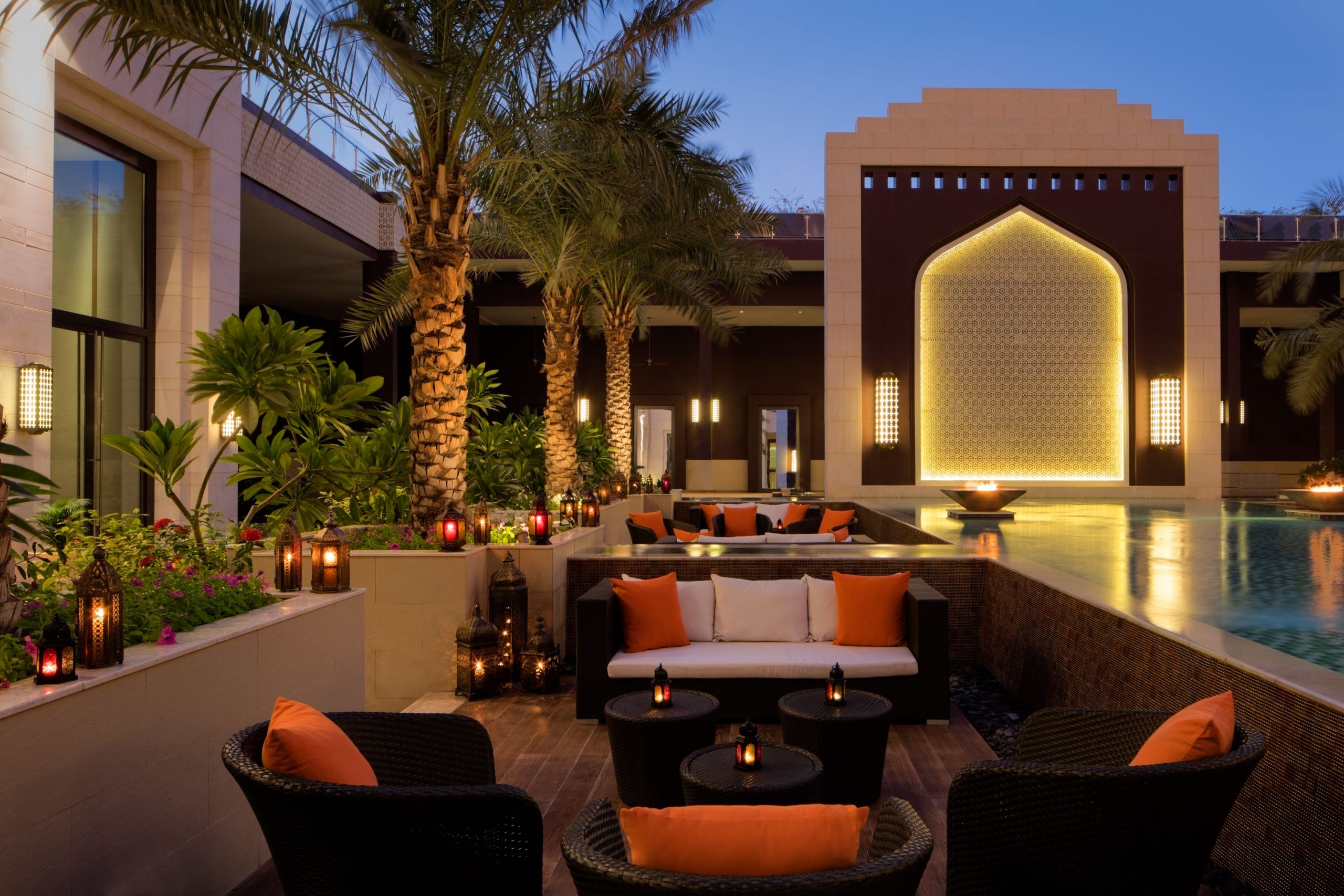 General Ambiance: 5/5 – Beautiful décor both inside and out. The terrace offers an
oasis of calm with views of the twinkled palm trees, the signature pool and the
elegant courtyard.
Service and Hospitality: 5/5 – Incredibly attentive staff and wonderfully personable.
https://www.instagram.com/p/BoWMgnmHPNP/