by RABIA QAISER
Brunching is a dining culture that has now become a ritual of some sort in Muscat. Whether you enjoy festive sips by the pool, at the beach, or next to a DJ — These brunching spots promise a fabulous experience for lovers of all things food.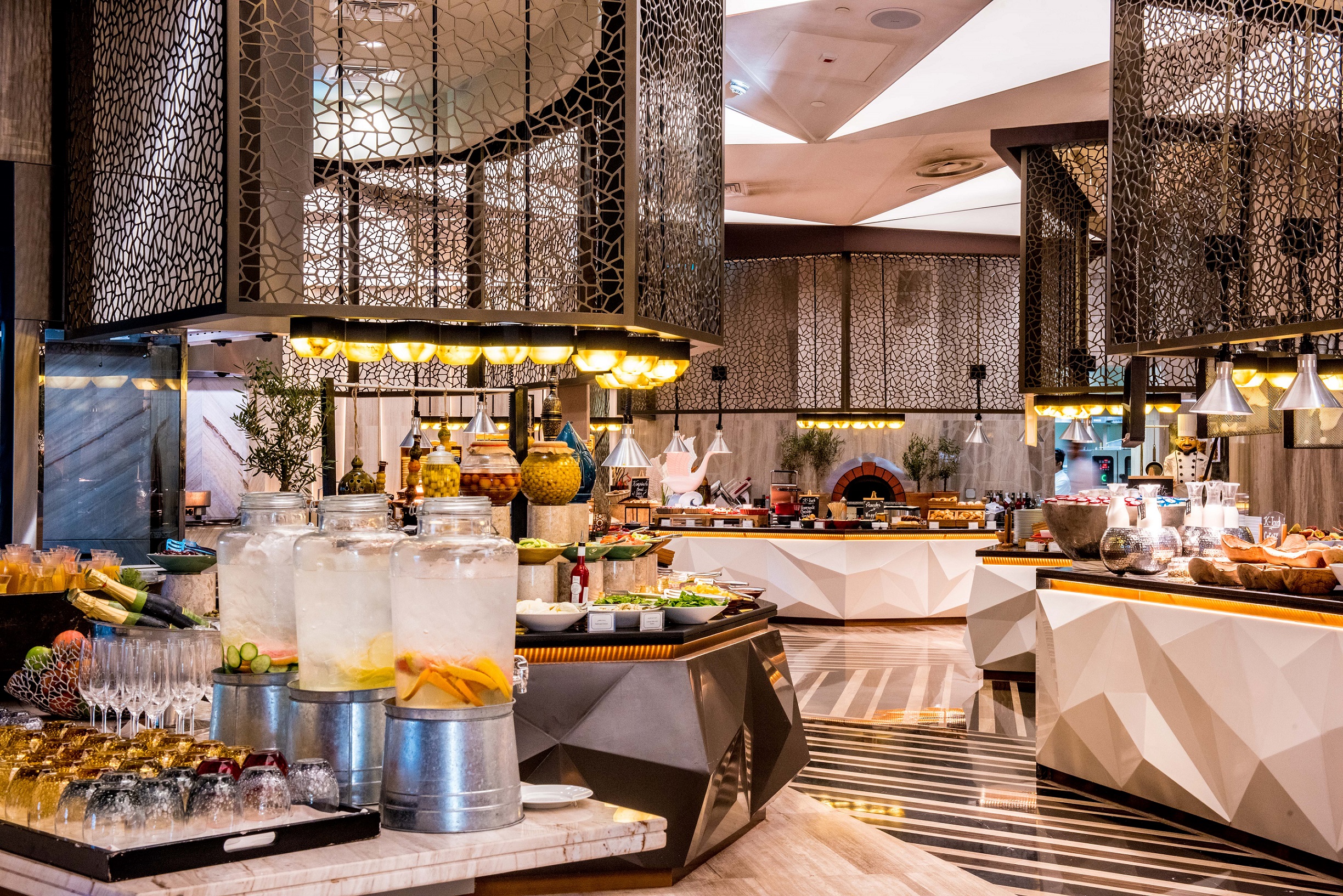 1. The Kempinski Hotel Muscat
The Kempinski hotel's Friday brunch at The Kitchen Restaurant promises a refreshing afternoon with their Plunge & Indulge package, which features multi-dining options and access to the hotel's main infinity pool overlooking the ocean blues. Escape in style and indulge in an array of culinary offerings, with an international buffet from European to Middle Eastern food, alongside light seafood selections. While the adults mingle and sway to the in-house jazz band, the hotel also offers a host of activities for our younger friends at Dippy's Clubhouse. So the little nuggets are occupied while you take in the fresh ocean breeze and lull away to some chill tunes.
Where: Kempinski Hotel Muscat, Al Mouj, Al Hail North;
When: Every Friday, 1pm to 4.30pm;
Cost: Starting at OMR28.
2. Al Bustan Palace – A Ritz-Carlton Hotel
Friday brunch returns once again to the Beach Pavilion Bar & Grill at Al Bustan Palace, a Ritz-Carlton Hotel. The weekend spread allows guests to enjoy a spectacular brunch with live food stations and grills fea- turing the finest Omani specialities along with live entertainment. Showcasing un- paralleled views of the Sea of Oman, this outdoor experience promises a soulful and loving time with friends and family.
Where: Al Bustan Palace, A Ritz-Carlton Hotel, Al Bustan Street;
When: Every Friday; +968 2479 9666;
Cost: Starting at OMR25.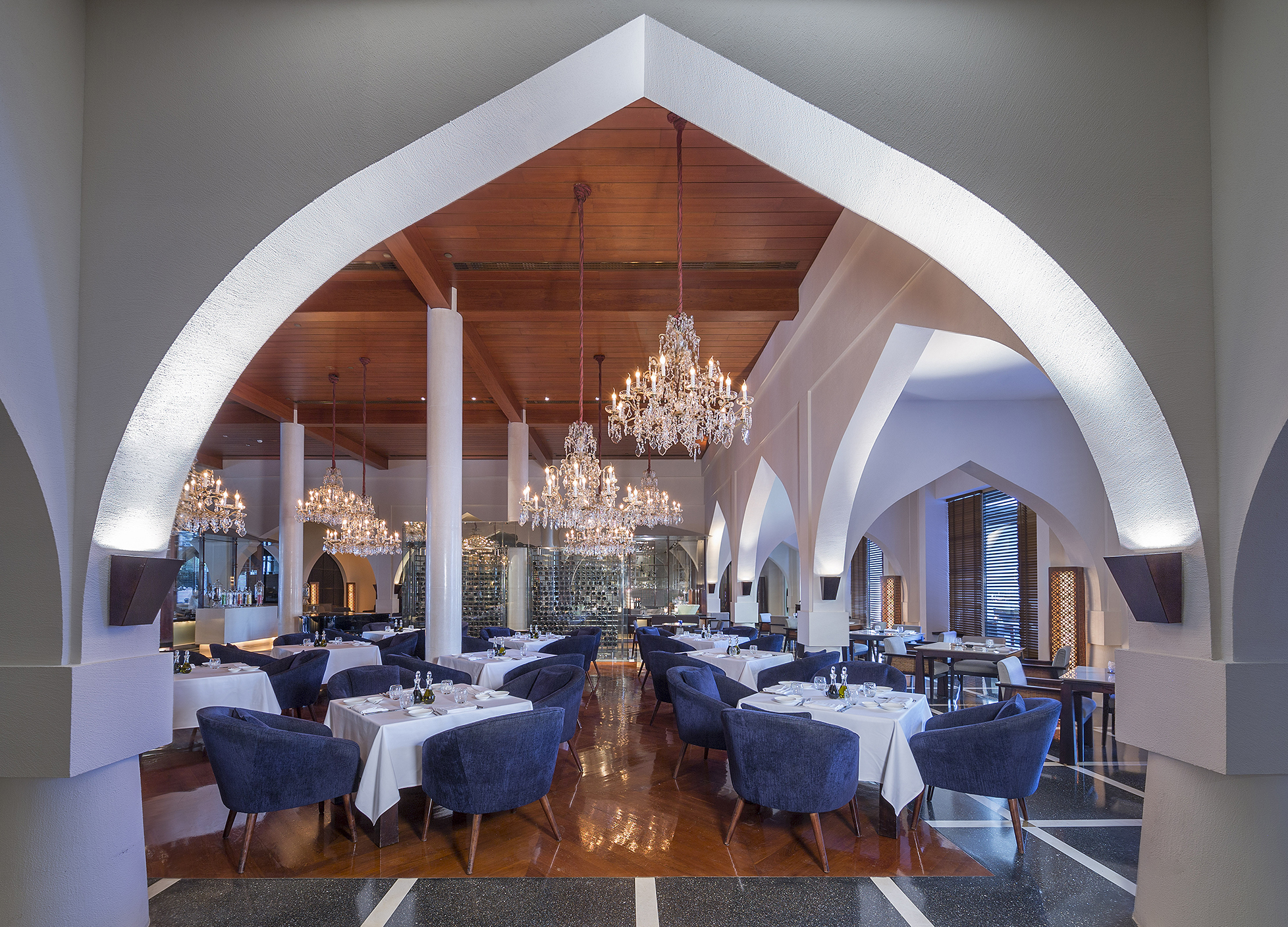 3. The Chedi Muscat
If you want to treat yourself to a relaxed garden brunch, then do yourself a favour and head on over to The Restaurant at The Chedi Muscat. A brilliant international selection with a huge array of cuisines and lots of mixed drinks, and live stations. Don't worry, there's live entertainment too, so everyone can enjoy the magic of brunch. Surrounded by an oasis of palm trees, wind down at the Chedi's garden party curated especially for you and your desired brunch squad. You can also choose to dine at the elegant dining room of The Restaurant as the buffet continues inside.
Where: The Chedi Muscat, Athaiba;
When: Every Friday, 1.00pm to 4.30pm; +968 2452 4343;
Cost: Starting at OMR26.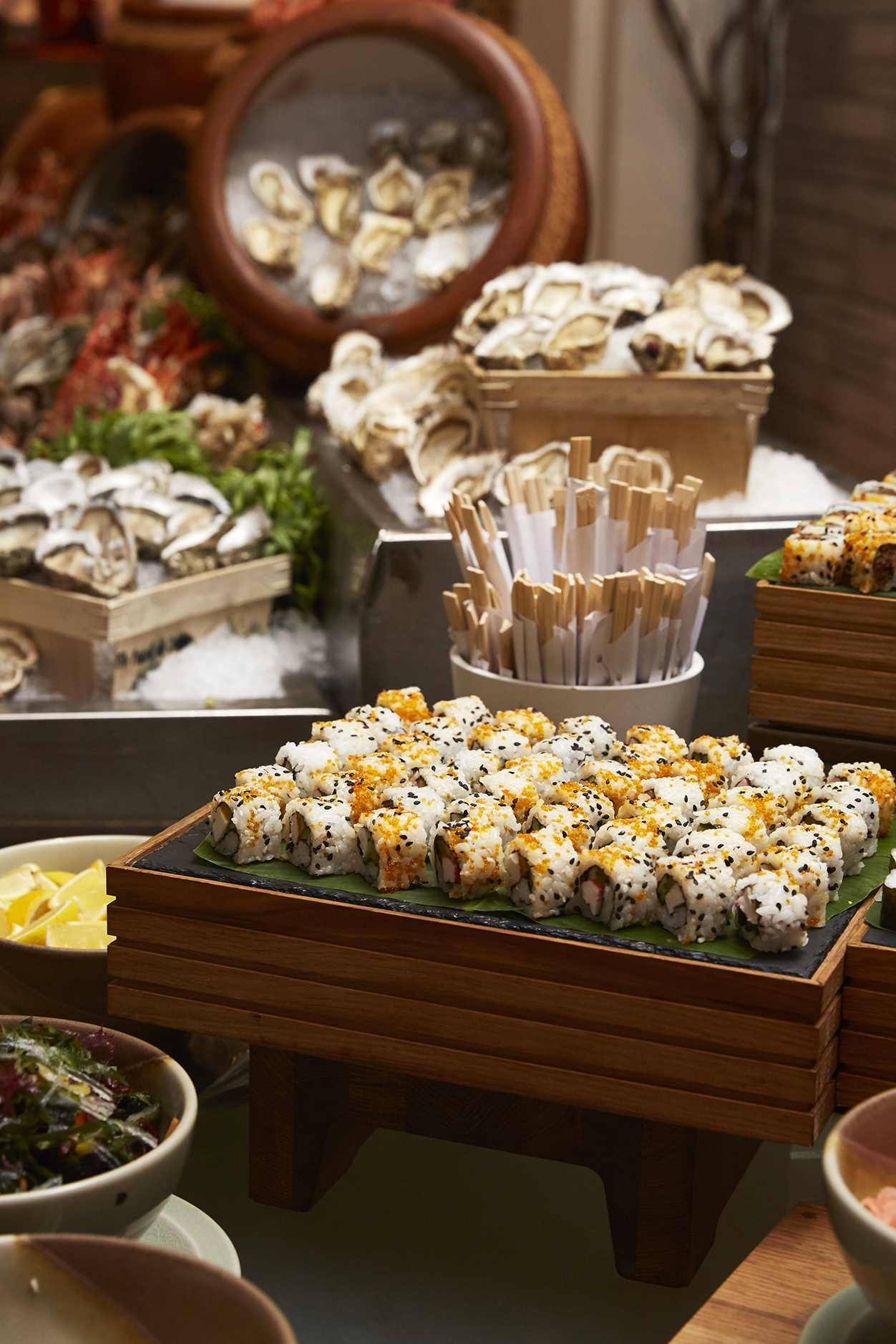 4. Shangri-La Barr Al Jissah Resort and Spa
Shangri-La's Friday Brunch at Al Tanoor of- fers a lavish spread full of good food, while also providing some delicious bubbly drinks to sip on. From huge international buffets to high-end à la carte cuisine, there's something for everyone. The buffet comprises scrump- tious meals with hearty salads, seafood clas- sics and much more, although their carvery brunch with roast meats are worth the men- tion. It's a perfect weekend getaway from the city and into the mountains, with 360 pano- ramic views of beautiful landscapes and in- credible sunrises.
Where: Al Tanoor, Shangri-La Barr Al Jissah Resort and Spa;
When: Every Friday 12:30- 4:00 p.m; +968 2477 6565;
Cost: Starting at OMR25 net.
5. Crowne Plaza OCEC
The Friday Big Chill Brunch at Mosaic Restaurant is a top option for a casual afternoon that's accom- panied by an entertaining DJ. This brunch has a true party vibe and has slowly gained quite the popularity since its opening last year. You can feel the beats pumping as you walk down the stairs to the restaurant, greeted by lovely waiters welcom- ing you with a floral garland. It's got a luau-in- spired theme, with party-goers dressed in groovy tees, turning up to latest hits, while holding on to mysterious, yet delicious drinks. From a banquet of succulent food, featuring oysters, seafood hits, international cheeses, to an array of street food, Mosaic satisfies your palettes as well as your party appetite.
Where: Mosaic, Crowne Plaza OCEC;
When: Every Fri- day, 2pm to 5pm; +968 2479 9666;
Cost: Starting at OMR20.
6. Muscat Hills Resort
Do you like being barefoot and getting caught in a scenic back-drop? Well, you can do all this and a lot more at the Barefoot Brunch at Muscat Hills Beach Club. The club's laid back charm and relaxing vibe allow the guests to enjoy this picturesque set- ting over some mouthwatering food on a Friday afternoon. The beachfront brunch offers relief to your cravings with flavoursome paellas, as well as bubbly sips and vanilla-orange sherbet to satisfy your sweet tooth. Get lost in the mountains, while the DJ sets the mood with some chill deep house music to go with your barbecue classics.
Where: Muscat Hills Resort, Al Jissah; +968 9121 6645;
When: This brunch happens once a month. Contact the venue for more details.
Cost: Starting at OMR28.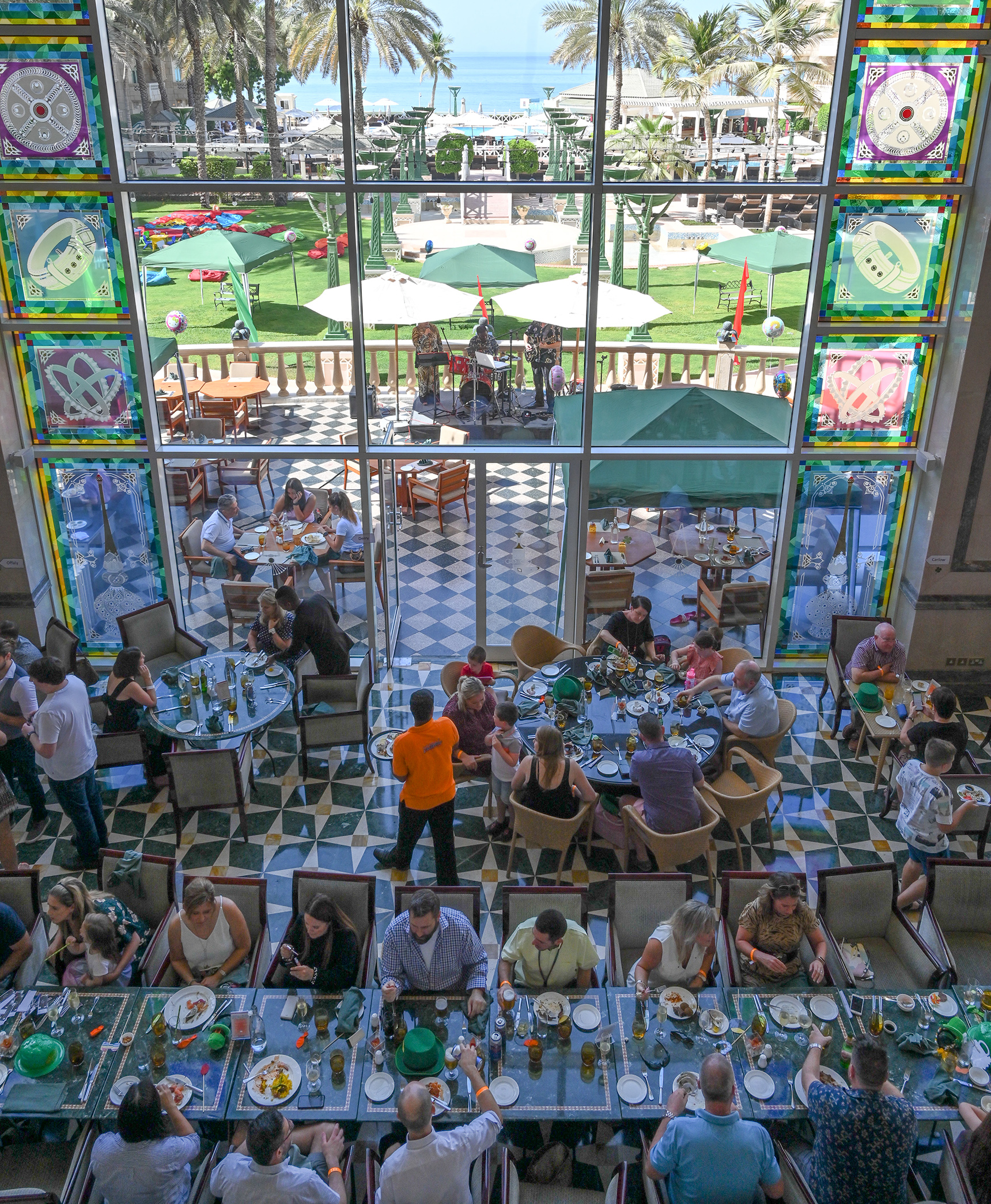 7. Grand Hyatt Muscat
Grand Hyatt's brunch is a perfect way to spend your Friday, setting a distinct family approved spirit that promises an excellent festive vibe. Curated by Executive Chef Ilias Doulamis, the brunch features international cuisine, live stations, seafood favourites, signature specialities including paella and taco stations, awesome carving station with our prime bone-in rib eye and a dessert wonderland. The designated kid zone will present a fun place for children with games and activities while being treated to their own kids' special menu tailored by our culinary team. The brunch also features live entertainment by Adam Cole and his band.
Where: Grand Hyatt Muscat, Shatti Al Qurum;
When: Every Friday, 1.30pm to 5pm;
Cost: Starting at OMR24.