by ANTARA BOSE
They say a designer's spirit is reflected through her creations. Enchanting even the most discerning style aficionados, fashion designer Amal Al Raisi has nurtured a brand that has risen to fame for exhibiting a collection that while encompassing the modernity of changing fads, holds on to a distinct element that draws inspiration from her well-embraced Omani roots. Going beyond the glamour of the industry, cover shoots and high-profile fashion shows, Oman Magazine enjoyed an exclusive talk with the lady herself as she unveiled the less talked about aspects of her life, work and what truly keeps her going.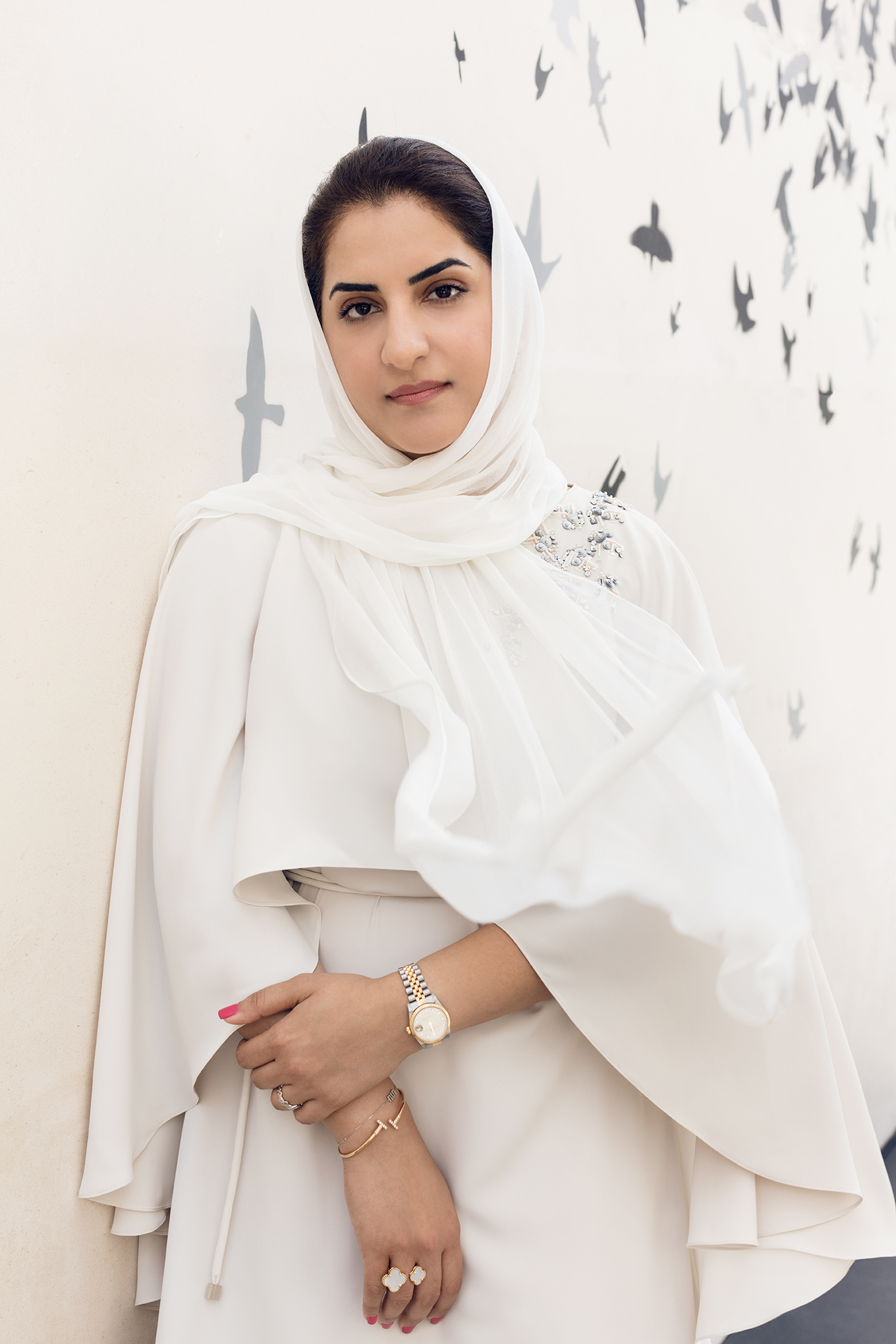 Stepping inside the plush boutique along a not-so-busy street in Azaiba, I was greeted by a staff member who reflected the same level of vibrancy as the delicately showcased attires that border the walls. Each collection enjoys its own niche where it hangs in sheer exuberance. Al Raisi appeared only a few seconds later dressed in what could be immediately identified as a piece from her collection (I did confirm this with her this later). As we exchanged pleasantries, there was an unmistakable aura of warmth that surrounded the seemingly ever-smiling lady, something that she attributes to the happiness she achieves from being in the midst of what she loves doing best.
Al Raisi, though, never studied to be a designer. She was just a young girl who liked experimenting with fabrics, colours and styles. The only difference, her voluntary experiments on friends and family ended up as quite stunning pieces in themselves. Contemplating between a full-time, secure and commendable position in a conventional corporate job and designing full-time, Al Raisi realized she was leaning towards the latter. In 2006, finally taking the plunge, she found herself signing up for her very first fashion show with a relatively unready collection. With time ticking, even finding a name that resonated with her designs seemed a challenge, until she found solace in 'Dar Al Aseel'. Thus, the first brand was born, which today has grown to be a multi-designer boutique as Al Raisi endeavors to support local talents. After the successful show at the Shangri-La for the prestigious Muscat Festival, Al Raisi dedicated herself to her new-found passion. "I always thought I'd be designing for friends and family; it's been 12 years" laughs the designer.
A key factor that Al Raisi solemnly believes enabled her to extend her boundaries beyond just her friends and family is the very support that came from them. Considering herself fortunate, she is of the opinion that several talents are lost because they do not get a chance to tap into their hidden potential and try their hand at what they think they're good at – all in fear of failure.
But failure is not something that Al Raisi is ever willing to accept; and neither was she willing to accept mediocrity. "No matter what field I might be in, I would want to stand out from the rest." The ability to not handle rejection has also worked in Al Raisi's favor as she takes pride in having a perfectionist streak when it comes to her designs. Whether it is her local clients who she customizes bespoke pieces for or her stringent retailers who distribute her collections internationally, she has never let a complaint about quality ever seep in to tarnish the brand's image.
The brand, Amal Al Raisi, which launched its first ready-to-wear collection in 2015, was every bit of the same perfection, sophistication and elegance that it has since then been admired for. The following years saw the brand exhibit at prestigious fashion shows in Dubai and then to Italy, Paris and London. But between the star-studded fashion shows, Amal Al Raisi found her most memorable moment at the Conde Nast International Luxury Conference in Muscat. From what seemed like a casual lunch with Suzy Menkes, editor of Vogue International, to a personal letter a year later inviting her as a speaker at this luxury event, Al Raisi glows every time she reminisces the story. Sharing the stage with international designers she has idolized will probably go down in her personal book of achievements.
Talking about idols, Al Raisi looks up to brands that have a long-standing history in the industry. "These are brands that have seen the rise and fall of trends, they've made mistakes, and they have learnt a great deal from these experiences" she nods. Al Raisi confesses to having 'learnt it the hard way' and only qualifies mistakes as stepping stones to a kind of lesson that won't be easily forgotten. Contrary to popular beliefs that designers are often secretive because they are wary about competition, Al Raisi claims to not have any inhibitions when it comes to sharing knowledge. She believes that 'jealousy begets jealousy'; instead she often turns to other designers to simply admire their works, get an insight into how different styles pan out and even use her insights to learn how she can enhance her own creations. "Because when you cease to learn, you cease to improve" she states. She believes that every good designer has a signature style that cannot be copied.
When it comes to Amal Al Raisi, her signature style is something that inherently imbibes itself to her creations, even if she assumes otherwise – just like the recently launched Al Baleed inspired collection. "I thought the colours were brighter than usual, but my clients can instantly recognize the Amal Al Raisi DNA." The SS19 Spring/Summer collection reflects colours inspired by the Al Baleed heritage sites, cuts that are native to the Dhofar region and prints that proudly narrate the ancient story of this historically significant region of Oman.
Creativity is Al Raisi's forte – she finds her place in the workshop where she spends most of her time. But pragmatic in her thoughts, she balances commercial appeal with creative force. "You need to create pieces that can sell. Even if you create the most beautiful designs but don't have people buying, wearing and flaunting it, it's all in vain."
A typical Amal Al Raisi piece is an attire that is 'timeless' and can be dressed up or down according to the occasion. It's a beautiful amalgamation of rich colours that submit to the most luxurious fabrics. "When draped in an Amal Al Raisi, I want the wearer to feel confident, comfortable and beautiful" says the designer as she identifies the key elements that string through all her pieces.
Though anyone familiar with her brand would now need only a fleeting glance to identify an Amal Al Raisi as they scroll through their feeds, Al Raisi stepped into the industry at a time when social media wasn't as popular (no boosting, sponsored ads and reposts). So she took a rather unconventional method to promote her brand – she'd exceed her clients' expectations by giving them something more than what they had asked for. "I invested my time because that's the best thing I had to offer" she said modestly.
Despite her rising fame, Al Raisi remains grounded and is extremely family-orientated. To her, 'travel is purely for work' and she refrains from long work trips. On a personal note, she attains supreme happiness when she sees her daughters appreciate her work. Al Raisi acknowledges the flipside of the business – the tight deadlines, the long working hours and the need to constantly be productive. "I feel guilty when I find that encroaching on my family time." However, despite her hectic schedules, she manages to balance her passion for work with her love for her family. She even takes time out for brunches with her tight-knit group of friends who never fail to give her the occasional pep talk when she's in need of some motivation.
Al Raisi finds true beauty in keeping things simple, minimalistic and uncomplicated, forever finding joy in the little things of life. She blushes slightly as she admits to a childlike trait of getting 'overly excited' about things that matter to her, sometimes even before it actually starts taking shape. "Sometimes I have sudden flashes of ideas, and I want to get started on them immediately. I find myself already imagining the grand finale, whereas, in reality, I haven't even got my approvals in place" she laughs. "I am rather impatient, and I wish I could mellow down on that."
Like her perfectionist streak, her determination to never have to hear a 'no' and her will to stand out from the rest, even this restlessness to constantly create (she calls it 'restlessness', but we call it 'passion') has earned her a name that never fails to raise an appreciative brow amongst others in the industry.
So we leave her to retreat to her workshop with best wishes for the autumn winter and SS20 collection, which she seemed to be twiddling her thumbs to go back to.